Rated

5

out of

5
 by
riShells
Good idea
This pill caddy is a good idea for taking along a daily or weekly supply of pills. The fact that there is no lid to lose or drop when opening this container makes it a clean storage place for pills. The snap grip closure is secure so pills are safe and dry.
March 24, 2014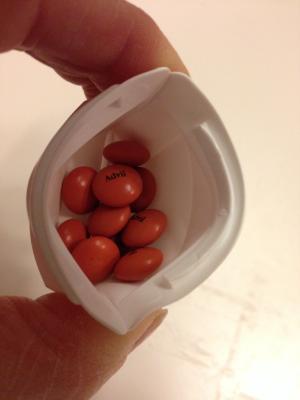 Rated

5

out of

5
 by
bk49ER
Slim and light as a feather!
My husband and I have been using these handy little containers for years to carry along a daily supply of vitamins when we are on the run. The design is so slim and lightweight, so they don't add extra weight or bulk to your pocket or purse. Great little item to have!
February 15, 2013
Rated

5

out of

5
 by
CollegeGal9
A great size
I was surprised at how many pills I could fit in this little container. I have to take several pills with meals, and it was a relief to stop carrying around a bulky pill holder. This holds all of my pills for a meal but is tiny enough to fit in my pocket. I also keep an empty one of these in my backpack, and I put my earrings in it when I take them out to go exercise. Now I never lose them!
July 17, 2012
Rated

5

out of

5
 by
Bunky01
FlexiPak Container
I bought several of these for myself, family members and for Christmas stockings. Really nice and small if you just have several pills you need to takes later in the day while you are are. Sure takes up a lot less space than a whole pill bottle.
February 7, 2016
Rated

5

out of

5
 by
c5boyz
Good for not a lot of pills
This is nice but does not hold more than 5 larger pills and maybe a couple smaller ones. A bit tough to open for older hands I feel - could be wrong. Would be nicer if a larger size to fit in more pills as I love the idea of it --- kind of like the old time coin purses! Cannot pick out the pills you need - must pour them out & put back in what you don't need ---- unless was made larger, could then pick out & put more pills in! Have to press together to close or will open & spill out. Need blurbs on product to specify how many large/small pills fit into it... This did NOT hold my 5 large oval tablets, 1 large capsule, 1 tiny table, 2 small gels and 1 medium capsule. Could not get at least 2 of the large ovals in so not for me but like the product! Gave to my hubby who only takes 3 pills/day.
June 25, 2015
Rated

5

out of

5
 by
slcitron
BEST .99 I HAVE EVER SPENT
I LOVE this pill box. It's small, easy to open and close (especially when you have a headache) and best of all... it's quiet! Nobody has to hear all your pills rattling around in your purse.
June 14, 2015
Rated

5

out of

5
 by
JayeJaye
My new favorite item
There are some medications that if you miss, for even one day, can leave you feeling really sick. I bought this little pill container to carry in my purse so if I ever forget to take my medication at home, I've got one with me. When I closed it properly (just making sure the side is zipped tight) I could not cause it to pop open, even by mashing it down. With that being said, it easily opens when you want to, by squeezing the sides together at the same time. I feel relieved knowing that if I forget my meds on a busy morning, I'll have one with me AND that it will be in it's container and not at the bottom of one of my purses!
June 1, 2014
Rated

5

out of

5
 by
LauraJ
Handiest little pill case
This little package is the best way ever to keep a few extra pills around. I keep it in a small side pocket of my purse. It also conveniently holds a few m&m's... That's why I bought two and I couldn't be happier
March 1, 2014
Rated

5

out of

5
 by
AmyLea
FlexiPak Container
Love these things! I have 8 for myself and have bought 15 for gifts for family and friends. Everyone I have given them to has asked where I got them and how could they get more.
September 17, 2013
Rated

5

out of

5
 by
lovestoski
Great
Love this for my pocket. Would like to see it in a slightly larger size also.
July 11, 2013
Rated

5

out of

5
 by
Quiltheart
Handy
These little pill boxes are very handy. They are good for storing emergency supplies of medications in your travel kit, in case you forget to pack them. They are sturdy enough to keep pills from getting crushed, but small and lightweight enough to tuck into a corner of a drawer or a bag.
April 10, 2012
Rated

5

out of

5
 by
VeteranTraveler
Good Squeeze
These FlexiPak containers are wonderful for your purse, briefcase, backpack, car, and anywhere you need to carry some pills.
March 19, 2012
Rated

5

out of

5
 by
Makeitathome
Handy Little Item
I saw these little travel containers for the first time during a recent visit to the Container Store. What a great little item! I plan to use it in the near future when I travel for my daily vitamins. It looks like the perfect solution!
February 24, 2012
Rated

5

out of

5
 by
azogirl
Makes life simpler
We've used FlexiPak Containers for years; it makes carry daily meds, vitamins and supplements so easy. I use three every day for my breakfast, lunch and dinner pills. So easy to take pills at dinner events without making a big production out of it. A casual acquaintance saw my container and was very interested. I had an extra and gave it to him. He had epilepsy and carried emergency medication with him. He stored it in aluminum foil in his pocket, if he needed it, unwrapping was sometimes difficult - the FlexiPak Container solved that problem and protected the medication when in his pocket.
October 22, 2011
Rated

5

out of

5
 by
CFII
A handy packet
I have used these little packets to carry medications for years. They are compact and easy to carry arround in a pocket.
September 11, 2011
Rated

5

out of

5
 by
univsc
great for seniors
Was glad to see you still sold these. My 84 year old mom got one years ago & loves it & had so many requests from her friends I got her a few to pass out!
February 14, 2011
Rated

5

out of

5
 by
PBC801
FlexiPak
I bought this small FlexiPak for my pocket years ago and lost it.I was glad to see it was still offered. It fits perfectly in most "coin" pockets in my jeans. I bought 4 this time-for my am/pm Rx dose - for when I go out of town over night-so I dont have to bring the larger container.
April 2, 2010