Rated

5

out of

5
 by
kaabrah1
Penguin Pumps For Life!
These pumps are very cute. I purchased the silver and black pump for my kitchen. I use the black one to indicate hand soap and I use the silver one to indicate dish washing soap. I think these pumps are very cute and look great on the counter as opposed to relying on the store pre-packaged containers.
April 12, 2014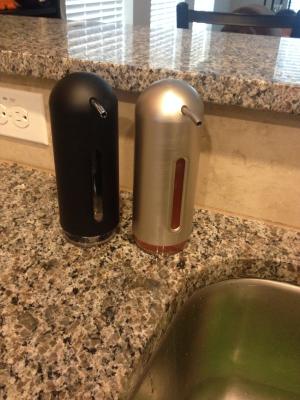 Rated

5

out of

5
 by
purplemom
great for kids
I was tired of how our liquid soap dispenser was working, so I had my 4-year-old daughter try out all the ones available at the store. She had trouble with ours because the bottom was not stable on the counter or the pump only worked in one position, etc. This was the only one that she said worked well. All you have to do is push down squarely on the top and you get a measured amount of soap. It doesn't tip over, and she doesn't have to turn the spout around to get the soap to come out. It holds quite a bit, and the bottom locks by screwing it in to the top part, so it's not moving around endlessly. My tip: dilute the soap with distilled water (to prevent bacteria growth) - you get plenty of soapy goodness and you save money in the long run.
September 9, 2011
Rated

5

out of

5
 by
djs2003
Perfect
The stainless steel Penguin Soap Pump looks great and blends in so nicely with my stainless steel sink - and it actually works!
February 15, 2011
Rated

4

out of

5
 by
Shoppers9
Nice Design
Works as expected. The material is a bit cheap looking, but the modern design compensates for it. Did not experience any problems with refilling as mentioned in some reviews. I don't fill it all the way, not sure if that makes a difference.
September 20, 2016
Rated

1

out of

5
 by
TracyLu
Bad quality
I bought 2 but both of them are broken. Rusted inside and the top fall apart.
August 27, 2016
Rated

5

out of

5
 by
LatymerGirl
Great Product
I bought two of these pumps over 3 years ago and they are fabulous. The only reason I need to replace one of them is because I foolishly tried to wash it in the dishwasher which slightly bent the 'straw' piece so that I have to press the pump many times to get enough shampoo out. I use mine for shampoo and conditioner. I have a very humid bathroom and have not had any of the rusting issues that others have mentioned. Could not recommend highly enough. Just sorry to see that the white is no longer available.
March 13, 2016
Rated

2

out of

5
 by
Luluq
Great for a while
I have had two penguin dispensers for 17 months. They have been great until I needed to refill one of them. It was rusted inside, hard to open, broke when I did open it, and has leaked soap all over my counter. The dispensers are cute and work well at first, but not a good long-term purchase.
February 18, 2016
Rated

3

out of

5
 by
DrPsy
Great until it has to be refilled
This product was great until I had to refill it. It's hard to unscrew and often detaches, which makes it useless. I've bought two of these and I'm sad to see this become a trend.
January 3, 2016
Rated

2

out of

5
 by
Weetz
Quite disappointed
Loved the Penguin Soap Pump UNTIL the internal ring keeping the pump connected to the soap holder rusted and now the whole pump is basically useless as it doesn't stay together and there is rust in the bottom. Hoped it would last longer than just over a year. Really disappointed as I liked it until it broke.
October 28, 2015
Rated

5

out of

5
 by
Wolff
Great for use with arthritic hands
I was having trouble with other soap dispensers because of arthritis in my hands. This dispenser works perfectly and no pain trying to get the soap out.
March 24, 2015
Rated

4

out of

5
 by
javagrl0227
love it!
I use one in the kitchen and one in the bathroom, they dont take up much space and are easy to refill.
June 13, 2014
Rated

5

out of

5
 by
Itfits
Clever Design
Best soap dispenser. Easy to use, doesn't drip onto the counter. Liked it so much bought 2- one for the kitchen and one for the bathroom.
January 26, 2014
Rated

4

out of

5
 by
Norah
Better looking than the original container
This looks great by the kitchen sink for the dishwashing soap. Like the brush nickel finish.
November 28, 2013
Rated

4

out of

5
 by
kevinc53
Cutie and practical!
In search of many different soap dispensers, I found the one I love the most! This Umbra product is very cute and so different from other traditional hourglass soap dispensers. Although it seems quite pricey for just a soap dispenser initially, the exterior looks chic and it does make the whole kitchen setting look more artistic. I treated it more like a great display rather than simply a soap dispenser. In addition to its pleasant artistry, it also puts soap dispenser into practical usage. I found that I'm actually able to control the amount of dish detergent being used since it tends to use up less than 1/3 of how I randomly poured out detergent from a bottle. I highly recommend this product!
October 31, 2013
Rated

5

out of

5
 by
Carsie49
Finally!
After going through at least a dozen soap dispensers, finally found the perfect one for my dish soap and hand soap. It does not leak onto the counter after use, and it dispenses just the right amount of soap with one pump. Love these little cuties.
July 27, 2013
Rated

5

out of

5
 by
CleanDiva1
best soap pump
after buying so many soap pumps and hand lotion pumps and ending eventually in the garbage either for rust or clogging ,i finally found the perfect pump ! i simply love it the design is so cute works perfect and so easy to fill ,a must buy for every kitchen or bathroom
April 17, 2013
Rated

3

out of

5
 by
bch123
Looks good but impossible to open to refill
This soap dispenser looks very sharp but opening it to refill it is very difficult. I know it can be done but every time I have a hard time figuring out how to open it. I see the "Unlock" symbol with an arrow pointing to the left but this time it just will not open no matter what I try. I have tried pushing the bottom in a little and then turning it, or not pushing the bottom in, nothing is working. Frustrating. I've had it too long to return it.
March 21, 2013
Rated

5

out of

5
 by
Carol750
I love these.
I use these in the shower to hold shampoo and conditioner. Since there isn't ,teal on the bottom there isn't any rust issue. The brushed nickel looks so elegant and pretty.
February 24, 2013
Rated

5

out of

5
 by
idid
Great
Great sleek modern design, easy to use and refill.
February 22, 2013
Rated

5

out of

5
 by
Icetastical
Looks GREAT on the open counter
Adds a nice touch to the open floor plan kitchen for dish soap.
January 24, 2013
Rated

4

out of

5
 by
kayogo
Silver soap pump
Matches well with my new kitchen sink and faucets, also looks good in the bathrooms. I may get two more! Wish it worked as a foaming dispenser.
October 2, 2012
Rated

2

out of

5
 by
L2SCS
Don't buy the white one
Love the look. Great for kids - doesn't tip over easily, but wouldn't recommend the white pump. I recently bought one white pump and 2 black pumps. Have had them for a month and a half. The black ones seem to work fine and I love using them. When it was time to refill the white one, I couldn't unscrew the bottom. When I did, the top section with the pump came off with the container and now won't go back on. So I can't secure and close the pump anymore. I loved the design, so I bought another one, thinking that one was just a fluke, but today I tried to refill the pump again and the same thing happened. Very disappointed!!
August 20, 2012
Rated

4

out of

5
 by
MC07
Nice looking and functional
Holds a good amount of soap, easy to refill, window lets you see what's left.
April 30, 2012
Rated

5

out of

5
 by
Crandace
Coolest Design
We purchased 2 and ended up getting a 3rd. They hold so much soap, easy to clean and look amazing.
April 29, 2012
Rated

4

out of

5
 by
cocosmom
functional + stylish
Bought the stainless one - looks great and feels solid. No leaking problems and I bought 3 - only down side is sometimes after you press and get soap a little remains on the spout after taking your hands away.
April 27, 2012
Rated

3

out of

5
 by
eec27
Leaky
I bought this product almost a year ago. It looks cool and I like the clear strip on the side so I can see when my soap is getting low. However, the black looks dirty with one splash of water on it and anytime I use it, it leaks afterwards. Would not purchase this again.
March 19, 2012
Rated

4

out of

5
 by
Kayla12
No problems here
I have had this soap pump since August 2011 and have never had a problem with the pump leaking. Overall, it works great and looks very unique!
February 28, 2012
Rated

4

out of

5
 by
ContainerBuyer1
Very Cute
I love the look of it, and although the bottom of the first one I got was stuck and broke the first time I tried to open it, I took it back to the store and they replaced it and the new one is great. You can see how much is in it through the little window.
February 20, 2012
Rated

5

out of

5
 by
Pebbles59
Well made .... will last - great style!
Looks a little bigger than at the store... more imposing at the kitchen sink... but it's cool because it looks good.
January 25, 2012
Rated

2

out of

5
 by
shoeseg
Very cute but leaks
I love the way this soap dispenser looks but it started leaking after a week of use. I think the problem is that the whole unit unscrews under the pump and it slowly loosens as you pump soap.
January 18, 2012