Rated

5

out of

5
 by
Anne195
Well made
Lovely, simple, functional. Perfect in any bathroom.
March 13, 2014
Rated

4

out of

5
 by
AlienGirl
Almost Perfect Droplet Countertop Essentials
The toothbursh holder is wonderful. Easy to open to clean out and matches with everything! The pump dispenser is almost perfect. The chrome-plated feature has what looks like algae or mold growing where it meets the acrylic part. If you can find a better pump to fit it then you're good to go.
March 19, 2013
Rated

5

out of

5
 by
Melonhead
so pretty
These are great! I love the tumblers to store q-tips and cotton balls. The pump is good for soap or lotion. Makes everything so pretty.
March 10, 2013
Rated

5

out of

5
 by
Cleanmeup17
LOVE THIS SOAP PUMP!!!
I got this pump initially because I have a vinyl cutting machine a wanted to have a soap dispenser monogrammed with my initials. This dispenser is not only great for its looks that can blend anywhere but also for its quality.
February 22, 2013
Rated

5

out of

5
 by
AidensMom
Great Stuff
These products are great. They go with any bathroom decor and are durable. As the mother of 2 boys I need stuff that will last and these absolutely do!!!
March 24, 2012
Rated

4

out of

5
 by
KMJ1
Lovely design
Great as made of acrylic, not glass. I use the pump for hand cream, but it is pretty impossible to get stuff out of the bottom. Only down side. All pieces a bit bulky, but overall great design
March 19, 2012
Rated

4

out of

5
 by
Amers
I bought the soap pump separately and use this in my Kitchen. It is Fantastic! Doesn't pump out a huge amount of soap but rather, conserves it. It pumps out soap very smoothly and you can tell the quality is GREAT! I also love the design of it. Very modern.
March 19, 2012
Rated

5

out of

5
 by
bagginit
Really Nice Design
Having had glass bath accessories with metal lids that were beautiful, but beginning to rust, I decided to switch to the acrylic Droplet Bath Accessories by Umbra. All I can say is what a nice change. They are beautiful, light, shatter-free and look great in all three of my bathrooms. I love the ease of the pump on the soap dispenser and the fact that thus far, soap hasn't gotten jammed in the nozzle, which would happen on a regular basis with my other dispenser. I am really pleased with them, and will definitely be going back for another one for my kitchen!
February 2, 2012
Rated

4

out of

5
 by
shoeseg
Pretty but BIG
I like this soap dispenser but it is really big. I ordered it online so when I received it, the larger than expected size surprised me. Keeping it none-the-less as it is nice, contemporary looking, and works well. The reason I'm giving 4/5 stars is b/c it's oddly large but some people may like that look.
January 18, 2012
Rated

5

out of

5
 by
Magica
Love it
Study, beautiful, practical. Have one in each bathroom.
November 3, 2011
Rated

5

out of

5
 by
barbarann99
Umbra Soap Pump
This has got to be the best soap pump ever. I was tired of the gummy soap pumps that come with the plastic bottles that the soap comes in from the store. I was constantly having to clean out the housing so it would pump again. The Umbra has put an end to that. I have one in the kitchen for dish detergent now and also in my bathroom to dispense my antibacterrial soap. Classic lines and they go with everything!!!
August 15, 2011
Rated

5

out of

5
 by
priya
great purchase.
Very nice looking.Holds alot without looking oversized.Very easy to clean.
March 19, 2011
Rated

5

out of

5
 by
NightOwl
Classy Pump!
I finally found the pump to use for shampoo and bath gel!!!! The Umbra® Droplet Pump Dispenser Clear is PERFECT to leave displayed next to my bathtub and not have to put away when I entertain. It is very classy and clean looking. Looks like the ones at 5 star hotels!
February 5, 2011
Rated

1

out of

5
 by
BostonGirlinDC
Dont' buy this Soap Dish!
Ridges aren't high enough for the soap to dry, so you are left with a wet, gloppy soap (see photo). Gross. :(
August 28, 2010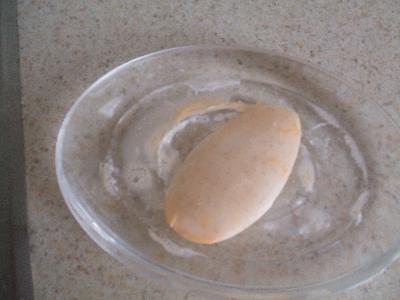 Rated

5

out of

5
 by
atandt
Perfect
This toothbrush holder is exactly what I was looking for - the clear acrylic looks good and will never rust and stain my sink, it fits in my built in toothbrush holder, the slots are wide enough for any toothbrush and the lid comes off so it's very easy to clean. Perfect!
May 17, 2010
Rated

5

out of

5
 by
ERay
Great Soap Dish
Great dish. Matches any decor. Holds any size soap.
March 3, 2010