Rated

4

out of

5
 by
Sarah8278
Great space saver! I recommend this product. The price was perfect, easy pick up.
March 21, 2016
Rated

5

out of

5
 by
RVer
Perfect solution
bought this for use in our RV - it was the perfect solution! Even with the shaking during travel, the hanger and the towels did not move - it takes up very little space and I was surprised that although you can adjust the height of the bars, once in place, they did not slip. A great solution for small spaces.
September 11, 2015
Rated

5

out of

5
 by
mrskellybw
great clever solution
This turned out to be a great purchase. We need extra towel hanging capacity in the guest/kids' bathroom without having to install a bar on the wall. We like that the bars adjust so that our 7 year old can hang his towel low and someone else can use the top bar.
August 6, 2015
Rated

5

out of

5
 by
Gail1
One of My Favorite Things!!!
I have had this for 4 years now. It is hanging on the door to my walk in closet. I use it to drip dry my lingerie. No more clutter in the bathroom or drying racks in my living room. I use it every week. LOVE IT. I'll be giving it as gifts to my family for Christmas.
December 19, 2014
Rated

4

out of

5
 by
Michelle662
A good solution for tall doors
I've always been a fan of over-the-door hooks, racks, etc. But when I moved into my new house, which has 8-foot tall doors, I could no longer use my over-the-door towel rack for anything more than the bottom rung. This was a perfect solution for me! It stretches to fit the giant door, but is adjustable so I can reach the towels. I'm very happy with this.
December 8, 2014
Rated

4

out of

5
 by
lcjlondon
Clever Space Saver
I bought this for my son's dorm room. It was installed in a snap. It will not work well for heavy towels like beach towels but for your average bath towel, it's an excellent solution.
August 25, 2014
Rated

2

out of

5
 by
jandubya
Meh.
Looks great on display at the store, but it is the only thing that I haven't loved from the Container Store. Looked too "dormy" but if your purpose is a dorm room and not a stylist condo, then this might work for you. Was hard to install. Not a lot of room for towels. I returned it.
May 27, 2014
Rated

5

out of

5
 by
DPTATC
Perfect for Renters
This towel rack is perfect for our apartment. We are unable to put holes in our wall to hang racks, shelving, etc. so this works perfectly. Couldn't be happier with the design and ease of installation.
April 16, 2014
Rated

5

out of

5
 by
farrahc2002
Fantastic!
I have a small bathroom and this is a huge space saver! My children use the two lowest bars and I use the top. Price was great and I love the way it went up (no tools!). Fantastic product!
April 13, 2014
Rated

5

out of

5
 by
TXMomof4
Lifesaver for small and popular bathroom
I installed this (easily!) in our small downstairs bathroom that is unfortunately my sons' place to shower in the morning. Now the boys can see their towels and I can replace the used towel onto a rung, and save having to wash it for another time. It's great for the person who moves frequently, or anyone with a small bathroom who wishes for a place to hang towels.
April 11, 2014
Rated

5

out of

5
 by
TYLHandy
Wouldn't have done it any different...
I love this bungee overdoor towel rack. I have them on all of my full bathrooms. They help if you have towels for display purposes only and need something that is functional, yet out of sight and out of the way. My Dad liked it so much, he had me purchase one for his bathroom! LOVE IT!
April 10, 2014
Rated

4

out of

5
 by
MeiChum
Innovative, Fun Organizer
This Bungee Towel Rack is one of my favorites: it's a one-size-fits-most doors and a great space-saving solution! Not only is it useful, but it's also kinda fun! I really like moving the rods up (or down) the bungee cords. It can be easily mounted without any tools! It's the perfect upgrade from the regular over-door hangers with hooks!
April 3, 2014
Rated

5

out of

5
 by
Mojo3957
best money spent 2013
I have a small 2nd full bath and this product is great. Holds towels, hand towels and wash cloth perfectly. Also holds my clothes till I'm ready to leave the bathroom , will buy again. Makes great gift.even have one in our rv.
March 24, 2014
Rated

5

out of

5
 by
Sissywest
Scarf Saver
I actually asked for something to organize my scarves. I had them piled on an over-the-door multi pronged hanger and they were hard to see in the piles. I wasn't sure how this would work because the scarves might drag on floor. Because the rods are movable I could position them higher and knot each scarf onto rod. I arranged them by colors per rod and they now cover the back of a door to the bathroom area. I can actually pick out a scarf cause I can see them.
March 8, 2014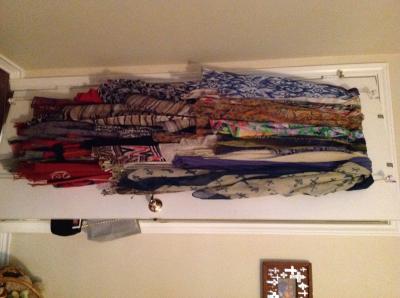 Rated

4

out of

5
 by
Lisa319
Great Product
This is a great, practical product. It is so versatile, you can use it for more than just towels and adjust it to meet your needs.
March 8, 2014
Rated

5

out of

5
 by
Ankylo
So convenient with multiple uses
We're getting ready for a group of friends/family to visit, and we needed extra towel hooks or bars. This can be easily dismantled and stored. It's also great for hanging baby & toddler clothing and baby blankets and burp cloths so that they are easily accessible and visible.
February 28, 2014
Rated

5

out of

5
 by
Joyfulmama
Great for RVs
We bought this for our trailer and it is perfect! We had no towel racks and no wall space for a towel bar. This solved our problem and no holes had to be made in the door.
February 22, 2014
Rated

2

out of

5
 by
LiLDebbie
Needs better towel bars
This could be a great product for more towel space....however, the towel bars constantly come out from the ends... so, you have to lightly touch the bars so that they don't come out from the ends. Kinda painstaking!!
February 21, 2014
Rated

2

out of

5
 by
Roanes
Could have been great
Great idea and it seems decently constructed. Unfortunately I cannot close the door with the rack on it. A redesign with a slimmer top might make this a must-have. Until then, I'll keep trying other brands.
January 26, 2014
Rated

1

out of

5
 by
CAL28
nice idea,but...
Had to send back. Does fit over door,but cannot shut bathroom door. So beware in purchasing this product! Cost me half as much of this product to ship back.
January 18, 2014
Rated

5

out of

5
 by
Crazydramma
Love it!!
Bought this overdoor towel rack for my husband as I have had one for several years and had difficulty finding it again. We really like this product. Made my husband super happy!!!
December 31, 2013
Rated

5

out of

5
 by
lindaluling
container store to the rescue
this was purchased for our new rv....we hang up our towels to dry since we have minimal laundry facilities when we travel...this will allow us to hang them over the bathroom door...we will not have to take it down when we travel!!
November 18, 2013
Rated

4

out of

5
 by
KellyE
Awesome item
This item is as fantastic as I wanted it to be. It was fairly easy to install. I say fairly only because I'm short and the top of the door is just a little to tall for me. I like that you can adjust the bars, and it will stretch to fit. I keep mine in the closet to hold the beach towels.
September 16, 2013
Rated

5

out of

5
 by
strawberryblonde
Best Overdoor Towel Rack on the Market
I have an old house that has thin hollow doors and couldn't find anything that would work in my bathroom. This is stylish and works perfectly. Have used other racks and they are bulky and bang door and walls when you move the door. Recommend to anyone that wants a great solutions and doesn't want to mark up there surroundings.
September 12, 2013
Rated

1

out of

5
 by
Phalanges
Disappointed
This is a great idea if you never plan to close your bathroom door. I installed this easily over the door, hung my towels and shut the door. OUch. The hooks scratched up my brand new doorframe, as the door would barely close without effort. It's too costly to ship back for a return. To Goodwill it goes....
September 8, 2013
Rated

3

out of

5
 by
WorkingOnIt
Ok for standard door. Kids can't reach top rung.
The rack did not fit our narrower door that leads to a bedroom, with the bungee type cord hitting the door knob. It did fit the standard door that led to the hall. But, we already had a towel bar on the wall behind the open door. The towel on the wall and the one on the door would squish up against each other and not dry very well. We had purchased it to help our smaller kids hang their towels up. When the rungs were lowered enough without having the towels hit the ground, the top rung was essentially useless.
September 1, 2013
Rated

5

out of

5
 by
GoldieBaker
Excellent Space-saving Tool!
We occasionally have overnight guests, but never wanted to put towel bars up in the spare bathroom. This product totally saved our walls! Super-easy to install. Perfect for what we needed. Great purchase--very happy.
August 25, 2013
Rated

5

out of

5
 by
Crazydoglady61
Perfect solution for small spaces.
We have a tiny older home. The bathroom is tiny, as is the bathroom door. Other over-the-door towel racks are just too big. There is no room for an extra holder for a hand towel. This rack solved the problem perfectly. I adjusted the bars so the highest is only waist-high. We use that bar for a hand towel, the second one is a spare, and the lowest one became a magazine rack!! That configuration leaves the hook on the back of the door usable for a robe etc. while showering.
August 9, 2013
Rated

5

out of

5
 by
Cmm4
Love the towel rack
Easy to put up and very cool design! Works nicely too.
August 6, 2013
Rated

5

out of

5
 by
trinity
Neat
Makes bathroom looks neat if you have more than one towel to hang. Makes door harder to close, but I think the issue is my doors and not the product. I was afraid that bungee part may get loose and hit me in the face, but that did not happen.
August 6, 2013