Rated

5

out of

5
 by
Tidyfreak
Love the possibilities
I love all the ways these containers can be configured to fit my desk drawers to contain the various items in my desk drawers.
April 27, 2016
Rated

5

out of

5
 by
cainwm
Love the options
I purchased this to organize various items in a drawer. I love the different ways I can use it for paper clips, keys, scissors, etc. I can easily see what I need.
April 28, 2013
Rated

4

out of

5
 by
Jiyoung
Good to organize office supplies in the drawer
I bought this to organize all my office supplies in my drawer. The size of my drawer isn't standard so it was hard to figure out which box goes where but it separates things in the different compartments so it is easy to see and find things that I need, which is the point of the organizing. One other thing I like about the mesh rather than a plastic container is that the dust doesn't get stuck in the bottom of the each small container so if there is dust I only have to clean the drawer after removing these little containers from it. The only reason that I give this product four stars is that I couldn't fit them all in my drawer, but I think you should measure your drawer before buying it.
April 21, 2013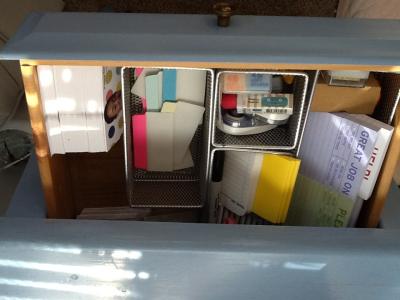 Rated

4

out of

5
 by
neatsuzy
Super Organized
I really like this organizer. It can configure to any drawer size. I put it in a narrow drawer and it works well.
March 29, 2013
Rated

5

out of

5
 by
navyram
Get me organized
This drawer organizer is the best idea! I am finally getting my personal home office in order and this is the best place to start Plus being on sale was a big factor as we are always looking for a bargain.
March 25, 2013
Rated

5

out of

5
 by
Jrosencr
Awesome Product
I love the Drawer Organizer Set. I love that I can customize it to my needs to fit my space. Great product!!
March 19, 2013
Rated

5

out of

5
 by
Verified Reviewer
Junk Drawer
This organized my "junk drawer" in my kitchen in no time! They are great and I plan on adding to the set since my drawers are so big.
March 18, 2013
Rated

5

out of

5
 by
dacster
Very Useful
These mesh organizers are terrific. You can mix and match to fit any drawer and maximize space and organization. Best for kitchen and office - shallow drawers.
March 18, 2013
Rated

5

out of

5
 by
jtmarck
Great Organization
I am an organized nut! (In all the best ways) and this product helped me organize my desk drawer at home. Made me super happy to have all my "junk drawer" items well placed!
March 18, 2013
Rated

5

out of

5
 by
Nudubarb
Stylish, adaptable drawer storage
Stylish, good looking design. Holds a variety of office supplies or craft supplies easily. Can be adapted easily to fit different drawer sizes. Easy to clean.
April 28, 2012
Rated

5

out of

5
 by
luca
the greatest
I use Siver Mesh not only in the office, use also in the kitchen. Is fantastic to organize drawers with small itens that if not in the mesh will be rolling everywhere.
February 26, 2012
Rated

4

out of

5
 by
BethyAnne
Amazing Product
This product works well and keeps my desk organized. I always have a junk drawer, but not with this container.
February 18, 2012
Rated

4

out of

5
 by
Getsorganized
as advertised
good product, just what I expected to receive - nice and durable too.
December 2, 2011
Rated

5

out of

5
 by
cakewalk
Excellent
These organizers are so versatile. They can be used for craft storage, jewelry organizer, office supplies separater, etc.
March 25, 2011
Rated

5

out of

5
 by
Berta
Fits the dorm room desk drawer.
I purchased this organizer for my college freshman. As we had to unpack in a hurry, so she just placed all of the trays in the top drawer of her desk quickly and with no problems what-so-ever. There is a tray size for whatever she needs to store and they can be arranged in a multiple of ways.
August 23, 2010
Rated

5

out of

5
 by
nycaly
so organized
My desk drawer is so organized now. I love looking at it!!
May 20, 2010
Rated

5

out of

5
 by
Chickwriter
Brilliant!
This organizer set was exactly what I needed! I love my elfa desk, but the drawers needed something extra, and this was it.
April 13, 2010
Rated

5

out of

5
 by
Nicole
Perfect system
I can't seem to have enough of these - I use them in so many rooms, they're so versatile and since the pieces come apart, your organization method can change with your needs. The white ones especially look great, even out in the open - I use them to hold keys on my entryway table - and grey ones in the kitchen, bathroom, office, craft room, garage etc. Can't go wrong.
March 5, 2010