Rated

5

out of

5
 by
Rizn
Strong
It is holding my huge shampoo bottles. One is half empty, so put it upside down using the hole at the bottom, very convenient.
September 24, 2016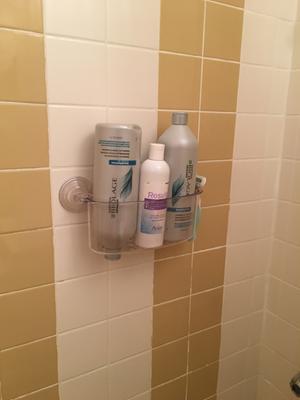 Rated

5

out of

5
 by
AlyssaS
Great Shower Organizer
This basket keeps all of my products organized without taking up too much space. It is worth noting that it does not hold more than a few bottles (I have 3 medium-sized containers, soap, and a razor in it). The instructions for securing it were clear and so far it has remained very stable.
March 3, 2016
Rated

5

out of

5
 by
Brittany9
Great Product
I loved the idea of having the ability to choose where to hang this product in the shower. It has functioned very well and meeting my needs.
May 25, 2014
Rated

5

out of

5
 by
CiniGarden
Added counter space
I use this suctioned to the mirror above the bath sink as I have little counter space. Holds toothpaste hair gel, etc. Suction is very strong.
April 26, 2014
Rated

5

out of

5
 by
PinkShopper
Super Shower Solution
We picked this basket because we liked the idea of being able to mount it in an unobtrusive corner of the shower. I was nervous about the suction cups holding, but the basket has been mounted and in use for over a month now and there are no signs of slipping. There are two spots for hanging razors, which has been handy. Overall it looks high quality and stylish and functions well.
March 26, 2014
Rated

5

out of

5
 by
Debido
Great Product
A friend had one similar but not this quality. I have had it about 2 weeks and it is working just as I imagined. It adheres to the shower wall very well. I actually purchased 2, one for me and one for my granddaughter- it will be her Easter basket. I have filled it with Easter goodies and will soon ship it off to her. I know she will love hers too.
March 26, 2014
Rated

5

out of

5
 by
smartdallasshopper
great shower basket at great price
This basket is the perfect size-strong, and clear and the suction cups are STRONG-and at 9.99 a great price.
March 2, 2014
Rated

2

out of

5
 by
gamermom220
Disappointed
Was very happy with basket for 2 weeks, then it continued to fall off the wall until it finally broke. I guess it would be ok if you did not put anything with much weight in it.
November 30, 2013
Rated

5

out of

5
 by
JustAReview
Exceeded my Expectations!!!
If you have ever dealt with the itsy-bits-tiny-winy shower on a cruise ship, you know what a pain it can be to keep track of and use all the item needed, this thing works perfect!!! I was somewhat concern about the durability transporting it in luggage but it has now been on four cruises and doing fantastic. I have packed it in a soft side suit case, just fill it with socks and wrap it with a t-shirt. The last cruise I took I packed it in my hard side cosmetic case ware I think it is much safer. I need to buy a second just in case mine gets broken and they discontinue it. The only problem I have had is getting it off the wall at the end of the cruise. After releasing the suction it still wants to hang on the wall so I use a nail file to reach under the suction cup to release it from the wall.
October 13, 2013
Rated

5

out of

5
 by
Cheyanne
Great suction cups
I bought this expecting to have to return it becuse the suction cups didn't hold anything heavy, but I was surprised....it has held onto the inside of my vanity cabinet for several weeks so far and I have my hair dryer sitting in it, with the long cord wrapped up in there too. I highly recommend this for someone who wants to be able to store things out of sight, but in a convenient place.
August 3, 2013
Rated

4

out of

5
 by
AK312
Great buy!
I was hesitant to purchase anything that suctioned onto the wall, as past experience has taught me that things like this generally fall down. But, our new apt has a tub with really narrow ledges, and there was just nowhere to keep out stuff. Before we invested in a $70+ shower organizer, I figured this was worth a try. So far, so good! It's been 2 weeks and the basket has stayed perfectly in place (the only reason I went with 4 stars rather than 5 is because I haven't had it long enough to know how it will stand the test of time#. I have shampoo, conditioner, and facewash in the basket #and if my facewash container was smaller or a different shape, I could probably fit 4 bottles), and my razor is hanging from the little nook on the side. Overall, a good buy!
April 29, 2013
Rated

4

out of

5
 by
Mumofthree
Best I've found
Since moving into our house in the fall, I've been through probably three shower baskets. This is the best one I've found. It's large enough to fit all of my bottles (shampoo, conditioner, body wash, face wash and body scrub) and strong enough to hold them without falling off the wall like the others did. It also has handy hooks on the exterior to hold razors, which I actually only recently noticed.
April 16, 2013
Rated

5

out of

5
 by
April4220
Perfect!
This is perfect! I am in love with this product! It fits full size bottles with room to spare! What I put in it: shampoo, conditioner, body wash. On the sides are perfect spaces to put your toothbrush and razor. I have been needing a place to put them and this is great! At first, I was having some trouble with the suction cups but the directions explain it perfectly! It is easy to move around and it is my favorite container by far!
March 19, 2013
Rated

5

out of

5
 by
momma7
basket
it is great very roomy and sticks well. I have this in my shower and it works great
March 9, 2013
Rated

5

out of

5
 by
AHAZ
Very Nice
Really like this product. It is deep and holds shampoo, conditioner, face soap and there is still room for more! Nice strong hold too!
February 1, 2013
Rated

4

out of

5
 by
Tammi107
Great Purchase
I love this basket because the suction cups actually work so it doesn't fall off the wall of the shower. The only thing I would change would be the holders for razors, etc on the sides. My razor doesn't stay in it very well if you get something out of the basket and bump the razor in the process. Hooks may be a better option for that. Overall, I really like it and it holds my shower products with ease.
October 7, 2012
Rated

5

out of

5
 by
MEMABAHA
EXCELLENT PRODUCT!
I PURCHASED MINE A COUPLE OF YEARS AGO. YOU HAVE TO FOLLOW DIRECTIONS. I HAVE NO PROBLEM. I USE BOTTLES OF SHAMPOO, FACE WASH-RAZOR, ETC. EVERY ONCE IN A WHILE TAKE IT DOWN AND PUT IT BACK UP. I HAVE SOAP DISH, AND HOOKS ALSO--NO PROBLEMS!
September 3, 2012
Rated

1

out of

5
 by
Ohwell
Terrible Suction
I bought three of these for my tiled bathroom. They stuck to the tiles at first but fell shortly after. I tried a second, third, and fourth time to put shampoo, soap and even lighter items in them but they fell in the middle of the night and woke me up. I'm returning them today. Too bad, it could have been so great...
August 22, 2012
Rated

3

out of

5
 by
MissRay
Y U NO STICK TO SHOWER WALLS
I bought it to reduce clutter in my shower but come to find out that it doesn't stick to my shower walls. Instead i stuck it onto the big bathroom mirror and cleared to sink clutter. its a good product if u have the right walls for it. i just really wished it would stick in the shower...
May 24, 2012
Rated

5

out of

5
 by
nccc
Worth every penny
I liked the first one I bought, I went out and got another for the other bathroom.
April 1, 2012
Rated

4

out of

5
 by
Sofia
Nice, Fun & Inexpensive
I really like these baskets for the shower because they're very simple, yet work very well, the don't rust, are easy to clean and they're not that expensive as other caddies/baskets.
March 19, 2012
Rated

1

out of

5
 by
Verified Reviewer
don't buy!
Low pressure...It didn't work on my wall...I returned the item...
February 26, 2012
Rated

1

out of

5
 by
outoftime
Piece of garbage
One of the suction cups on the one I bought doesn't stick. So it's useless.
January 19, 2012
Rated

4

out of

5
 by
vlsinwa
Follow Mounting Directions
Follow the directions provided by CS, WAIT the 24hrs to use or you will find the basket & its contents on the floor
December 9, 2011
Rated

5

out of

5
 by
Nikki0001
Nikki0001
I've broken about 3 of these things over the last 10 years, but I alway replace them because it is worth it. I have these baskets in every bathroom. They hold big bottles of shampoo and conditioner, facial cleansers, and a razor for a couple of months before the suction becomes loose. I'm not sure why people complain about the suction on this product. Suction cups are not meant to be permanent. When it does become loose, just wet the suction and press before locking. My only complaint is about the container store processing time. It takes way too long to process an item for delivery. They have to do better.
September 21, 2011
Rated

3

out of

5
 by
Heron
Loved it until...
Loved this, but it would randomly fall off. Last time it fell (after 2 years of use), piece of suction cup fell off, rendering it useless. Recommend not putting too much in it.
June 30, 2011
Rated

4

out of

5
 by
JTCM
Good size but does not handle heavy items well.
Suggest to utilize this product with lighter weighted items. Also, do not plan to use something with pump that you have to push down (you will push it right off the wall and break it). The multiple holes in bottom decrease mildew build-up. Love the clean/clear look, but wish the product could hold more weight.
January 17, 2011
Rated

5

out of

5
 by
Renflex
nice basket
I love that I can move it from bathroom to bathroom, big to hold everything!
January 5, 2011
Rated

4

out of

5
 by
MImom
kids showers clean and organized
really love this product so far. Walls are tall enough that larger bottles are well contained. cleaned up the side walls of shower and shower/tub combination.
November 22, 2010
Rated

5

out of

5
 by
atruqtpie
Good product
This is great. Just don't overload otherwise it will fall and break
November 8, 2010