Rated

5

out of

5
 by
TraciR
Works exactly as described
I've read some of the other reviews and I'm confused as our two shelves have worked perfectly. They were easy to install and have stayed up for almost five years without fail. I just wish the product came in a polished chrome finish to match our other fixtures.
October 19, 2016
Rated

5

out of

5
 by
jkchi
Better than suction cups
This is the 3rd one of these I've bought - one for each apartment I've lived in over the last few years. I haven't had any rust issues that other reviews mention and it's super easy to install. No worries about it falling off the wall like similar products with suction cups and the hooks are easy to remove if you don't want it on the wall anymore or if you move (I rent). My only complaint is that the hooks and glue aren't sold separately as a replacement option - the baskets I've had always hold up and could be reused, but when I move I have to buy a completely new set because the parts aren't sold separately.
February 19, 2016
Rated

5

out of

5
 by
WesInDC
I LOVE the ALL of Polytherm Basket Products
All of the Polytherm Basket products are awesome! I was skeptical when I saw them displayed in the store but must say they have exceeded my expectations. They are very strong and I love the fact that I can remove the baskets when I want to clean the shower walls. I have the four (4) Corner Baskets, one (1) Rectangular Basket and one (1) Shallow Basket. I highly recommend them!
February 18, 2014
Rated

1

out of

5
 by
TSC5
After two months...fell off
I had high hopes for this shower caddy as it worked fine for two months, then suddenly without any additional weight, it fell off the shower wall. I installed the hangers per the instructions (and even waited 3 days to make sure the silicone was fully cured) and it seemed very strongly attached for two months, until the clips just let loose from the silicone (which is still firmly attached to the tiled wall). This is a bad design; they should have used 3M Command strips instead of silicone. My advice...don't buy.
November 30, 2016
Rated

2

out of

5
 by
BGTucson
Great while it lasted
I really liked the looks of this shelf, and it worked well for a while, but the hooks will not stay on the wall. I installed exactly as directed, but the little pressure stick part gave way and the glue remained firmly attached to the wall, but not to the hook. Great idea, but poor execution. Shelf was NOT overloaded, either. I only kept a bar of soap, razor and small hand brush on the shelf. Very disappointed.
October 1, 2016
Rated

1

out of

5
 by
af84
First 6 months - Great! After - not so much
I loved these baskets for my newly tiled shower. I hung two of the regular, rectangle baskets, and one corner basket. I thought it was interesting two had white glue, and one had a clear glue. All three baskets (6 hooks total) worked great for the first 6 months. Then this week, three hooks, each with clear glue, popped off with in the same hour. The popped off the hook side, not the shower tile, showing that it was not the tile and glue, but the glue and the hooks. I am pretty disappointed.
July 13, 2016
Rated

4

out of

5
 by
EStaff
Pluses and Minuses
It's a useful product as long as it stays on the wall !! While cleaning the tiles, I somehow applied too much pressure and knocked a "hook" off of the glue/tile wall. The hook broke and now I can't find the name of the company to purchase a replacement . one of my shelves is out of action. If I can't replace, I will take the whole thing down.
May 27, 2016
Rated

1

out of

5
 by
Mias44
Do not buy
I followed the installation directions exactly as written and the two baskets I installed lasted exactly one week before crashing down in the middle of the night. Neither basket was full or too heavy. The hook tore completely off the wall, the glue was obviously not good enough to hold it. Waste of $34 buying these two baskets, would NOT recommend this product.
May 5, 2016
Rated

2

out of

5
 by
pajebynight
Adhesive doesn't work, the basket kept falling
I bought this at the store in Boca Raton. I love the sleek and modern look, but I've reattached this so many times that I ran out of glue. The basket and hooks kept falling off the wall, even if the basket was empty. I ended up setting this on the side of my tub.
January 24, 2016
Rated

2

out of

5
 by
Containers
Rustproof?
Like that the basket can hold liter bottles, but it is definitely not rustproof after a year.
May 26, 2015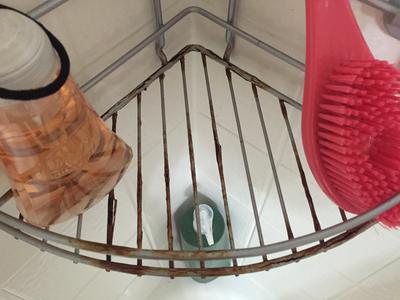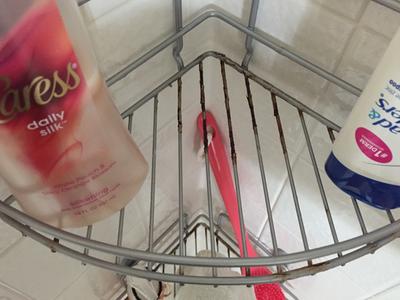 Rated

5

out of

5
 by
Beckster4169
Awesome Shower Solution
I have these in both of my showers now. It has been a great solution, especially in my stall size shower as there is no space to store anything. This product stores my shampoo & conditioner, my husband's shampoo, and a few other products. I'm waiting for you to carry the soap dish too . . .
May 8, 2015
Rated

4

out of

5
 by
perkinska
I love that you don't need to drill
I have been searching for this product for a while, and am so happy I found it! I love that you don't need a drill to hang this up, but I think the directions could be more informative. When I hung this up, I understood not to hang it on a tile seam, but since my tiles are odd shapes, when something is towards the corner, the basket tips over and it lop-sided. I wish I had thought of that earlier.
April 16, 2014
Rated

5

out of

5
 by
rrgg
so far so good!
it was so hard to find something like this! it's only been a week, but these baskets are great so far. seem to be very sturdy, much better than the ones with suction cups, and much nicer looking than the ones that hang over the shower head. very easy installation!
August 11, 2013
Rated

5

out of

5
 by
Hughtime
Love This Product!!!
This is by far the best product I have found for the shower that doesn't rust, mold or mildew. It looks nice and sleek and it's oh so easy to remove and clean behind. Be sure to layout how you want the shelves and baskets to fit before putting the hooks up. My mistake was easily fixed by removing the hooks and moving them to a new location. Clean up was also easy to do. I'm pretty impatient and wanted to use this right away, but had to wait 48 hours for the silicon to set up. Not to bad but it's my only con to this product. I covered all the hooks with plastic just so they wouldn't get wet. This is not required, but I did anyway just so I wouldn't have to wait again, in case the water from the shower messed it up while drying.
April 5, 2013
Rated

5

out of

5
 by
alison3
Very good
this is a great solution for my shower. I have gone through lots of different tries and so far this is the best one. it sticks and I don't need to worry about it falling to the ground suddenly. I just wish it had a hook for my razor and/or loofa.
March 18, 2013
Rated

5

out of

5
 by
Maria5
Perfect
Finally - a great basket to hold shampoos, etc. in the shower. This is so much better than the ones with suction cups that always end up falling in the middle of the night. This is sturdy, durable, and great looking.
February 16, 2013
Rated

5

out of

5
 by
greengirl170
These really do stay up!
I have a bunch of heavy shampoo etc. bottles and needed to organize them. I bought 3 of these, costly but worth it! It's been about 3 weeks now and no sign of falling.
December 7, 2012
Rated

5

out of

5
 by
Spot
It Works!
Finally found something that stays up and looks good. And did I mention that they STAY UP? Fabulous!
April 1, 2012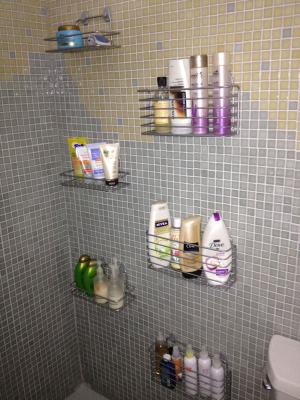 Rated

5

out of

5
 by
RKEELAN
VERY STURDY
THIS PRODUCT IS VERY STURDY AND HOLDS MY BIG SHAMPOO BOTTLES. IT IS A GREAT SPACE SAVER
March 18, 2012
Rated

5

out of

5
 by
Dawng
Looks Like they were professionally installed!
These tub corner baskets where so easy to put up, no suction cups to come loose! After 24 hours they were ready to load with Shampoo, Shower Gel & More! Never would know they weren't put in by the builder! Highly recommend them!
March 14, 2012
Rated

5

out of

5
 by
urbanyuppie
If I can do it...
This shower caddy is top notch! Installation is VERY easy with no mess. We loved it so much we even got two of them! I highly recommend this product to anyone!
February 26, 2012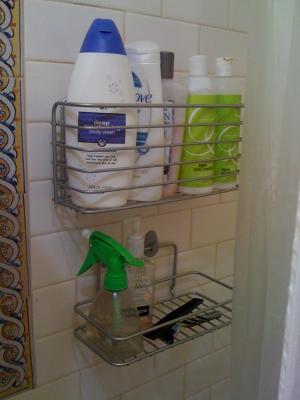 Rated

4

out of

5
 by
sgb1818
Great basket; would like more bracket choices
This basket is perfect for a few bottles of shampoo, conditioner, etc. and does not stick out too far into the shower stall. I did not use the provided glue-on system as I did not want anything permanent; rather bought a few S brackets which work fine to hang over shower partition.
February 18, 2012