Rated

5

out of

5
 by
Anix
Great for organizing
I know this is a pricey product but with the dividers it made my life so much easier. Before my cabinet was a mess with food storage containers, always having an issue finding lids and constantly need to reorganize it. I bought two of these and now have the containers in the back and the lids for them in the front with the dividers separating them. Now it is so much easier to find the matching lids.
September 12, 2014
Rated

5

out of

5
 by
Jeanie
simplehuman Pull-out Cabinet Organizer
This is great for under the sink in the kitchen. I used a turntable before and all the bottles would be knocked over. The liner on the base of the unit protects the bottom of the cabinet also. Great product for the price!!!
January 6, 2011
Rated

5

out of

5
 by
SIEMPERFI
Simply Sleek
this is the best product to organize under the sink clutter. it fits perfectly be sure to take measurements! but it makes slipping products in and out with ease ! Def worth the price. It is sturdy, sleek, and makes the under the sink clutter almost disappear !
May 18, 2010
Rated

5

out of

5
 by
Tuloke
This Pull-Out works wonders!
Is your under sink area full of products that you can't reach, can't find and don't know what you really have in there? I was so tired of taking everything out just to find one cleanser I was looking for. But with this pull-out installed under my kitchen sink, everything fits and now I just easily pull out the "drawer" to reach and see everything. Easy to install, and sturdy, this pull out is a must for organizing your hard to get to cabinet!
December 7, 2016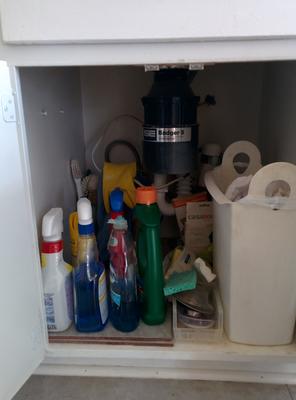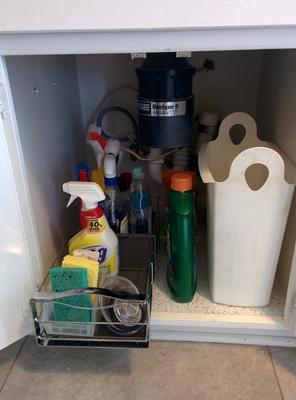 Rated

5

out of

5
 by
Erock
Great slide outs
These were easy to install, are well made, and slide in and out very smoothly. The one downside is that they do not slide out of the cabinet all the way, only about 2/3 of the way. So it could be difficult if you wanted to store smaller items towards the back of the slider. Otherwise great.
October 17, 2016
Rated

4

out of

5
 by
Emmm
Dimensions are incorrect
This is a nice cabinet organizer, and I really wanted to keep it, but unfortunately the dimensions listed on both the Container Store and simple human websites are not quite accurate, so it didn't fit the space I needed it for. With the divider inserts, the organizer is about 9.25" wide, not 9", because the parts of the dividers that hook on to the metal frame stick out just a little bit wider. The cabinet I bought this for could only accommodate a 9" width, and I didn't want to just throw out the dividers since they were part of the reason I bought it. I didn't have a wider cabinet where I could use it instead. So, unfortunately it didn't work for me, but it seemed like a nice quality item like most simple human products.
September 21, 2016
Rated

5

out of

5
 by
pamco
Sturdy and easy to install
This pull-out drawer is very easy to install and works very well. It's sturdy and rolls in and out easily. It makes getting reaching items in the back of the bottom part of a lower cabinet a breeze. i wish we'd done this 20 years ago!
August 22, 2016
Rated

4

out of

5
 by
Fregerston
Good utility and versitility
In total, I have purchased the 14" organizer by simply human and one of the bamboo organizers. This one fit the space, but is not as good as the 14". The bamboo organizer also came with an installation template, which made things so much easier. The 9" also does not roll out as far as the 14" (which was s surprise). In sort, good utility but I would have rather had two 14" units and tried to make them fit.
February 23, 2016
Rated

4

out of

5
 by
mataios
Almost great
Very easy to install and a sturdy product. Unfortunately it does not pull all the way out so things at the back are hard to get - especially because it is in a narrow cupboard.
March 22, 2015
Rated

4

out of

5
 by
jls988
Doesn't pull out enough
I bought these to organize a pantry and better utilize deep shelves with limited vertical clearance. Unfortunately, since they don't extend all the way, some items in the back of the drawers are still difficult to see and retrieve. The wider shelves in the same style (20") DO pull out all the way. Not sure why these dont.
February 20, 2015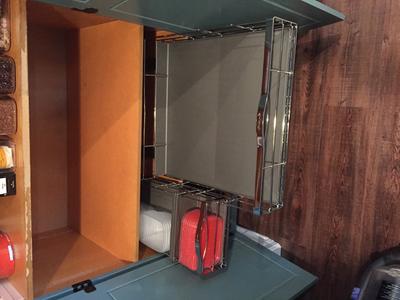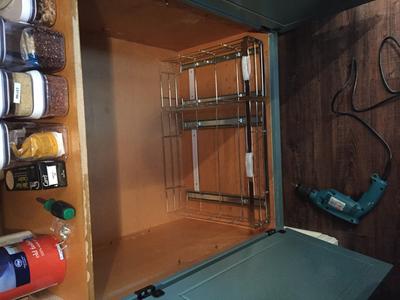 Rated

5

out of

5
 by
Trish07
Best pull-out drawers hands down
I have simplehuman pull-out drawers in 9", 14" & 20". LOVE THEM! I also have one Bamboo wooden 20" pull-out drawer- I like it, but not as much. The SImplehuman drawers are fantastic- easy to pull in and out with or without a heavy load in them. I keep adding them to every cabnet... Am up to 5 now & I plan on continuing til every cabnet has them as the bottom access.
September 2, 2014
Rated

5

out of

5
 by
NikLB
Sturdy and Amazing
Used these to organize a snack drawer for kids - amazing! Easy to install and set up. Feels very secure when pulling drawer out and sliding back. Looks great and really cleaned up the messy snack drawer - so nice to be able to pull out and see all the snacks instead of having to pull everything out of the cabinet. Definitely recommend!
March 18, 2014
Rated

5

out of

5
 by
beth22
Got the job done
I purchased for cabinet below my kitchen sink. Although I measured everything prior to ordering, I was still concerned it would not work. But, it fit in easily, was a breeze to install and I am now ordering another for the other side of the cabinet.
March 14, 2014
Rated

5

out of

5
 by
jmwelldrill
Exactly what I wanted
Very well made, easy to install. I picked this style for the fact of the plastic (removable) liner, since they were going under my kitchen sink. I had them installed in about 15 minutes.
February 24, 2014
Rated

4

out of

5
 by
Pommes
Very Good
This is a very useful slide out because it's size is hard to find: 20" deep (most are 21") and narrow (if you're installing under a sink, you can get away with only opening one side of the cabinet to get it out.) As mentioned in another review, it was a little disappointing that it didn't pull out 100%, as the 14" and 20" do. BUT, if you don't want to stand on your head to see what's in an under counter cabinet it's the best I could find, for this size.
October 28, 2013
Rated

5

out of

5
 by
SweetLizzieC
Two for the price of one!
I have a small amount of space under my sink on my RV in which I needed to fit a waste basket or cleaning supplies, but there wasn't room for both. When I found the "Narrow Pull-Out Cabinet Organizer" I realized I could fit a waste basket in front and the cleaning supplies easily behind within the same amount of space. I am more than delighted that I ended up being able to accommodate two for the price of one and in one space too! Great design!
April 26, 2013
Rated

5

out of

5
 by
MissDisOrganized
Well Made Easy to install
Does what it says and is well made. It is also easy to install.
April 26, 2013
Rated

2

out of

5
 by
puyallup
What happened?
I don't understand what happened with this drawer. It only pulls out half way unlike the larger drawers which does you almost no good. I am returning this product.
February 28, 2013
Rated

5

out of

5
 by
Hollybelle
Great slides
Best slide outs for medium to tall bottles under kitchen sink.
February 15, 2013
Rated

3

out of

5
 by
ContainerStoreRegular
Good, BUT...
the drawer DOES NOT pull out all the way, more like 2/3. That's something that needs to be explicitly said in the description. Otherwise it's easy to install and works like the medium and large drawers which do pull out all the way.
May 15, 2011
Rated

4

out of

5
 by
HomeOwner1
Good product- one thing to note
While the fit the length of the space as described, it does not pull out all the way, so a lot of clearance needs to be above it in order to see items at the back. Overall great for my space, though I thought I could use 3 in a space, where really its only practicle to use 2.
May 30, 2010