Rated

5

out of

5
 by
CollectorMN
Great way to display a Collection!
My salt and pepper collection is easier to see when displayed on the shelves. It is the perfect size!
January 17, 2017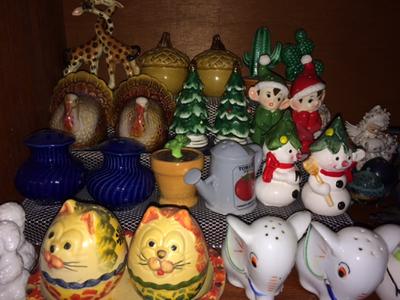 Rated

2

out of

5
 by
JessicaBee
Disappointed
The shelves seem a bit too narrow for a can to fit on them (that's why I bought these), and the mesh on the shelves was a little bit convex, so things slide off of them easily.
June 16, 2015
Rated

5

out of

5
 by
Caquino
Awesome
Don't be deceived my the somewhat flimsy construction. This thing is tough! Held all of my spices. Looks great and feels sturdy.
March 29, 2015
Rated

4

out of

5
 by
LGCnyc
Decent organizer
I bought this so that I could see all of my spice bottles at once and it does the job just fine. The only issue I have is that I wish it had a bit of lip or railing along the sides because the bottles on the ends fall off if I hit into the rack in the cabinet.
April 29, 2014
Rated

5

out of

5
 by
VINZIN
GREAT FOR ORGANIZING
Now I can finally see all the soup, canned tomatoes, etc. that we have in our closet. Love it!
March 17, 2014
Rated

5

out of

5
 by
Dana5151
Love this product
I use silver mesh cabinet organizer for my spices. I love it. Great price too. My spices look so nice in little jars and now I can see them all. Thanks!
April 21, 2013
Rated

1

out of

5
 by
Avital
Not level
I purchased the mesh cabinet to store my nail polishes on. Unfortunately the mesh isn't leveled and they kept falling off so it's not useable for me.
February 27, 2013
Rated

5

out of

5
 by
saxon54
perfect cabinet organizer
This little item, combined with the wire cabinet door spice racks have my cabinets more organized than they've ever been. Love it!
February 18, 2013
Rated

4

out of

5
 by
srlandis
ok but slippery
I bought this to put jars of spices on, but the wire mesh is a little slippery. I think I prefer the kind that is plastic coated wire. This is ok, but things tend to slide.
January 29, 2013
Rated

5

out of

5
 by
Petite
Does organize
This is by far the best spice organizer that I have ever purchased. It allows me to see all of the spices easily and reach the item that I want with ease.
October 19, 2012
Rated

3

out of

5
 by
Shauna
Spice Rack
Is exactly what you would expect it to be. Good quality, stacks spices nicely, works very well in undersized apartment cupboards!
April 14, 2012
Rated

2

out of

5
 by
RayinNYC
Not as space saving as I thought
The shelves are not really wide enough and things keep falling and I realized that, when you use it, there is wasted space underneath. So, while it helps me see bottles better, it doesn't save space for me, which was a key reason I bought it.
July 25, 2011
Rated

2

out of

5
 by
Lgirl
Mesh Cabinet Organizer
This is not as good as the plastic ones.I thought it would be,but its not worth wasting your money on.
October 24, 2010
Rated

4

out of

5
 by
Jolapu
Great solution for a medicine cabinet
The four stars only because I put medicine on it and it's a little shaky. If you put heavier stuff on it, it maybe more stable. Great choice overall, very happy with it.
July 9, 2010
Rated

5

out of

5
 by
OrganizedMomof4
Perfect for Skinny Shelves!
This is a perfect fit for my top kitchen cabinet shelves. My spice bottles stand up straight and I can read the labels without having to take all the bottles out to find a certain spice. Thanks for "neating up" my cupboards!
May 22, 2010
Rated

4

out of

5
 by
hhh213
Great shelf
I was hoping to stash some extra spices that I have duplicates of undereneath, but I cant stand them upright on the bottom. So, I just stashed them under there on their side.
May 20, 2010
Rated

4

out of

5
 by
guicha50
good
the size was ok but the mesh was a little bumpy in some parts making it hard to jars to stay in place...
April 11, 2010
Rated

5

out of

5
 by
Sarah1014
Spice shelves
My spices were everywhere, getting out of control. This meant I never knew if I had any cayenne pepper left, or whathaveyou, so I was ALWAYS buying more. I can't tell you how many containers of ground ginger I have. Two of these puppies side by side cleaned it right up. Amazing.
April 9, 2010
Rated

2

out of

5
 by
Nicole
Get the plastic ones instead!
I bought these mesh can risers first, because they were less expensive than the plastic - but very shortly the mesh got bumpy and dented and the cans wouldn't stay in place - definitely spring for the plastic instead, I ended up returning these.
March 3, 2010
Rated

4

out of

5
 by
cjin
Wonderful
I love this prodcut. It is just the right size for spices in my cabinets.
March 2, 2010