Rated

5

out of

5
 by
Love4joy
Easy to Use
I love these tube squeezers! I use a medication that comes in a metal tube and it is very hard to get all the medication out because the tube kindles up when squeezing. In the past, I would barely squeeze the tube and more would come out than I needed. This was frustrating because I was loosing medication and could not use it. Medication is expensive these days! I never felt like I was getting my money's worth. Since I have been using these, squeezing gives me the right amount! I'm actually saving money! They work great on plastic toothpaste tubes too! I highly recommend these tube squeezers!
January 25, 2014
Rated

5

out of

5
 by
janiemc
Colorful and Easy
Ok, we've all seen the many varieties of plastic pieces used to squeeze the tube of toothpaste to get the very last amount. I love these because of their simplicity and the great colors! I just need a bit of brightness in the morning, and these provide it. When these get worn out, I'll buy more - that's how much I like them!
May 6, 2012
Rated

5

out of

5
 by
harleyangel
Best product ever
I love how this works for toothpaste! Less mess and it makes sure you get every little bit!
March 18, 2012
Rated

1

out of

5
 by
Huskylover
Disappointed
The product may work but after trying 5 different tubes, it wasn't wide enough to fit any of them. I tried an assortment of products such as shea butter, self tanner, lotion and conditioner and couldn't find a single tube that would fit.
December 9, 2016
Rated

5

out of

5
 by
Nanna
Best Tube Squeezer EVER!!
I've bought different kinds over the years, and they've gotten lost, or broken, or I haven't liked them and thrown them away. When I took these out of the pack, I knew immediately that these were going to be my favorite tube squeezers EVER! Getting them on is fun (because they are made to get every drop out) but they slide up the tube just like they are supposed to. I hope you enjoy them as much as I do.
May 24, 2016
Rated

1

out of

5
 by
x4light
Not very effective
It seems like the bands on these aren't quite tight enough to make them effective, at least on a regular density ointment that I tried them on. They slid upward without clamping down enough to push all of the product upward.
April 24, 2016
Rated

5

out of

5
 by
MaryofVA
Great!
One reviewer said they broke the first one because there were any instructions, I almost did the same. These work great, I wish they made a smaller size for tubes like Neosporin and Benadryl AND a bigger size for big tubes of body lotion.
November 7, 2015
Rated

1

out of

5
 by
eme88
Not tight enough
They work to push product down but don't stay tight.
January 11, 2015
Rated

2

out of

5
 by
rebeccaindelaware
Should Have...
Should have ordered the toothpaste tube squeezers instead. I ordered two packets of these for a total of six squeezers. They're connected with a rubber band - type mechanism. Two of the six broke within the first week of use.
July 29, 2014
Rated

5

out of

5
 by
SouthwestDweller
Handy gadget
These are easy to use. Much nicer than a key style that must be turned. Great price also.
July 27, 2014
Rated

5

out of

5
 by
CharP
Why have I just now found these things?
I love these. I feel like I have wasted so much tooth paste over the years without it. I love that you buy them in a 3 pack one for every bathroom.
June 5, 2014
Rated

5

out of

5
 by
yaoyao
great size and functional
It fits most tubes, easy to use. Love the color too!
May 12, 2014
Rated

3

out of

5
 by
MisC26
I have no problem with this product itself. It works when you know how to use it. I ended up breaking one of then because I did not know I could open it up to put the tube in. I tried to stretch it around the end of my tube of lotion and broke the white rubber part on one end.
April 19, 2014
Rated

5

out of

5
 by
Pearwater
I Like it a lot!
I've been to use this product on my fixodent creme tube...which is great!!
April 18, 2014
Rated

5

out of

5
 by
EastCoastShopper
No waste using this product
The squeezer I have been using was so complicated. This one is SUPER EASY, colorful and does the job. I DO NOT LIKE WASTE so I will get every drop of my tube of toothpaste using this gadget.
March 24, 2014
Rated

3

out of

5
 by
HappContainerstreShopper
Squeeze Ease
Squeezes enough for soft sided plastic tubes. Would not work well on old style toothpaste tubes
February 20, 2014
Rated

5

out of

5
 by
Dayton
Best Squeeze Tube Squeezer - By Far
Have had other squeeze tube squeezers, but this beats them all. Works great, looks great and comes with 3 to a pack and in different colors which is nice.
January 26, 2014
Rated

5

out of

5
 by
Meemo
Mom liked mine so much.
Love this product. My Mom requested I buy her some. This item is perfect for people who can't grip the old style tube squeezers. If you can't thread the tube through the slit, one side of it detaches and you just open and close it. Great product!!
August 6, 2013
Rated

5

out of

5
 by
BC4All
Excellent Multi-Use Product
The tube squeeze helps me use ALL of the product, not just toothpaste. I use it on hand creme tubes, facial moisturizers, anything in a tube! It may sound like a little thing to some people, for me it is one other way to get the most out of money spent on consumable goods. I was amazed to find how much I had been throwing away before I started using the tube squeeze on all of my tube products! I highly recommend that one orders several. I also enclosed some in Christmas presents, and it was one of the favorites!
April 27, 2013
Rated

4

out of

5
 by
thekeel
Better than the usual squeezers
These are simpler to use, smaller, and more attractive than the usual clunky ones sold elsewhere. It simply slides up the tube - you just have to be careful to keep the tube centered in the slider or it'll get stuck. Once the slide is up near the top of the tube, even if it doesn't advance, it helps push the contents to the top so it's much easier to hand squeeze it out - really helps you use all the contents. Also keeps the tube nice & flat (instead of an ugly, messy roll).
April 26, 2013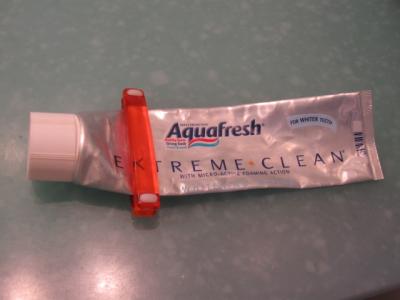 Rated

5

out of

5
 by
Ria1
Money saver
This the best.product I have seen for getting all of the toothpaste out of the tube. It is very easy to install and use.
March 24, 2013
Rated

5

out of

5
 by
PamelaT
Works great
Was looking for something for toothpaste tubes. These work great.
February 28, 2013
Rated

4

out of

5
 by
PassionIsLife
My only reason for not giving this 5 stars is because I tested it on a tube of toothpaste that was almost empty (and had been squeezed by hand up until that point), and if it did manage to squeeze out any more than I had been able to do by hand, it was pretty minimal. So it may not be able to get much more than you can on your own, BUT I'm sure it will make things easier in the long run. At the very least, it will save a few seconds here and there. I do also wish they had more color options.
February 15, 2013
Rated

5

out of

5
 by
KristieMS
Great
This product is a lot easier to use than similar products..
June 18, 2012
Rated

5

out of

5
 by
KdKsA
Useful tool in the bathroom, and other places
Squeeze Ease Tube Squeezers really work on my Tom's Toothpaste Tubes; makes it easy to push out new paste; it's clean and no-hassle. Stress relief ...
June 8, 2012
Rated

5

out of

5
 by
OrganizationLove
Most Useful Product I Own
These clips work on so many things! Great value for the price, and they'll last forever.
April 28, 2012
Rated

5

out of

5
 by
Jenlightenment
Much easier now...
It is so much easier now to get those last bits out of the tubes with this device. It has saved me from many pain-staking moments of squeezing and squeezing. The only suggestion that I can make is that it come in different sizes. It is too small for some tubes and too big for others. For instance, I could have used a smaller one on my toothpaste tube so that it could fit in my toothpaste/toothbrush holder. For now, I have to take it off after I squeeze it to the top and then must squeeze it back up again the next time I need it. It would have been nice to have a smaller one that I could have kept on my toothpaste tube.
March 26, 2012
Rated

5

out of

5
 by
lmh145
Great little gadget
works wonder from toothpaste to small size eye ointment and anything in between with a tube package.. Simple to use and last. Good value for its price.
March 26, 2012
Rated

5

out of

5
 by
RedHot4Cali
Amazing!!!!
So easy to use and re-use!! Best ever idea!! Get these now!!
March 12, 2012
Rated

5

out of

5
 by
OhSoNeat
Does its job!
It does exactly what you need it to do! Perfect for toothpaste tubes!
March 9, 2012