Rated

5

out of

5
 by
Warmfire
Earbuds
I use the large pill capsule to store my earbuds which are wrapped around the small red Bobino cord holder. The whole thing, Bobino and earbuds, easily slips into my pill capsule which I carry in my everyday bag. I lucked out in the store and found an entirely red large capsule in which both halves are red. I enjoy this product. I plan to get another one to store q-tips.
June 1, 2014
Rated

4

out of

5
 by
lb213
Dr Mario!
I love this cute little pill case. It's tough enough to handle being tossed about in my bag, and it's easy to open. Yes-- overfilling leads to spills, but it is a great solution for keeping a few of my "as needed" meds handy.
March 20, 2012
Rated

5

out of

5
 by
Wouldie
Super cute
I love this capsule, so cute and holds quite a few pills. I just wish I could have picked the colors, but still pretty cool. So easy to see in my bag.
January 2, 2017
Rated

5

out of

5
 by
EfromNYC
Handy Pill Capsule
I really like the small pill capsule - like the colors and I chose the blue and white one. I like to store aspirin in case of emergency and sometimes vitamins when I take a quick day trip. The capsule keeps the pills safe and secure and the small case stores enough for a short trip or for daily use. Great invention and ease to take with you in your briefcase or small toiletry bag.
May 3, 2014
Rated

4

out of

5
 by
MirthandMagic
Magic in the Pill
Wonderful little container. Love the colors. Bought the large pill for holding my 1 1/2 inch sponge balls. Have a perfect routine for the container "laughter is the best medicine". Everyone at the International Brotherhood of Magicians Ring 320 meeting love them too. Keeps the delicate sponge balls clean, dry and all in one place in my suit pocket.
April 17, 2014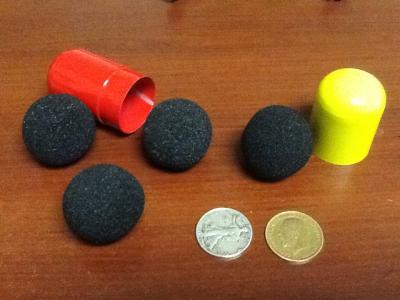 Rated

4

out of

5
 by
CarolynAnn
Fun and Comically Sized
Excellent choice for a pill container on the go. I have a preference for the smaller pill containers, as having a few separate ones comes in more useful to me, than the large one. I've even bought a few for my family because they liked mine so much!
March 11, 2014
Rated

5

out of

5
 by
kimkimmyj
Handy little pill holder!
Originally, I had bought a smaller one for trips but I bought a bigger one and my friend who was travelling with me really liked it so I gave it to her which made me have to get another. They hold quite a few pills and tuck right into small spots. My friend doesn't have a Container store nearby but I told her she can always order things online. I'm addicted!
March 7, 2014
Rated

4

out of

5
 by
dpc4422
Awesome buy
Works perfect for my vitamins, fits perfectly in my handbag..
March 5, 2014
Rated

5

out of

5
 by
LovesGadgets
Cool Pill Container
All my friends loved this pill container. I'm ordering more for stocking stuffers?
February 14, 2014
Rated

5

out of

5
 by
AustinKelly
Perfect for purses
Great compact container to keep pills in my purse. Love the shape and colors, very cute. Not sure how airtight it is. Will have to wait and see if my pills (one of which needs humidity control) stay effective in this container.
February 11, 2014
Rated

5

out of

5
 by
Verified Reviewer
Hard to swallow
But this is one of the best pill cases I have come across. I had always been looking for a small case since I really don't take a lot of meds. This was not only functional, it always brings a smile to my face when I look at it.... and of course the price was right
August 8, 2013
Rated

5

out of

5
 by
TCSJunkie
I love these pill capsules!
Yes, when I first saw them I immediately thought of Dr. Mario. I use the small ones to hold needed medications in my purse and the large ones are great for holding cough drops or small candies so they don't get lost in the bottom of my purse or a bag. I purchased different colors for everyone in my family so we can tell them apart.
January 7, 2013
Rated

5

out of

5
 by
Jenna57
neat container
The smaller sized pill is perfect for bobby pins, and i use the large pill as a mini first aid kit with band-aids, ointment, etc. I only wish they came in more colors.
April 22, 2012
Rated

5

out of

5
 by
MissAppear
cool container
I bought this to replace my missing pill box, I had been using a zip lock bag and was ok with it until I found this. This is so cute. The paint in the inside shaves though, I hope the cap will not get loose over time. Otherwise, I'm very happy with the purchase.
April 17, 2012
Rated

5

out of

5
 by
JennyInSC
Love this Pill Case!
I have the small one and keep about 6 tablets of headache medicine with me at all times. I have migraines so I am never without my trusty little pill! A few of my friends have seen it and commented on how cute it is. I call it my "chill pill".
April 1, 2012
Rated

5

out of

5
 by
jillybean13
fun product
This product is small enough for a pocket and easy to use. I bought it for my husband because his little Excedrin bottle top refused to stay on.
March 20, 2012
Rated

4

out of

5
 by
BonnieP
Cute and useful
Holds a good number of pill and the seal is tight.
February 20, 2012
Rated

5

out of

5
 by
justgotwicked16
Cutest pill carrier
I have the small size and I keep it in my purse full of Ibprofen. I just love it. When a coworker ever has a headache I always offer them some just so I can show off my cute little case. It's about the size of my thumb, hardly takes up any room and since it's a hard metal it won't get crushed.
July 12, 2011
Rated

5

out of

5
 by
Honey
Quirky Pill Capsule
I love these little pill capsules! They are perfect for dividing my medicine and vitamins for the day. I have one for my lunch bag and one for after dinner!
June 24, 2011
Rated

5

out of

5
 by
Musician
Cute, fun, perfect
What a great idea. It takes up very little space and makes the Ibuprofen easy to grab the day after the gym!
March 10, 2011
Rated

5

out of

5
 by
RevGS
Useful and cute
Small one is great for keeping needed pills with me while out for the day, or away overnight.
February 15, 2011
Rated

5

out of

5
 by
EatingChocolate
Perfect gift
I purchased this yesterday for my mom - she was leaving the country yesterday, and she had been carrying her daily medications with her in a small takeout salad dressing container. When I got her the small pill capsules - she was thrilled, she quickly put in all her medications in it in front of me - made me happy. I do wish they had a medium size of this as well
October 25, 2010
Rated

5

out of

5
 by
jbdev1
Adorable odds-n-ends holder!
Sturdy container made of light-weight metal. Fits together securely. Perfect for holding aspirin, vitamins,etc. I like using it to carry small barrettes, bobby pins. I carry my nail clipper in one..because of the bright coloring I can easily find it in my purse!
July 9, 2010
Rated

5

out of

5
 by
marciamuse
never be without medicine again
This holder is perfect to keep my son's medication in. We can keep it on his wheelchair for those days that we left the house before giving medication
April 19, 2010
Rated

5

out of

5
 by
windseyb
Cute
I love these guys, they're so cute. I keep one in my purse to keep my daily pills and people always ask where I got it.
March 3, 2010