Rated

5

out of

5
 by
JenMarie
Bottles & Brushes Tray
This review is for the "Cosmetic Stax Bottles & Brushes Tray Clear". I had been struggling with organizing my compacts (bronzers, highlighters, blushes, powder foundations, etc) in my vanity drawers. So I searched and searched for an acrylic rectangle that had the width of 3.5 inches. And then I found this! I bought 6 of them (3 for each drawer). I wrapped 3.5 inch rubber bands around them creating 20 slots in each for compacts. The price point is awesome for how many it will hold and whatever sized compact (because most compacts are 3.5 inches or less)! And you can get a bag of rubber bands for $3. I'm very excited about my new creation and felt I had to share it for you makeup organization addicts! :) I highly recommend it! I saved a ton with this DIY project rather than buying the prefabricated compact specific ones from other brands.
August 27, 2015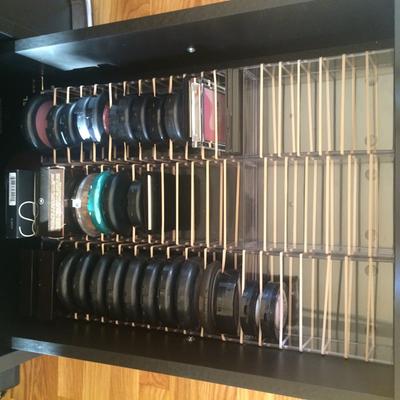 Rated

5

out of

5
 by
fabmom6000
Perfect fit!
I needed to organize my top drawer in the bathroom. Finding these trays was great. I know they're for makeup, but they fit my need perfectly to organize my makeup, nail files, pens, medicines, odds and ends, etc to keep everything from pushing to the back of this large drawer. I only used 4 to allow for a large hand mirror, but could have used 6 if needed. My issue was the height of the drawer. I needed something 1.5" or under and this was it! Thank you for having the exact measurements from top to bottom, front to back, and side to side. I will be back to order more items as I get more organized!
July 21, 2015
Rated

5

out of

5
 by
karenr
Save time in the morning!
This is a great product for keeping your cosmetics organized and drawers clean. It is so fast to get ready when everything is at your fingertips! Love it.
March 16, 2015
Rated

5

out of

5
 by
Mizraggy
I love the Container store!!
Makeup drawer...check!! Every spring I eagerly await the mailer for organization items...this year I hit a bonanza!! The STAX cosmetic organizers are perfect. The drawer I used previously had junk...no news there. But as soon as I saw the item I KNEW that drawer was headed for a new life...and boy it has. More functional, everything I use is now in easy reach...life changing....no really!! LOL Please pick me....I'm working on the garage next...
May 2, 2014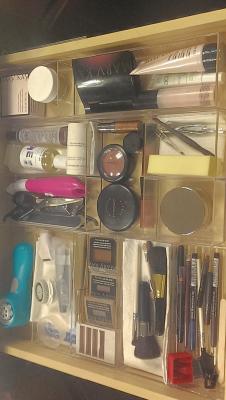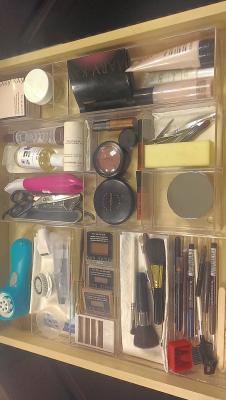 Rated

5

out of

5
 by
Knitter1
Forever neat
I purchased these cosmetic drawers to make my makeup drawer easier to use. It has worked beautifully! I love how it looks and how much easier it is to find things
May 2, 2014
Rated

5

out of

5
 by
Bubbala
Great item
I like to organize everything and this worked out perfectly for my make-up. Just love it.
April 30, 2014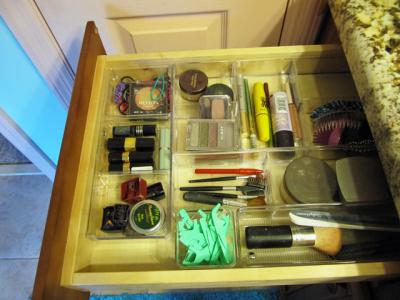 Rated

5

out of

5
 by
Sebastian03
Neat and Clean
I love the Cosmetic Stax Vanity Trays, they are a perfect fit for my drawer and all of my make-up items. I dreaded opening this drawer because it was frustrating digging to find what I wanted or needed. I was fed up so I took the drawer with me to The Container Store and was thrilled when it all came together. These trays are very durable, have straight lines, shallow and maintain a neat and clean look. The space looks bigger and much more organized. I was so excited that it gave me momentum to organize 6 other drawers in my home. I couldn't be happier with Cosmetic Stax Trays.
April 29, 2014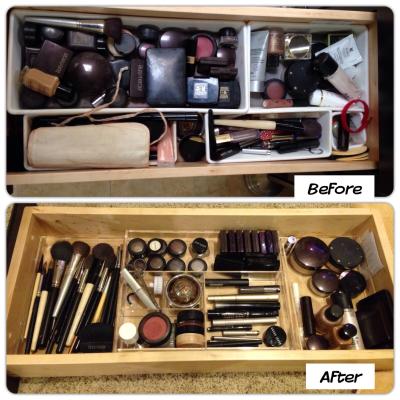 Rated

5

out of

5
 by
CnDurhamNC
Beautiful. Very nice quality
Waited quite a while for the large drawers to be restocked. Definitely worth the weight. Very good quality Lucite, well constructed. Look good, function smoothly. Excellent.
April 28, 2014
Rated

5

out of

5
 by
itsgigi
Great storage unit!!!
I bought these for my cosmetic drawer and they are perfect!!! I can easily store everything I use with some room left over and it is all perfectly organized. I have been looking for a replacement for the one I had for some time, and two of these fit just right in my drawer. Will certainly recommend them to all my friends.
April 25, 2014
Rated

5

out of

5
 by
OrganizerChick
LOVE IT!
I love this drawer organizer because it is shallow enough to fit into the tiniest of drawers yet still allows you to organize various things! The compartments keeps everything looking very neat!
April 25, 2014
Rated

5

out of

5
 by
makeupgrl
Great Product
Works really well, would buy more of these. I love the way they stack.
April 24, 2014
Rated

5

out of

5
 by
remyb
Great trays
These trays were a great solution to organizing my vanity drawer. Now my makeup and small stuff are sorted, and thanks to the clear trays, all is visible. The trays are of sturdy construction and easily cleaned. I will buy more for sure!
April 24, 2014
Rated

5

out of

5
 by
amh8
Great cosmetic tray!
Perfect fit in my drawer and compartments were a good size for all my makeup and accesories
April 22, 2014
Rated

5

out of

5
 by
DeAndrea
Organized at last!
Thanks to Cosmetic Stax Vanity Trays my make up drawers not only look the best they ever have but I can find products I am looking for in moments. It sure beats my old method of searching and digging though a mess trying to find something and getting aggravated. I especially love the make up pencil and brushes tray. I ordered these items to neaten up my drawers because my house will be up for sell soon and I wanted it to look its best when potential buyers check out drawer space--which now not only looks neat and organized but actually looks larger. I will be ordering more of these products to organize and maximize space in other areas of the house. When I move I can take all my trays with me and start out all nice and organized in my new home. Hurray!
April 19, 2014
Rated

5

out of

5
 by
OrderFromChaos
Perfect fit
Love the way my Stax vanity tray fits into my makeup drawer, maximizes the space, and holds the everyday essentials. If only I had room for all the other Stax configurations! Maybe I'll figure it out ...
April 10, 2014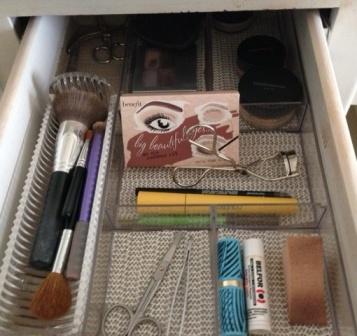 Rated

5

out of

5
 by
ruby0629
Just What I Needed
These three products were exactly what I was looking for in order that I might better organize my makeup. They were very sturdy and fit right inside my vanity drawers. Thank you Container Store for making such great products.
April 2, 2014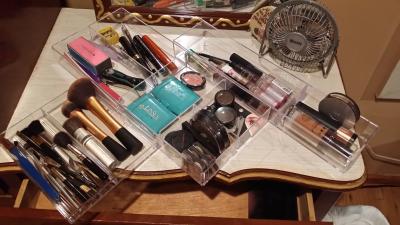 Rated

5

out of

5
 by
GraceNS
just what i needed
Fit perfectly in my vanity drawer. Had a enough compartments and enough space in each.
March 26, 2014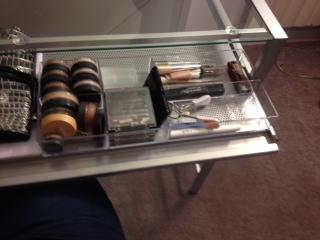 Rated

5

out of

5
 by
Labuttl
Bathroom Drawers Organized
Bought these for the bathroom drawers. They are so organized now. I couldn't be happier.
July 2, 2013
Rated

4

out of

5
 by
sterlingess
Great Organization
I love having my makeup organized and in plain sight. I do wish that the compartments had risers you could purchase. Some of my makeup comes up higher than the side and makes it difficult to stack them.
May 9, 2013
Rated

5

out of

5
 by
parpar
Great Drawer Organizer
Great way to organize products. Used top bins as stand alone for a narrow space that most drawer organizers were too wide for. It fit like a glove.
March 18, 2013
Rated

5

out of

5
 by
Nonnie51
So easy to see
Everything now has a place and no more searching for things when in a hurry. So easy to see where everything is located. What a relief to be organized.
March 18, 2013
Rated

5

out of

5
 by
rogers4492
Great organizer
really utilizes my drawer space-slides easily and keeps my makeup separate
March 19, 2012
Rated

3

out of

5
 by
KMH4
Alttle disappointed
I ordered the large 8 compartment tray and also the eye pencil tray. They fit in my vanity drawer nicely and keeps all of my make-up organized and everything is easy to find. I currently have the eye pencil tray on top of the larger tray. It is supposed to slide back and forth so you can have access to the larger tray. It DOES NOT slide easily. It requires some force, and when you force it to slide all of your pencils slide out of the slots. The middle of the larger tray is the slightest bit narrower than the outer parts. I was aliitle disappointed by this.
May 22, 2011