Rated

5

out of

5
 by
StoreMoreNY
I Love This Thing!
I wasn't sure, when I purchased this whether it would work for my makeup. I have a large collection and finding what I needed in the morning was getting more and more difficult and created a clutter. This has proved to be such a good solution for me that I ordered two more to use for jewelry. It is a little pricey, so I checked out similar items online. What I found was the quality of this one (based upon consumer reviews of the others) was far superior and the size was right. Some of the others look good but when you check the dimensions you'll see they're smaller. The jewel box effect created by the faceting only adds to its allure.
January 17, 2017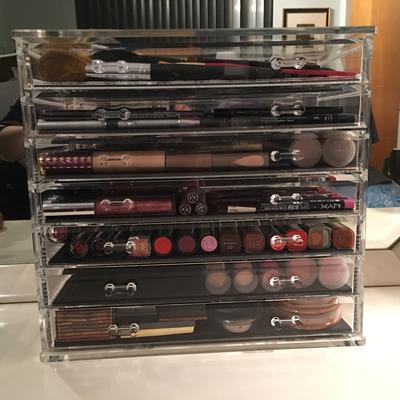 Rated

5

out of

5
 by
Treenie
Great for jewelry storage
I originally thought I would use for storing makeup but with the liner and how sturdy it is I used it for my jewelry which had been sitting out. Held a lot and love that my jewelry is now enclosed but yet I can still see it easily. Would definitely recommend.
December 18, 2016
Rated

5

out of

5
 by
Alyse
Looks nice and my makeup is organized. I wish the drawers were a little higher for some taller containers.
October 29, 2016
Rated

5

out of

5
 by
SylviaC
Excellent!!!
This box is high quality and just beautiful. My makeup collection has been growing steadily so I needed a bigger box to accommodate my collection. Although is a little pricey I am very glad I purchased it, all my makeup fits very nicely, I would highly recommend this product.
February 21, 2016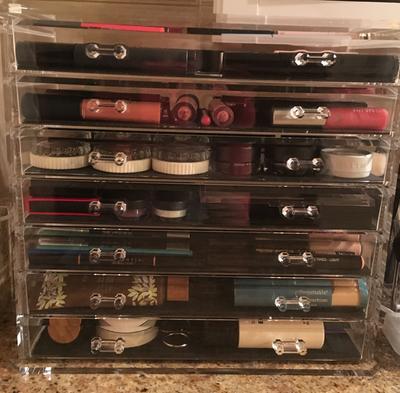 Rated

5

out of

5
 by
Goubs
Love the space and size
This is the perfect sized jewelry storage for all my necklaces that need to be stored flat.
December 6, 2015
Rated

5

out of

5
 by
Roady
Love it
I needed a larger jewelry box to store some of my necklaces and bracelets. I was apprehensive about purchasing this after reading some of the review. I ordered it online and, when I received it, I was very impressed with the quality. It suited my purpose exactly. My only negative comment is I wish they made a larger one!
April 27, 2015
Rated

5

out of

5
 by
LynnV
Just Perfect
I am using this for some of my more ornate necklaces. It looks fabulous on the shelf in my closet. I can see what is in each drawer without opening it. Necklaces are separated so they won't rub on each other and knock out any stones. Love it!
November 11, 2014
Rated

3

out of

5
 by
Janell
Disgruntled
I purchased this chess because it accomplishes just what I needed to store my jewelry visibly. However, just like the previous reviewer, one of the drawers sticks and pulls 2 drawers open at the same time. I'm going to wait until this is back in stock at my local store and try the newer chests to see if the problem has been resolved.
August 25, 2014
Rated

3

out of

5
 by
neatfreak8
Perfect if 5th drawer worked correctly
I ordered this as it is never in stock at the store. Put all my stuff in and the 5th drawer is too close to the 4th drawer. When you open the 5th drawer it pulls open the 4th drawer. I bought a 2nd one to see if it was just a lemon.. Well the 2nd one did the same. Too bad they can't get this right or else I would give it 5 stars. For the price of this I would expect it to function 100%.
July 22, 2014
Rated

5

out of

5
 by
MaryNides
Multipurpose/Beauty Treasure Chest
This 7 drawer acrylic organizer is awesome. I have bought 5 so far! I originally bought one for the purpose of organizing my make-up, make-up brushes, face/eye creams, etc. I purchased this for all the beauty fanatics in the family as well .. Then purchased 2 more: one for organizing desk supplies, and for jewelry storage as well. The product is sturdy, functional, easy drawer movement and matches everything!
April 25, 2014
Rated

5

out of

5
 by
Sam3
Great Pruchase, Worth the Price!
I have a lot of Silver jewelry that tarnishes so I bought this and LOVE it. You can see the everything through the drawers chose what you want, it is the perfect size and the black drawer liners help what you put in the drawer from sliding around and keep the silver from tarnishing. It holds so much. LOVE,LOVE it.
April 25, 2014
Rated

5

out of

5
 by
KimberlyP
Love, Love, Love!
I absolutely love this! I purchased this for jewelry storage, which it is perfect for! I've been trying to resist purchasing another for my cosmetics....but I can't resist any longer! Definitely recommend!
March 8, 2014
Rated

5

out of

5
 by
MrsTaylor
AMAZING
I purchased this for my makeup and LOVE it. You can see the makeup through the drawers and it is the perfect size when added to the 6-Drawer Premium Acrylic Chest. The black drawer liners help what you put in the drawer from sliding around.
February 16, 2014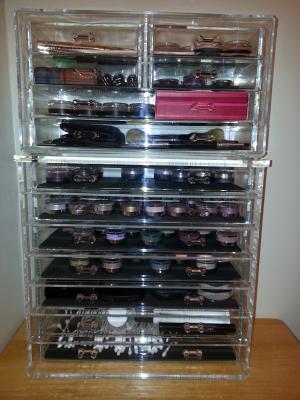 Rated

4

out of

5
 by
classicstyle
Fabulous Look
If looks were everything this would be perfect. It is sturdy, heavy-duty acrylic. It holds a vast assortment of jewelry as long as it is below a certain height. I purchased this to take the place of the system I currently use but found that several pieces in each group would not fit. Since I would have to keep my present system to accommodate those pieces I decided it wouldn't work for me. I bought the small chest also but the drawers were not deep enough to make it work. I really love these so I tried to use them for makeup but again so many items would not fit. These chests take up a fair amount of space making it impractical to keep both.
August 16, 2013
Rated

5

out of

5
 by
Thriving
Elegant storage for my best necklaces
Have wanted this for a long time. Roomy enough for bulky necklaces if not over drawer height in thickness. Can handle the long necklaces. The acrylic is at least 1/4" thick everywhere. The box is sturdy and hefty. It will stay put. I am a visual person and this box is perfect.
August 9, 2013
Rated

5

out of

5
 by
kaygee
Great jewelry box
Purchased this acrylic chest on clearance. Still was a little expensive, but it holds a lot of jewelry. It looks neat and pretty sitting on my dresser. I like that you can see in the drawers a little to know which drawer to open. Glad I purchased this.
August 3, 2013
Rated

5

out of

5
 by
Flora
Sturdy and great-looking
I have a tremendous amount of jewelry, and I like to keep it in regular rotation, so I need good, easy to see organization. These chests work wonderfully. They are strong and well-built, and the drawers open and close easily. Yes, they are more expensive than some options, but the quality justifies the cost. I have a number of pieces from this line and am happy with all of them. I only wish they made a chest with deeper drawers for some of my wider bracelets. Great purchase.
April 26, 2013
Rated

5

out of

5
 by
MelanieGtz
Woah!
I bought this product like 3 weeks ago and I LOVE it! You can get so organized with this. With this, you can organized makeup or accessories or even both. I TOTALLY recommend this product!
March 18, 2013
Rated

5

out of

5
 by
NicoleRM
Excellent!!!!
I'm very excited about this product! It's exactly what I was looking for . Top quality, great price and quite stylish.
March 18, 2013
Rated

5

out of

5
 by
MsPearls
Love, Love, Love Acrylic!
I turned my old TV cabinet into my jewelry box. Now I finally have one that is large enough! We added mirror to the backside and a light fixture. Then I found the amazing collection of acrylic jewelry organizers to arrange it all. Drawers (the best), bracelet rack, hanging necklace holders and more. The acrylic is perfect because it allows the light to shine through making it easy to find everything. This is the last time I will ever look for a jewelry storage solution. I highly recommend the use of these acrylic products!
March 11, 2013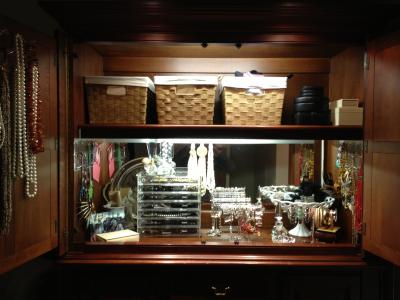 Rated

5

out of

5
 by
Dellah
versatile
Great container for make up, jewelry and other small items!
February 25, 2013
Rated

5

out of

5
 by
boxer3086
Beautiful!
I'm not usually a fan of such modern materials as acrylic, but this is a perfect storage option for all of my makeup and makeup brushes. I can SEE what I have and it's beautifully organized. It will make finding things much easier and save me time. Wish I could get a couple more for my jewelry and other small items.
February 24, 2013
Rated

5

out of

5
 by
teeena1
7 Drawer chest
I was looking for an acrylic makeup chest that I saw on another website that was alot more money. granted it was a little bigger but I am very pleased so far. I love the way it looks and it holds alot of my favorite cosmetics.
February 23, 2013
Rated

5

out of

5
 by
ColoCougar
Quality, Beauty, Functionality
I must have spent a week online looking at every possible new container for my makeup - train cases, plastic boxes, organizers, etc. I came upon this one and kept coming back to it. I thought the price was a bit high, but once it arrived, I could see that the quality of the item, with sturdy, strong acrylic drawers was worth the price. It looks fantastic on my bathroom counter. I love this chest because it not too wide or tall, and especially that it is not excessively deep, so it doesn't "stick out" on the counter. The 7 drawers are just the right depth for mineral makeup users. You will only put one "layer" into each drawer. I have all my mineral eye shadows on the top (21 small tubs), one drawer for brushes, one for my "every day" makeup (toner, base, blush, mineral veil), one for eyelash curler and mascaras, one for other brands of eye shadows, lipsticks, etc. The drawers slide nicely. I pull the ones I want completely out of the chest and set them on the counter while I apply my makeup. This chest looks very classy, and I like not having to reach under the bathroom sink or a drawer to pull out my makeup. This was a perfect purchase for me.
February 20, 2013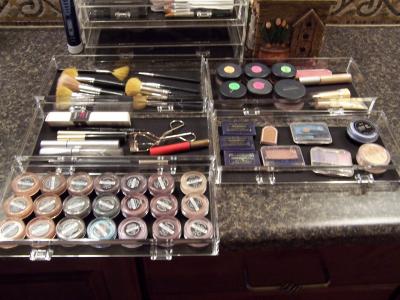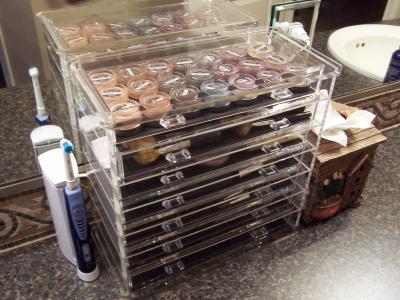 Rated

5

out of

5
 by
Nikita7
Versatile & Elegant
After looking for something like this for YEARS, I was thrilled to find it at TCS! I use it to organize my small watercolor paint pots and mini stamp pads for stamping/scrapbooking. Everything is perfectly organized, easily visible, and a snap to find. And there's not one thing flimsy about it. It's sturdy, with drawers that glide smoothly and remove fully for access. Plus, the clear acrylic and simple lines make it coordinate with any color/style/scheme. LOVE IT!!!
September 23, 2012
Rated

5

out of

5
 by
debf
Major Gorgeous!
This is a gorgeous makeup chest! I am a makeup fiend and have alot of lipsticks, eyeshadows and brushes. This holds all of these and it's footprint is very small because it goes up instead of out! It looks great on my counter. LOVE IT!
September 17, 2012