Rated

5

out of

5
 by
RonRW
Fit perfect and works great, wife loves it.
Will purchase more. Can't wait to go to actual store.
April 26, 2016
Rated

5

out of

5
 by
woofie8
good use of space
bought these to be able to see what I have in a pantry in the back. Works great!
July 15, 2014
Rated

5

out of

5
 by
porkychops
solid shelf
I have two of these shelves completely filled with Quattro Stagioni spice jars. The shelf is sturdy enough to hold the weight of all these filled glass jars. I prefer this one over other expandable shelves because of the grey shelf surface - I think it keeps the jars in place more securely; jars don't slip, slide or tip as I move some on & off.
July 9, 2014
Rated

5

out of

5
 by
HerbB
Excellent product!
These are sturdy shelves. They are easy to use and were the perfect solution for viewing all the cans and jars in our pantry. They feature a non-slip surface which adds to the quality.
June 5, 2014
Rated

5

out of

5
 by
HoyainGeorgetown
I don't ever need to buy peas again!
This thing seems silly, but it is amazing. Increases your vertical space in your pantry and allows you to see that you have 7 cans of sauerkraut, for example. The visibility is great and it helps prevent duplication. I tried them all out and liked this one's durability as well as its ability to expand and that the pieces don't easily come apart.
May 26, 2014
Rated

5

out of

5
 by
Lasa
Perfect pantry organizer!
This is the perfect ingredients organizer. Great size and expandability means it will work for lots of shelf widths. Made of very sturdy plastic with grips so bottles/containers stay in place. Really great product.
April 26, 2014
Rated

5

out of

5
 by
artsyorganizer26
Tiered organization
This works out great for storing spices. I wish it varied in height between each tier a little bit more so that you could clearly read the title. overall good product and works as expected.
April 25, 2014
Rated

5

out of

5
 by
SunflowerStrategies
Great for kitchen and bath!
I love this 3 tier rack. I use it for my canned goods, my spices, and my medicines! It helps you to see what's available and keeps things organized by items not "growing" into other parts of the shelf.
April 7, 2014
Rated

3

out of

5
 by
Megashopper
Mega-Expand-A-Shelf
I needed to see the canned good labels, especially the soups. It's a perfect alternative to stacking one in front of the other.
March 9, 2014
Rated

5

out of

5
 by
MooreWife
very nice
This is exactly what I didn't even know that I wanted until I saw it! Confused? yeah, so was I. I wanted to organize my cans, I have a large, deep pantry with no way to organize or see most of the canned goods in there, I purchased a few of these and it has completely revolutionized my pantry! There are other products cheaper/similar to this, but the rubberized bottom helps with slippage, and they just look good to me. And are easy to clean. good good product!
November 13, 2013
Rated

5

out of

5
 by
CarolBinNYC
Perfect for Spices
I needed something for the assorted sized bottles my spices came in. This fit the bill! It does go back deep so if you have a high shelf like me, you'll still need a boost from a step stool. Regardless, everything fits and in good view! The extension feature is terrific.
November 4, 2013
Rated

5

out of

5
 by
Tajia
Great pantry organizers
I bought two of these and i'm very pleased. All those little jars and containers that always seem to get lost behind big bottles are no longer a problem! You can see everything without taking anything off of the shelf; very convenient!
October 2, 2013
Rated

5

out of

5
 by
Shacurry26
Love these!!
I love these organizers! They did wonders for my pantry! I plan to buy a few more soon.
September 17, 2013
Rated

5

out of

5
 by
Tatyana
Love this Shelf Organizer!
I finaly downsized! I didn't take in consideration that my kitchen would downsize also. I had no space for my estensive collection of spices that come in different types of jars, cans, boxes, etc. But I found this greast Espandable Shelf Oganized. What a life saver! I now can see everything without taking it out of the cabinet. Net rpoject: find another use for this shelf because I love so much I just have to have more than one.
September 16, 2013
Rated

5

out of

5
 by
Organizete
Great Purchase
I bought this product for my pantry to organize my spices...spice racks do not work for me...I like to have "clean" counter tops with lots of space to prepare...the spices fit perfectly and are now so easy to find and put back..My husband is pleased, said it finally looks neat!
June 27, 2013
Rated

5

out of

5
 by
Russell
Awesome !
I bought two of these, absolutely love it ! I can see all my canned goods and spices instead of having to move things out of the way to search for stuff. I also use one in a cabinet above my medicine cabinet - top row for first aid stuff - second row for shaving stuff - and bottom row for medicine - such an amazing little thing, I highly reccomend it !
June 22, 2013
Rated

5

out of

5
 by
Organizerdvia
Expandable Shelf Organizer
This product is great. You can use it for more than just the kitchen. I use it in my linen closet. I store everything on this from hair care, bath products, aspirin, vitamins, back pain, allergy. All they type of pharmacy products they tell you not to store in the bathroom due to humidity, I can see what I have on the back of the shelf without having to move everything to see all the way to the back.
April 28, 2013
Rated

5

out of

5
 by
Ronald
Find it Reach it
Cans and other items in the pantry where not visible. We were sure we had it, we just could not find it. The Expandable, tiered shelf enables us to see over shelf level items. Now we can not only find the item but also reach it without emptying the pantry.
April 17, 2013
Rated

5

out of

5
 by
organizedchic51
Great!
Purchased this to use in my bedroom for styling products, etc. It makes a cluttered dresser top look much better, and things are easy to find when I need them.
April 15, 2013
Rated

5

out of

5
 by
Jordan12311
Glad I purchased this!
I had all of my spices in my corner cabinet and it was always a pain moving them all around in order to try and find the one I needed. I purchased this expandable organizer and moved my spices to a normal cabinet and they now look much more presentable and they are easier to find!!!
April 4, 2013
Rated

4

out of

5
 by
Lizzy89
Works very well, as expected
I use this in my spice cabinet. It expands to fit the entire width, cleans easily, and makes my spices much easier to see and access. My only complaint (which is probably more related to my cabinets than the product) is that my very large spice containers for frequently-used things don't fit on the back shelf. While they do fit on a lower shelf, it means they block view and access to whatever is behind them. It's not a huge problem, but it is a little annoying. I'm not sure how this could be remedied, though.
March 21, 2013
Rated

5

out of

5
 by
SKGK
I definitely recommend this product! It gave us probably 3x more space in the pantry!
March 18, 2013
Rated

4

out of

5
 by
organizedmathmom
Product great, sticker hard to remove
I love the expandable shelf organizer for all my spices. The sticker was very hard to remove, however and I needed to use the edge of a razor blade to remove it. I also had to use goo gone to remove the remaining sticky residue. Please change the sticker and the product will be even better!
March 12, 2013
Rated

5

out of

5
 by
sellshomes
Shelf Must Have
These expandable shelf organizers are a must have. They are perfect for any cupboard since you can size them to fit the length. Using an expandable shelf will really allow you to see everything on the shelf easily.
March 11, 2013
Rated

4

out of

5
 by
Mama2
Great Product
This is a really good product. I like the fact that it is very easy to expand . It is also very sturdy. I used this to organize my spices and they are easier to find now. The different levels did not make them as easy to see as I had hoped, but I may just have too many spices! I'm very glad that I purchased these shelves.
March 11, 2013
Rated

5

out of

5
 by
kcfan4eva
Excellent for larger spices
I have been looking for a way to store my larger spices. The store turn a bouts are mainly for the smaller spices and I always buy the larger ones. This one works awesome I just love it!
March 2, 2013
Rated

5

out of

5
 by
catperson
Perfect spice shelf
This is the best spice shelf unit I've ever seen. The rubberized top of the shelfs hold the most slippery items and the expandable feature holds a ton of items.
February 25, 2013
Rated

5

out of

5
 by
MavisJ
A must have for pantry organization
I purchased the organizer today and am very happy that I purchased this item. I have a small pantry with wire shelving. Last year, during Round 1 of kitchen organization, I did some organizational changes which greatly helped. This year I found myself still needing to tweak the pantry organization a bit, especially the canned goods. Due to the narrowness (width-wise) of my pantry, I need to stack my canned goods. Before purchasing the organizer, it was difficult to see what I had and with the wire shelving, the stacked cans were always toppling over. The organizer seems to have solved both issues. The different levels raise everything just enough for me to be able to tell what I already have. In addition, it provides some much needed stability so that cans are not easily toppled. One more issue solved thanks to the container store.
February 23, 2013
Rated

5

out of

5
 by
Cintia
Great shelf organizer
This shelf organizer makes finding what you are looking for very easy. You can adjust to your cabinet size/ needs.
February 20, 2013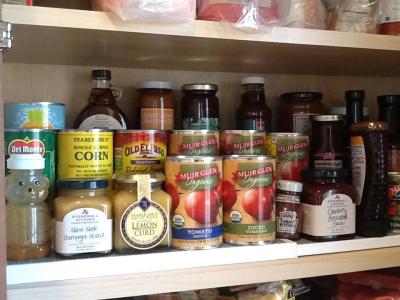 Rated

5

out of

5
 by
Shavy
Great vitamin organizer
I have one of these for my spice cabinet. Then i bought one to organize my vitamin cabinet. it worked beautifully so i bought one for my husband's medication shelf. Perfect! Now we can see all the bottles and we never waste time searching for that elusive vitamin D bottle in the back!
February 18, 2013