Rated

5

out of

5
 by
Princess78
Organize Everything
The Container Store has an organizer for everything. The medicine cabinet is no exception. This really has helped keep things from falling over in my cabinet. It has improved the appearance too.
January 15, 2017
Rated

5

out of

5
 by
neecer
You Need One (or Even Two)!
I didn't realize how I could free up space in my medicine cabinet by containing all the little items! I LOVE this little organizer - and it fits perfectly in my cabinet. I use it for my floss, scissors, tweezers, tiny containers and razor.
August 25, 2016
Rated

5

out of

5
 by
ZiriMom
Great way to organize toothbrushes
I was able to nicely organize the three toothpastes, three toothbrushes, cups and my child's floss! Before, the floss was in a bag shoved between two items or it would fall when you open the door. Now, it's nicely stored away in this organizer's drawer! I love it.
August 7, 2016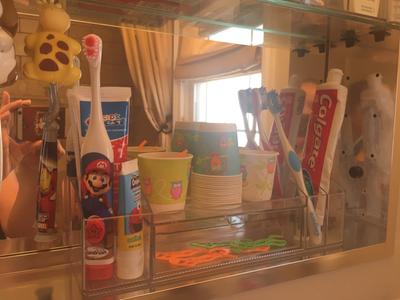 Rated

5

out of

5
 by
SueP
Love these cabinet containers
Love these. Great price for a sturdy container. Like that it fits in medicine chest.
February 7, 2015
Rated

5

out of

5
 by
tidytink
more tidy storage
great product. I was able to store more makeup & "tools" than I expected. what a difference. my 15 yr. old is jealous!
January 28, 2015
Rated

4

out of

5
 by
countrygirl
Great Little Organizer
Really helped to organize my husband's medicine check. Just the right size and holds plenty. You have to make sure you have plenty of height between shelves or it will be difficult to get things out.
June 9, 2014
Rated

5

out of

5
 by
Bobjo
A great buy
Nice looking and holds everything I wanted it to, Sections are perfect for toothbrush and paste and those little tubes of ointment that always seem to get lost.
April 29, 2014
Rated

5

out of

5
 by
jeps56
great organizer for bathroom mirrored cabinet
This Linus cabinet organizer for the bathroom caught my eye via an email the other day, so I went to the Container Store to check it out. I realized it would fit perfectly in the cabinet in my bathroom, so I purchased it and another type of Linus organizer. The drawer in this organizer is perfect for lipsticks, and the other sections are great for various hair pins and bathroom sundries. I highly recommend Linus products from The Container Store.
April 26, 2014
Rated

5

out of

5
 by
MichelleA
Love this organizer!
I bought this organizer a few weeks ago and it fits perfectly in my medicine cabinet and holds all those 'little' things that usually seem to look like 'clutter' in the medicine cabinet. I love the drawer feature as well as the fact, you can stand items up. The fact that it's clear, so you can see everything is the best part about this organizer!
April 26, 2014
Rated

5

out of

5
 by
BadWolf
So many uses
I'm using the Linus Cabinet Organizer with Drawer for my everyday makeup but I can think of hundreds of different uses for it. It keeps everything accessible and organized. I really like how it's transparent - you can see everything at a glance. The plastic seems like it will hold up nicely. I highly recommend this product and will probably buy a few more for myself!
April 22, 2014
Rated

5

out of

5
 by
AliceF
Cabinet Zen
I bought this and the medicine cabinet organizer on a lark -- I had a gift card -- and now I only want more. My medicine cabinet went from sorta messy to zen. I can find everything now, and seriously am taken aback each morning and evening when I don't need to search! Fits perfectly, holds a ton, a great product.
April 21, 2014
Rated

5

out of

5
 by
CK47
Fits perfectly in my apartment-provided medicine cabinet. It sounds so simple, but it prevents things falling out when I reach for a particular bottle, and it really makes a difference in forcing me to keep everything inside and organized.
April 21, 2014
Rated

5

out of

5
 by
jojomoho
great
i like this one better than the other small one. i can keep my cotton flats in the drawer section.
April 8, 2014
Rated

5

out of

5
 by
Mek12
Love the little drawer!
Was the perfect fit for my medicine cabinet, something so simple but allows for just a touch more organization. On sale, was a good value.
April 8, 2014
Rated

5

out of

5
 by
coblinda
fits perfectly inside medicine cabinets
nice way to organize medicines, clear plastic allows to view contents inside. I recommend one for each shelf!
April 6, 2014
Rated

5

out of

5
 by
reeseoliver
Wish I had known about these sooner!
These are fantastic! I bought one to try it out and came back for 2 more!
January 28, 2014
Rated

5

out of

5
 by
DuchessPaula
Great organizer
Holds everything I was able to combine 3 shelves of make up and brushes all together
January 10, 2014
Rated

5

out of

5
 by
mwearnest
Use for many purposes
My daughter and I were looking for new makeup organizers, but across the aisle we saw this cabinet organizer, mainly promoted for medicines and toiletries. However, I could envision using it for the purpose of storing everyday makeup items on the vanity of my bathroom sink. We both purchased one - and by the way, it is cheaper than the makeup organizers - and love it. I was able to fit all my brushes on the left side, my lipsticks on the right, my eye shadows in the pull-out drawer, and my powder, blush, etc. on the top shelf. It works perfectly! I was able to ditch a much bigger makeup organizer in a dingy plastic and only half used for this slimline clear organizer. It freed space on my sink and looks very neat. Love it!
July 16, 2013
Rated

4

out of

5
 by
Christine72
Great space saver for medicine cabinet
The drawer in this organizer is what makes it different. Instead of having a bag of cough drops and Cold Eeze I just put them in the drawer and now it does not fall out everytime I open the door. The top and sides are great for other items too.
May 28, 2013
Rated

5

out of

5
 by
TravelMaven
I never realized how much wasted space was in my medicine cabinet until I invested in these organizers. I use a variety of the organizer styles and can fit so much more into my medicine cabinet. Since my bathroom has limited counter space and only one drawer, this makes a big difference!
April 26, 2013
Rated

5

out of

5
 by
Manie
Fantastic!
I have been wishing that someone would invent a way to hold my medicine cabinet together. Every time I opened the door things would fall out and hit items below causing more to fall over. With this tiny organizer I have been able to corral the first slippage and all else stays in place. Fantastic!
March 15, 2013
Rated

5

out of

5
 by
cdub
great for medicine cabinet
fits perfectly in oversink medicine cabinet, drawer great for small items like scissors, tweezers and floss; room in top for deodorant, perfume, toothpaste, medicines, creams
March 21, 2012
Rated

5

out of

5
 by
Dory
best storage for a medicine cabinet
Best way to store all those little bottles and bandages in a medicine cabinet. Great organizer and fits just right!!!
March 20, 2012
Rated

5

out of

5
 by
GraceWV
Organized Everywhere!
We now own three of this particular organizer - one in the medicine cabinet, where the drawer makes cough drops accessible and the compartments make folders of individually sealed products easily visible. The other two are in the bathroom vanity cabinet. The drawer component keeps razers safely stowed and small items of make-up secure. The shelves and compartments add layers of storage space for make-up brushes, as well as small bottles and jars. Efficiency reigns at our house thanks to products like these.
February 21, 2012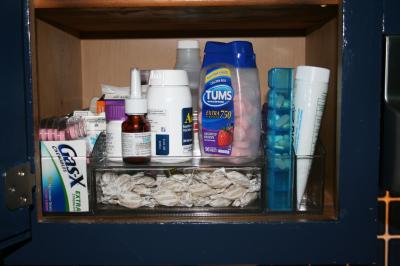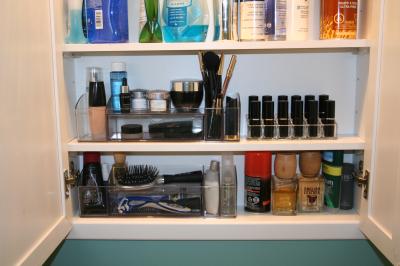 Rated

5

out of

5
 by
GettingThereNYC
Wonderful Organizer
My small NYC bathroom has a small medicine cabinet that is overflowing with makeup and stuff. This Organizer fit perfectly, and allowed me to use the space much more efficiently with the shelf, drawer and organizers. I got all my makeup and face stuff into one. It worked so well, I went back and bought another one. The online description said the depth was 6", but it was actually a little over 3" so it fit no problem.
November 27, 2011