Rated

5

out of

5
 by
TLAS
Best earing holder
You can hold a ton of earrings in a very small space organized so you can quickly find the right pair for the day.
January 24, 2017
Rated

5

out of

5
 by
LDRAZ
BEST EARRING STORAGE
OMG! If you own a lot of earrings.... get this jewelry folding screen. It's the best invention EVER! I love it! I have so many earrings and now they are all in one place!
August 8, 2015
Rated

5

out of

5
 by
BarbieBey
Best ever
I have another one of these earring holders. I was so happy to find them again as the store where I bought my first one doesn't carry them any longer. I have it hanging above my jewelry armoire. I can hang all (well not all) my earrings and can find what a want at a glance. I will be purchasing another to hang up in my winter home as well. You can't go wrong with this earring organizer.
December 18, 2014
Rated

5

out of

5
 by
GrandmaInTheWoods
Super organizer for my earrings.
I had never seen an earring organizer like this. So much fun displaying my earrings. Didn't know I had so many. Love this product.
June 4, 2014
Rated

5

out of

5
 by
Niecy
Best Purchase Ever
I love this screen. It holds a lot of earrings and is a great display for my jewelry.
May 15, 2014
Rated

5

out of

5
 by
Froggystyle
Yes!
So excited to find this...such a great way to organize all my earrings in a space-conscious way!! Now I can accessorize faster & save time!!
May 1, 2014
Rated

5

out of

5
 by
MrsWhite
Simple and lovely!
I purchased this with 2 other products that I use to store my jewelry on a closet shelf. Being clear makes it easy to find what I'm looking for. Perfect size. Great price. Love it!
April 25, 2014
Rated

2

out of

5
 by
Lolita313
Good idea...
This would be a great idea if the holes were bigger and further apart. I had to return it because my hanging earrings were so difficult to get in the holes and looked too jumbled when next to each other.
April 1, 2014
Rated

5

out of

5
 by
BonBon29
Love it!!!
I love this earring holder. I have soo many earrings and it holds all of them with space. I now want to get more,lol. I lso like the fact that it is clear because all of the colors and textures of my earring show more and are now the focal point instead of my old holder.
February 21, 2014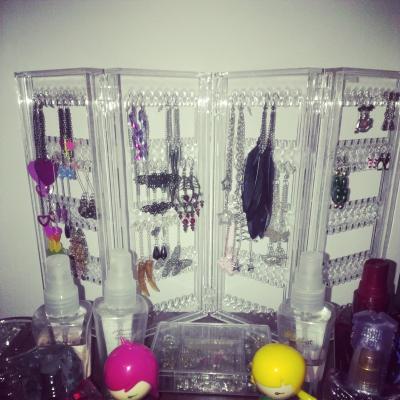 Rated

4

out of

5
 by
Sher39
Acrylic Folding Earring Screen
Holds my favorite earrings in a neat and orderly fashion. I can find just the right earrings instantly and it conveniently folds up.
June 26, 2013
Rated

5

out of

5
 by
Gatita
Very helpful
I make a lot of my earrings, and only have room for so many storage trays in my dresser, so this was a wonderful solution to my problem. It puts my vast selection at an easy access. My granddaughter is in awe of my choices.
June 26, 2013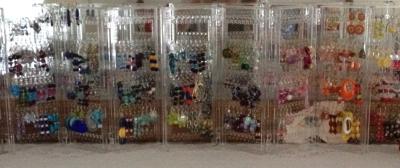 Rated

5

out of

5
 by
KWTX
Perfect
I have too many pairs of earrings it too many places and can never find the ones I'm looking for. This product is great-fits all my earrings, keeps them sorted and visible, and takes up almost no space!
May 24, 2013
Rated

4

out of

5
 by
JoelleAlana
does the job
I needed something to get my earrings organized where I could see them. Before they were in cups organized by type but I still had to search through the cups. I wish the holes were more spaced out so that I could fit more earrings on the stand. I just got creative and made the stand work as is. It WAYYYY better than what I used before but the spaces between the holes should be more spaced out to fit more than just tiny studs on the stand.
May 14, 2013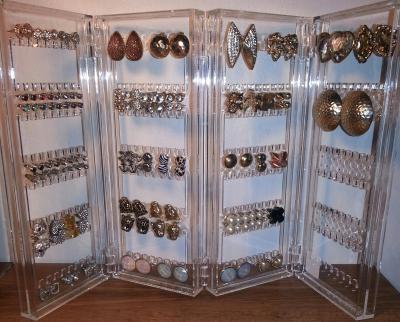 Rated

4

out of

5
 by
RG1229
Great!
Very simple and I always can find my earrings. Doesnt rust some of the earrings like a metal holder does.
April 26, 2013
Rated

5

out of

5
 by
dogandcontainerstorelover
Amazing!
So simple! I could always find my earring when I needed them, and it holds danglies, too! What a product!
April 20, 2013
Rated

5

out of

5
 by
franch
Great buy
I loved this item so much, I bought one for my mom as well. It organizes your earrings and doesn't take up too much space. Excellent product!
April 9, 2013
Rated

5

out of

5
 by
Kreative
Awesome for displaying earrings
Ordered this online and picked it up today! This is the best and most inexpensive earring display! I make and sell jewelry and have been searching for the perfect display and this is it!
April 7, 2013
Rated

5

out of

5
 by
Candice702
Giving me more time for breakfast!
My stud earrings are normally being dumped out of my little jewelry box every morning while I try to find a matching pair. The organizer has organized a bit of my morning routine!
April 7, 2013
Rated

4

out of

5
 by
EaglesGirl
Been looking for this everywhere...
I thought I was going to have to make something from scratch, but as usual, Container Store already had the solution! This one holds way more earrings than I own, but it is sturdy (doens't fall over#, clear #so it doesn't clash with anything), and holds dangles and stud-type earrings. Only thing I struggle with is seeing the tiny holes....
March 26, 2013
Rated

5

out of

5
 by
Verified Reviewer
Great item
I purchased this after a frustrating evening of not being able to find matching earrings in my jewelry box. I figured I'd get frustrated with this as well, given its inexpensive price. I am anything but frustrated with it. It takes little space, folds easily, even travels easily, and my earrings are still organized. Getting earrings into the holes can be a bit challenging at times, but it's less challenging than trying to search through a box of earrings!
March 19, 2013
Rated

5

out of

5
 by
bentekla
Great Earring organizer and display
I bought the earring screen for my daughter, and she loves it. It's great for keeping track of her earrings, and it makes an interesting display piece, too! When her cousin saw it, she said she wanted one,too. It will definitely be a great gift!
March 18, 2013
Rated

3

out of

5
 by
kathrie
useful!
Great product, fold neatly and keeps the earrings/necklaces in place but a puzzlement as to why there is an odd number of holes for the earrings.
March 18, 2013
Rated

5

out of

5
 by
AnaD
Great Product!
I bought a couple of these a few years ago, and have since moved all my earrings to these organizers. They are great. I have mine color coordinated so I can just grab the Screen that has the color I want and pick my earrings for the day! I love this product!
March 18, 2013
Rated

3

out of

5
 by
Jitters
Its okay
Its okay, sometimes when trying to move it, most earrings fall off.
March 18, 2013
Rated

4

out of

5
 by
draegonflye
Good earring holder
I really like this earring screen, especially because the acrylic makes it fade into the background on my dresser. My own problem is that it's really made for only two size earrings. A little bit of variation would make this perfect.
March 18, 2013
Rated

5

out of

5
 by
TexasGirl52
Excellent product
I have so many tiny pairs of stud earrings, and for years I would lose them or forget about them because I couldn't easily find them amongst my other jewelry. This screen is perfect for displaying my smaller earrings!
March 18, 2013
Rated

3

out of

5
 by
CaraBella
Nice
Nice idea, however this realistically only holds about 20 pairs of earrings if you wear medium to large earrings like myself. So it's great, I love it and it looks nice in my dressing area BUT it doesn't hold anywhere near 128 pairs...
March 14, 2013
Rated

5

out of

5
 by
NYDOLL
Great way to store earrings`
I really like this product for storing earirings. it doesn't take up much room, can hold most kinds of earrings and best of all, you can see them!
February 18, 2013
Rated

5

out of

5
 by
ZeitGeist
Easy Peasy Storage and Display
I love this product. Earrings can be hung or inserted in holes. A simple way to store, display and carry earrings. I have used this to easily showcase earrings I have made for sale.
February 18, 2013
Rated

3

out of

5
 by
eyequilt
Limited use for all the levels
The top row makes it impossible to hang hook-style earrings. For post earrings, the post has to be quite thin. One out of 10 of my post styles fit, but I have to push hard. The bottom row allows hook-styles, but they can't be very long because the space below is quite limited.
December 10, 2012