Rated

5

out of

5
 by
RosebudTX
Most used and useful office storage
I was just organizing my home office and trying to figure out what new storage items I'd be needing. I realized that the two Like -it drawers I already have are the most used and useful purchases I have near my desk and that I really need more of the same! Not only do I use them daily, I've had them so long I couldn't remember when or where I got them, but they have held up, still look like new, drawers still work great and they keep the things inside dust free. Fortunately I had not removed the tabs that had the Like-it brand name, and since I do most of my shopping for this kind of thing at the Container Store it was easy to track them down. I recommend these without reservation.
August 26, 2015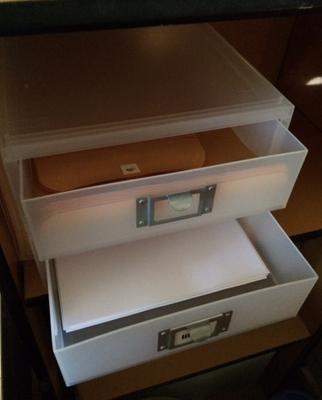 Rated

5

out of

5
 by
JoanDC
Lightweight, stackable
These are perfect -- the drawers slide easily, the boxes are stackable and stable, and the milky color obscures (but does not hide) the items inside.
June 9, 2014
Rated

5

out of

5
 by
ManhattanMom
Great to hold small items
I bought this for my son on his desk (which has a small shelf). It fits perfectly and is great for holding small items which he insists on keeping but which make a mess (erasers; tiny pencils; other doodads which boys collect).
April 8, 2014
Rated

4

out of

5
 by
Lkell
I use this under the small desktop station to organize my makeup and skin care bottles in the bathroom. It's very convenient to organize small items on a limited space area, especially when you can stack things vertically. It's small and slightly sturdy. It's easy to pull too hard on the drawer and jerk it out by mistake, but that's not a big deal.
April 1, 2014
Rated

5

out of

5
 by
Neatfreak0626
Really good quality and practical
These drawers are awesome! I bought one for some lotions and the drawer is very well made: slides out easily and the label is very smooth and works well. I went and bought 3 more because they are so great! They also are small, don't take up a lot of room, and stack well. Great purchase!
March 18, 2014
Rated

5

out of

5
 by
nanhar
Practical Drawers
These drawers are good for storaging small items plus they do not take up a lot of desk space. The drawers could have been a little longer to store longer items such as a pair of sissors.
July 18, 2013
Rated

5

out of

5
 by
TXNan
Great for dorm
First time college students arenâ¿¿t used to shopping for their own meds so I wanted to make sure that she had everything she needed. I purchased four of these for my daughtersâ¿¿ dorm room: first one for cold/allergies, second one for first aid, third one for tummy meds (hold a bottle of the pink stuff) and the last for pain meds. The labels are a nice touch! She and her roommate appreciated having a mini drugstore in their room. My daughter loves them because you can pop the tops off and connect them or separate them into shorter towers. Making another set for a friends daughter now.
April 26, 2013
Rated

5

out of

5
 by
Yami
Thanx
This product is the best....my room is neat...thanx ;)
March 25, 2013
Rated

4

out of

5
 by
cridling1024
Versatile & Handy Storage
A great modular solution for your small item needs. I also purchased the drawer dividers and they work well together. My only small complaint would be that they don't fit perfectly on top of one another and may slide a bit as time goes on. So I simply put a spot of mounting tape between them and now they won't go anywhere.
March 11, 2013
Rated

4

out of

5
 by
Nainai
Good!
I purchased two of these to store my hair accessories. I was losing them or forgetting where I had left them...this is will save on time and money! I only gave it four stars because I wish it were a couple inches wider because I have huge hair clips.
March 6, 2013
Rated

5

out of

5
 by
Schwadette
Multi Use, great size!
I purchased this initially for my desk, then realized that I could also use it in my bathroom for makeup storage. I will be buying more to actually use on my desk, they work WONDERFULLY for makeup storage. I also purchased the two side inserts to help keep apart the items in the drawers.
March 2, 2013
Rated

5

out of

5
 by
Lizandra
Best Purchase Ever
These small drawers are excellent for storing pens, sharpies, highlighters, paperclips, etc. I used these for our office supply closet and it made a world of a diiference.
April 23, 2012
Rated

5

out of

5
 by
CassieNicolePhotoDesign
So cute!
I love these stylish drawers. They were the perfect thing to put in my desk area. I love how you can put whatever color paper you prefer in the front pocket.
March 19, 2012
Rated

5

out of

5
 by
maggiemaggz
LOVE this!
I love the smokey look to this item. Makes it easy for me to know what's inside but for others to stay out of stuff on my desk ;)
March 10, 2012
Rated

5

out of

5
 by
Lakeway
Very good to use, nice color can be match with my existing case.
April 9, 2010