Rated

5

out of

5
 by
tjasmne80
GREAT PRODUCT..WELL BUILT HOWEVER WRONG SIZE!
This product is absolutely well built and worth the money. However, the size measurement that they give you on the website for the width is wrong. When I am measuring something to specifically fit into a drawer then I expect the measurement on the website to be spot on! What a disappointment to spend 75.00 on 4 inserts for your drawers and now they don't fit properly. Now I am stuck with these inserts that I have to use elsewhere! Hopefully I can find a useful place for them! To be exact I have an 8" wide opening for my drawers. The website says that these are 8" wide and they are 8 1/8" wide. I know that seems like very little but it's just enough for them not to fit! For a company that prides themselves on organization I was surprised that they posted an incorrect measurement. The length and height measurements were spot on. Just beware when buying to consider the 1/8 of an inch into your measurements.
February 7, 2015
Rated

5

out of

5
 by
orgdiva
perfect tray
Needed a tray to organize supplies on a makeup counter, and this is perfect. Easily washable, and just makes everything look neater overall.
November 3, 2014
Rated

5

out of

5
 by
AnnieE
Perfect for a small makeup collection
I used this to help organize my friend's drawer - with lip and eye makeup on the top tray, and the lesser used face makeup in the bottom compartment it is perfect. I love how it lets you access everything at one time, and how neat it keeps everything.
June 24, 2014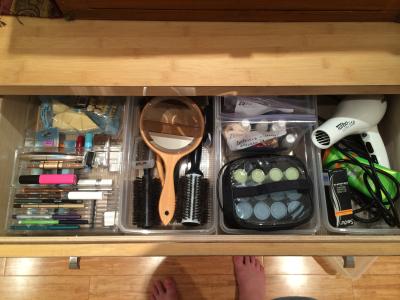 Rated

5

out of

5
 by
mrg2013
Very Convenient
I love this brush tray. I am very bad about losing my make-up brushes and this tray keeps everything organized and neat.
May 7, 2014
Rated

5

out of

5
 by
cashncary702
Nice Size for makeup brushes, etc...
If you have looked at acrylic make up boxes- they can run in the hundreds for a decent one. These are a nice option for the counter in your bath area- or wherever you do your makeup. I bought a few.
April 25, 2014
Rated

5

out of

5
 by
morganfmann
Amazing!
Love the look and quality of this tray! Perfec for my perfumes and everyday jewelry! Need to go buy a few more for other rooms in my house!
April 25, 2014
Rated

5

out of

5
 by
Bellaanya
Great product to organize drawers
I bought the tray and pencil and brush organizer for my bathroom drawer, and it's made the world of a difference in keeping the drawer organized! All of my cosmetics, nail polish bottles, and brushes now have a place. The trays keep surprisingly clean. I highly recommend.
April 20, 2014
Rated

5

out of

5
 by
laratherese
Beautifully organized drawer
I purchased this tray to organize my beauty products and I am thrilled with the results! Not only do they look pretty sitting in the tray, but everything is right where I can see it.
April 4, 2014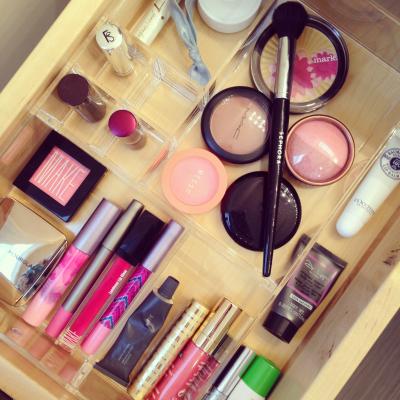 Rated

5

out of

5
 by
Siimplcty
Great Buy!
I love how sturdy and expensive it looks. Definitely great qualty. Perfect to hold my make-up pencils etc. and I use the flat surface to store my everyday items on my make-up table' like my primers, setting sprays and foundations etc.
March 27, 2014
Rated

5

out of

5
 by
hb13
excellent drawer organizers
perfect fit for our drawers. purchased museum putty w/ the trays to hold them in place. husband loves these too. great for organizing out bathroom drawers. great for all the hair accessories, makeup, toothpaste/brushes, combs, floss, nail polishes, etc.
March 3, 2014
Rated

5

out of

5
 by
Verified Reviewer
Life saver
I bought a few of these for my bathroom drawers and I can't believe what a difference they've made! All of my stuff stays upright and in its own little place when I open and close the drawers! I love that the organizer is customizable and made of beautiful, durable plastic. I literally came back on the website the day after buying them in store so I could buy 5 more! They're genius!
April 29, 2013
Rated

5

out of

5
 by
Pamelalalala
Awesome storage for makeup!
Acrylic organizers are all the rage right now thanks to Kim Kardashian and her acrylic organizer featured a while back on her show. Every makeup guru under the Youtube sun now features their version of acrylic storage. I decided not to go for the expensive organizer because these acrylic trays are available. I like that I can store my everyday makeup in here and tuck it away if I need the counter space. So smart and efficient...and sleek! They actually have a lot of options of acrylic trays here for all your cosmetic needs. They have thicker acrylic trays too in their acrylic countertop collection. Gorgeous. I bought a few of those too. So happy I got these! My makeup storage never looked so good!
April 26, 2013
Rated

5

out of

5
 by
rk27
easy and clean
just neat, clean and simple...stackable tray makes it easier to adjust height...
April 26, 2013
Rated

5

out of

5
 by
LIvingsimply
bathroom makeup organized!
I bought a few of these to try to corral the clutter in my bathroom drawers. I use them for hair accessories, small items, sample sizes, and make-up. I now smile when I open my drawers. For years I would grimace at all the clutter. These work great for me.
April 26, 2013
Rated

5

out of

5
 by
momofthreeplusdog
Perfect fit!
Just re-did the bathroom and had wide open drawers but needed organization to maximize their usefullness. These trays fit perfectly and allowed me to group like items but see everything! Finding a lipgloss or eye pencil is a breeze now!
April 26, 2013
Rated

5

out of

5
 by
CarrieC
So customizeable!
I needed these to organize my make up and they were great!. I could move the dividers around to accommodate my needs and the pencil tray is moveable to let me get to what I need.
April 1, 2013
Rated

5

out of

5
 by
ctgal
Perfect
This acrylic tray is the best organizer I have found. It has a variety of sized spaces to store makeup and makeup brushes. I love it and have several, for different uses. Great for barrettes, hair ties, hairbands, etc. also. Cleans up easily as well.
March 18, 2013
Rated

5

out of

5
 by
Shanpas
Keeps cosmetics organized and drawers neat!
I love these drawer organizers; they keep cosmetics and miscellaneous bathroom items neat as well as the drawers themselves protected and clean (great alternative to drawer liners). Durable and easily washable, they hold up well. Would highly recommend!
March 18, 2013
Rated

4

out of

5
 by
sandala
awesome organizer!
this was just the right size for housing my daughters hairbrushes and accessories in her dresser drawer. i bought 2 of them and want more so that i can organize my bathroom closet for me as well!
March 8, 2013
Rated

5

out of

5
 by
blueberryny
love it
I am happy that things are nice and organized now!
February 25, 2013
Rated

5

out of

5
 by
orderedchaos
Best for Makeup
Gone are the days of hunting, scrounging and rustling through a generic dark make-up tote or flimsy basket. With these stacking trays you could design your own makeup console and SEE everything you have at a quick glance, making it more time efficient to do you make-up, see your ptions, try something new or realize that you are dangerously low on your favorite eyeshadow palette before its too late! Also makes for easy search & find for those dark early mornings when youre still groggy and have to get glammed up for work. the options a variant enough that you can mix and match the trays for what you need and want.
February 20, 2013
Rated

5

out of

5
 by
bethjo
love it have many. I keep my costume jewelry in
very strongly made. will last forever. can to used for many things. mine is to see jewelry.
October 13, 2012
Rated

4

out of

5
 by
Shepherd
"Large" Acrylic Tray
The "large" Actrylic Tray is true to measurements like it should be. Wish they had larger ones. It came in perfect condition and in a speedy time. Very pleased with my purchase. I looked around for comparable prices, the most inexpensive one for the size is at The Container Store.
May 22, 2012
Rated

4

out of

5
 by
Betterwithage
1st Container Store purchase
I bought the 8 compartment large tray and the sliding pencil tray. Nice quality acrylic and well made. The pencil tray could slide smoother than it does, 1 star subtracted for that. Would have loved to have been able to position the compartments, but I made do.
February 7, 2012
Rated

5

out of

5
 by
Chia
Just Perfect!
I bought this tray with the intention of using it to organize my makeup in the master bath. I am so happy that I did! I love that the partitions can be customized to a certain extent by removing some of the separators. The acrylic is of very good quality, extremely thick and sturdy. I was able to fit the majority of my makeup supply easily and I definitely want to purchase additional trays for other drawers in the house. These would be perfect for office supplies.
January 9, 2012
Rated

5

out of

5
 by
Tanya22
Great for make up
I have a couple of these trays and use them to hold my make up and love them.
December 27, 2011
Rated

5

out of

5
 by
Imbali
Great Value
I purchased these trays for my perfume collection, which is now beautifully contained. These trays are a great value and look more expensive than they are! I highly recommend.
October 15, 2011
Rated

5

out of

5
 by
solizg
Great item for keeping all make up items in a drawer and are able to stack them. Looks really neat and organized.
February 16, 2011
Rated

5

out of

5
 by
EmilyTheTerrible
Crystal clear, neatly stacks
Everything has a place and everything in its place...they speak for themselves. The large is large. Stacks and stays stacked. Good stuff.
February 15, 2011
Rated

5

out of

5
 by
Verified Reviewer
Very handy
These are great for makeup storage in drawers. They stack so well and are very sturdy.
February 14, 2011