Rated

4

out of

5
 by
AnnaKate
Attractive and Tidy
I love the crisp look of these laundry baskets and the magnets that theoretically hold several together. They are stiff and sturdy. When completely full, they weigh over 30 lbs. That is a bit much for me to carry (I am petite), especially since the handles were not designed for comfort when carrying. They cut sharply into my hands. I picked these baskets because they have are tall and have a small footprint compared to other laundry baskets. For the small spaces in my home, they are just what I need. I recommend these mostly for their shape and look.
October 21, 2016
Rated

4

out of

5
 by
jcr1
Heavier than I thought.
This is well made, but heavier than I wanted. I have to drag it down a long hallway and into the laundry room. But it is attractive, good color, and sturdy.
October 1, 2016
Rated

5

out of

5
 by
Moppey
Awesome laundry basket
We bought these type of laundry baskets from The Container Store about 5 years ago and they are still holding up and work awesome for separating clothes. we have 3 of them.
March 22, 2015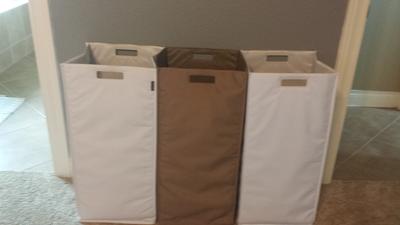 Rated

4

out of

5
 by
mawlz
Great Hamper!
I bought this hamper 2.5 years ago now when I first went off to college. It has survived many trips to and from the laundry room and has maintained its shape and its high quality material. I hope to get a new one as soon as this one is finally warn out, but I don't foresee that being any time soon!
March 16, 2015
Rated

4

out of

5
 by
abitaremy
pretty good hamper
I bought one of every color- really like the white, cappuccino, and cappuccino chevron- the blues were all too much- overall I'm happy with the hamper. My complaints are that the handles aren't as sturdy as you would expect- it's huge and holds two loads of laundry but if you carry it up and down stairs full of heavy clothes the handles get a little misshapen- not enough to ruin it but just kind of annoying. Also the magnets in the side are not nearly as strong as I expected- you kind of have to push them together, and help the magnets stick- it's a nice feature but would be nicer if they worked better. They look good and are much more function for me than using wicker hampers like I had been. I need something I can haul up and down and that still looks good sitting out in our bedroom- this fits the bill.
June 10, 2014
Rated

5

out of

5
 by
Shebby
Best Purchase Ever
We purchased a blue one a few years ago for the covered patio pool area to keep the grand kids noodles, balls, pool toys in. Loved it so much we just bought a second blue one. Easily folds flat to store in garage during off season. Love this product.
May 30, 2014
Rated

4

out of

5
 by
dbmom
Great for our needs
We needed this hamper to fit in a corner and hold a lot of laundry. It is tall, and holds a lot of clothes. We are not using it to transport clothes in, as it would be a bit big to carry around with laundry in it, but it is clean and useful.
April 26, 2014
Rated

5

out of

5
 by
legna44
Rhombus Hamper
Excellent choice!! The hamper has multiple uses, i.e. clothes hamper, ideal for the beach, toys and storage for recyleable grocery bags. It is also easy to fold and store.
March 23, 2014
Rated

4

out of

5
 by
KatieL
Good hamper
For a hamper, this works really well for two adults. I have one for falls and one for lights. It doesn't really magnetize together as advertised, which is why it gets a 4 instead of a 5 from me.
March 12, 2014
Rated

5

out of

5
 by
katekatebear
easy enough for the fiance
We go through a ton of laundry for some reason...I'm thinking it's lately been because of the cold weather and thousands of layers. I HATE carrying a huge pile down our rowhouse stairs and then going through them to separate... I found these recently and they're perfect! Big, so we can fit a lot in them, but light with handles so they're easy to move around. Also, they're small enough to have a few so my fiance can just throw colors/whites into separate ones! Great purchase for sure :)
February 23, 2014
Rated

5

out of

5
 by
Lollipop
Wow!
I purchase three of these hampers for my laundry area. Our home's laundry area is located in the hallway that heads out to the garage. The area isn't large and get a lot of traffic. When it was time to replace the current solution I couldn't find one of the systems with the rolling frame and hanging bags that would fit in our space. So, I went hunting. These work wonderfully. If I need to move them for sweep and mop, I just pick them up and move them around. The only critical thing I have to say about them is that they are a bit too tall. I have a hard time reaching all the way to the bottom.
January 31, 2014
Rated

5

out of

5
 by
organizedocd
HAMPER ROCKS
Hamper Schmamper! Let's think outside the box people. This hamper is not just a hamper. It can be used to store wrapping paper rolls, which works great! So many other uses besides just a hamper.
January 12, 2014
Rated

4

out of

5
 by
FunkyFresh727
Love these hampers
I was sick of looking at our plastic, standard laundry hampers. I wanted something a little more stylish and streamlined to go with the rest of our bedroom. I bought the regular cappucino and the patterned chevron cappucino hampers. I love them. You can't see any of our dirty laundry. The handles make them easy to move to and from our laundry area. Plus, the funky chevron print adds a little flavor to our living space. The only issue is that it's a little tough to reach the clothing all the way in the bottom as it's height is a little tall.
May 3, 2013
Rated

5

out of

5
 by
CSmith
Excellent Hamper
This hamper fits nicely in our closet, my husband put shirts in it for the dry cleaner. Takes up little space and helps keep things tidy!
April 26, 2013
Rated

4

out of

5
 by
SaveAnna
Great Purchase
I love these hampers. I have a small laundry room, and had a limited amount of space to squeeze in hampers between my washer and dryer. These were the perfect size in width and height. I've also seen comments about them being difficult to carry around, but I haven't had that problem. I'm pretty short, 5' 2'', and I can easily carry it across the house to fold while watching tv. The only thing I'm a little worried about is if the handles will last a long time after hauling it full many times. They can cut a little into your hand since it has thin walls. (Not literally cut, but it's a little painful and you wouldn't want to haul it a very great distance holding onto them if the hamper is full.) Other than that, everything has been great. I've been able to add multiple loads to them, and my loads are always pretty large.
April 26, 2013
Rated

5

out of

5
 by
KLiz
Fun and colorful
These hampers are a fun way to add color to your bedroom instead of using typical laundry hampers that are bulky and ugly. I bought all 3 and was able to sort all my laundry in advance instead of waiting until I begin a load of laundry.
April 25, 2013
Rated

5

out of

5
 by
cheche
Classy
The brown pattern caught my fancy. It matches the colors in my bedroom,beddings and curtain. My guess is that the brown pattern was 'custom made' for me
April 13, 2013
Rated

5

out of

5
 by
jackiem
Hides in Plain Sight
This hamper was perfect for our tiny bedroom. You can see it from our living room when the bedroom door is open and most people don't even realize it's a hamper. I'd say it can hold 3-4 loads of laundry (in a top loading machine) if you smash the clothes down. The handles on the sides make it easy to move from the bedroom to the laundry room and the cover allows it to slide easily on carpet and hardwood floors without snagging or scratching. We've had ours for seven years and it's still in great shape.
February 23, 2013
Rated

3

out of

5
 by
EV22
Not for carrying up stairs or for damp things
I really like the look and flexible-sturdiness of this hamper as well as how many clothes it can hold (2 large loads), but there are some things that I don't like about it too after having it for a couple of months: Don't like: 1) It's tall and at 5'6" I have a really hard time carrying it up and down stairs even half full. My 5'11" husband thinks it's awkward but can do it more easily. 2) The particle board-like insert at the bottom molded through in a 4" section (green and black fuzziness) after I left something damp at the bottom last week. I feel like a laundry container should use materials that aren't going to do that! Maybe recycled plastic or antimicrobial something? It is now cloroxed and clean and dry but stained and wilty on the edges from getting damp. If you have a 1 floor house/apartment with a washer & dryer close by, it would be fine to pull around or roll on something. Don't leave anything damp in it at the bottom or you'll have grossness on your hands.
September 18, 2012
Rated

5

out of

5
 by
Verified Reviewer
Great Hampers
They are great hampers to carry dirty clothes. Also the fact they link together is great.
July 6, 2012
Rated

3

out of

5
 by
lindsay242
Okay, not great
I bought both the white and brown hampers. I like that they hold a lot, I like that they don't take up a lot of space. However, the walls are less firm than I would like and they are very tall. I happen to be tall myself, but most people would probably have trouble lugging a full hamper around. And you'd probably have to dump everything on the floor to get to the bottom.
May 5, 2012
Rated

5

out of

5
 by
DonnaW
Exactly What I Needed
For years I've looked for a hamper that takes up little space, holds a ton of laundry, eliminates tedious clothes sorting, and has an attractive line. This hamper is just about perfect for me. One is for whites/delicates, one for darks and one for towels. The magnets are a nice touch, and when linked together, they create a smooth line. I hang a plastic "S Hook" in one handle opening to hold a mesh bag for delicates and it prevents my having to root around on the bottom.
April 29, 2012
Rated

5

out of

5
 by
kjm60
perfect size
Easy to carry and perfect size to fit in narrow linen cabinet.
March 15, 2012
Rated

5

out of

5
 by
KSC74
Great hamper, pointless magnets
This hamper has a small footprint and holds more laundry than a high-capacity home washing machine. I have one in white and one in grey gingham, and while I'm completely happy with them, I find that the magnets aren't strong enough to work across the gap created by the hampers' corners. I have two perfectly sturdy hampers standing close together, just as I had imagined, but the magnets are pointless. My recommendation is to ignore the magnets and enjoy this hamper.
January 31, 2012
Rated

5

out of

5
 by
Markh
Great Hamper!
Perfect for the corner of the room. They blend in well, keep their shape and hold way more than a load of laundry. Perfect!
January 23, 2012
Rated

3

out of

5
 by
DetailedShopper
Bummed! But OK.
Well, I guess I misunderstood the purpose of the magnets. I was hoping to be able to sort WITHIN ONE Rhombus Hamper, but after receiving the product and re-reading the listing, I now understand that the magnets are designed to connect with ANOTHER Rhombus Hamper. I am pleased with the size and large capacity but am disappointed by the shade of white. It's more of a slight purply white vs. pure white, so it doesn't perfectly match my white, wood and wicker furniture. Oh well. Guess it's fine.
December 5, 2011
Rated

4

out of

5
 by
Ankylo
Tall, skinny, & sturdy
This was the skinniest hamper I could find, and it's a great space saver. Since it is also rather tall, it can fit just as much laundry as my old hamper, while taking up less floor/corner space. I was also pleasantly surprised to see how sturdy it was. It really holds its shape well. I've only had it for 2 weeks now, but I hope it lasts.
September 29, 2011
Rated

5

out of

5
 by
Peeper
Love it!
The rhombus hamper takes up little space in my closet and fits perfectly Love that it's not round! Nice and sturdy too.
August 28, 2011
Rated

5

out of

5
 by
BeeZeeBecky
Perfect!
These are absolutely perfect. In fact, I'm buying two more! Love that they are tall and therefore hold a lot without taking up a big footprint on the floor. Great for sorting and holding all of the laundry until we are finally ready to power through several loads. Love the magnets, too, so they stay together. I only wish that they had magnets on the front/back as well (they are only on the sides), because I clumped four of the them together in a square in our laundry room and I would have like for the two 'rows' to connect to each other as well, but no biggie.
May 11, 2011
Rated

5

out of

5
 by
Netty
Perfect for my husband!
My husband wanted a double hamper and this worked perfectly because there are magnets at the top (on the sides without the handles), so they join together nicely. The cappuccino is a great color, although, I wish they had it in a dark brown. Overall, this is a great product.
May 2, 2011