Rated

5

out of

5
 by
mkww
Love it
Fits perfectly on my bathroom counter. And holds all my hair clips and combs.
December 14, 2016
Rated

4

out of

5
 by
Onyx
Great for the kitchen too.
This might be for hair care, but it works much better in my kitchen. It fits many different sized accoutrements in it's five different sized compartments and is quiet handy to keep everything orderly. Also, it fits perfectly in the cabinet.
January 28, 2016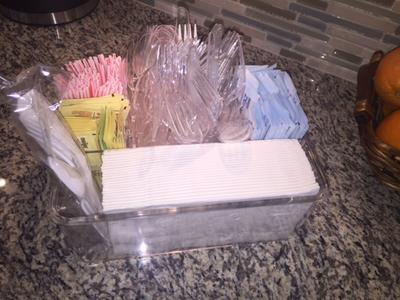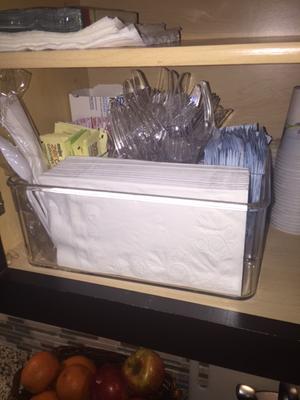 Rated

4

out of

5
 by
Azukipie
What did I do before this?
I was torn between this and the 5-Section Acrylic Tote. I bought both to try them at home and two years later I don't know what I would do without either. I have this in the front of my bathroom shelf with all the products I use most often. Things are always getting grabbed out and thrown back in and yet it is still looking great! Very good quality. The only think I wish would be for customization of the sizes of the dividers but for this product I'll always find a way to make it work.
April 29, 2014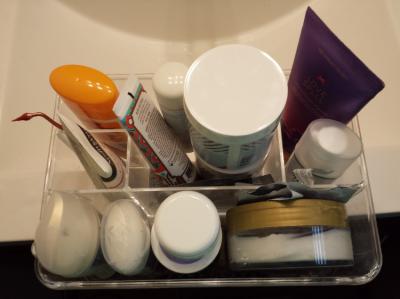 Rated

5

out of

5
 by
hawaii
Great organization
Used this to organize son's medical supplies. Fits perfectly in elfa drawer system.
April 21, 2014
Rated

5

out of

5
 by
jenhic97
Great hair organizer!
I bought this to store my 3yr old's hair accessories. I love it because there's multiple slots for elastics, pony tails holders, barretts,etc. It also fits her small hair brush, a spray bottle, hair gel and detangling spray.
March 24, 2014
Rated

5

out of

5
 by
RachelG
Love This Organizer!
I previously had my standard brushes and makeup in a basket on the bathroom counter but everything kept falling over. This has multiple different sections, all in a variety of sizes, perfect to fit all of my daily essentials. Highly recommend!
March 16, 2014
Rated

5

out of

5
 by
Sissywest
Make-up organizer
I bought it for one thing but decided to use it for make-up. Perfect.
March 8, 2014
Rated

5

out of

5
 by
Lyenuv
Best used for workdesks!
I scoured the entire Container Store for the perfect pen stand for my desk (Freelance illustrator by trade), and finally found this on a whim in the bathroom section. It's perfect for organizing high-use pens and currently being used markers! I'd pick up another but have no more room on my desk!
February 18, 2014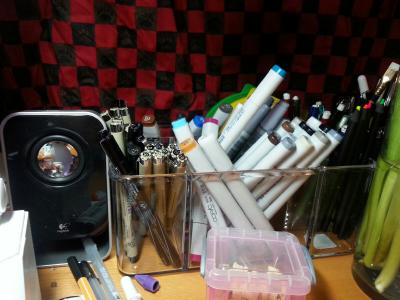 Rated

5

out of

5
 by
MrsHNV
What a decorative curio holder!
When this arrived with a large order I couldn't for the life of me figure out why I had ordered it. I knew it wasn't for hair or other products in the bathroom. Got it! I've turned it on its side on my dresser and it holds and "lifts" some of my decorative small dresser items. Looks great and I can display more of my pretty little items without it looking so crowded on the mirrored tray. This is undoubtedly what I had in mind when I ordered it, but it works out even better than I had hoped as I could only guess at the approximate height of the now reoriented compartments. It's fun to think outside the box--or inside the box!
September 5, 2013
Rated

5

out of

5
 by
Trying
Very helpful
I have a deep drawer in my bathroom vanity cabinet, so all of my products and supplies laying on their side was wasting space. I got this so that I can keep them upright without tipping over when I open and close the drawer. It works great! I have much more space in my drawer now and everything is organized. I like that the sides are tall enough to support a can of hairspray ect. without letting it fall over. The compartments are a good assortment of sizes for flexibility of uses.
May 5, 2013
Rated

4

out of

5
 by
Kidslover
Great solution for kids' stuff
We use it to organize our kids' tooth brushes/pastes/cups and stuff. It fits nicely into the drawer and transforms the mess into a more functionally arranged space. We love it.
April 30, 2013
Rated

5

out of

5
 by
Stef1
Removes clutter!
Love this organizer! Lots of different spaces to fit all my daily use products!! Makes the space nice and tidy!!
April 30, 2013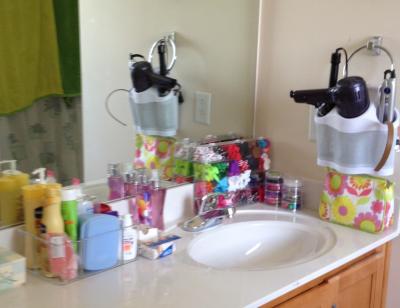 Rated

5

out of

5
 by
Wifey0429
Best Solution for Kids Stuff
Before, we had my daugther's hair things stuffed in basket with pockets. It took up a lot of room and everything got jumbled easily. Plus, in a fabric container, you couldn't see anything. I was able to get this, half the size of the old basket and it fit everything neatly and I can see where everything is. Perfect for busy mornings...grab and go!
March 29, 2013
Rated

5

out of

5
 by
Emms
Excellent organization tool!
I use this organizer for my medicine cabinet. It helps keep all the different medicines and bandaids organized. Sturdy and simple design.
March 7, 2013
Rated

5

out of

5
 by
Verified Reviewer
Wonder of Organizing
Helps keep the sink area free of clutter. Helps to keep the neat appearance in the bathroom
March 7, 2013
Rated

5

out of

5
 by
DocKris
Perfect!
I use this organizer on my bathroom counter to store all of the products that I use on a daily basis! It is absolutely perfect! Not only is it perfectly functional but it looks gorg! Thank you container store for offering such a great organizer!
March 27, 2012
Rated

5

out of

5
 by
cdub
great for storage in bathroom cabinet
I have 4 on a bathroom shelf. 1 for personal care items such as medicines, first aid products, femine care items; another for hair products such as back up conditioners, shampoos, gels, hairsprays; another for sunscreens, self tanners, exfoliators; another for perfumes, lotions, shower gels, etc
March 21, 2012
Rated

5

out of

5
 by
LaurieN
Perfect for my facial bottles
This bin is just the right height for holding all those bottles of facial products that I've accumulated. The higher sides keep the bottles from falling over. I use the larger slot for cans of hair products.
August 27, 2011
Rated

4

out of

5
 by
armywife
Great Organizer
Loved the different compartments. Fits great under sink.
February 16, 2011
Rated

5

out of

5
 by
Margaretnot
Excellent product for organizing your bathroom
This product is well laid out and fits the hairdryer and curling iron/straightener extremely well.
February 14, 2011