Rated

5

out of

5
 by
AnnNYC
Great organization for medicine cabinet!
This looks very neat in my medicine cabinet. I like that they are connected and you don't have to worry about breakage. They are good quality plastic.
September 26, 2016
Rated

5

out of

5
 by
Onyx
Simple, clean and handy
This canister set has a clean and classic design. I like that it is simple and clear to go with the style of my guest bathroom. I can easily keep it out on the countertop because of its compact size and shape. It is super handy and the swabs and cotton balls fit nicely.
January 28, 2016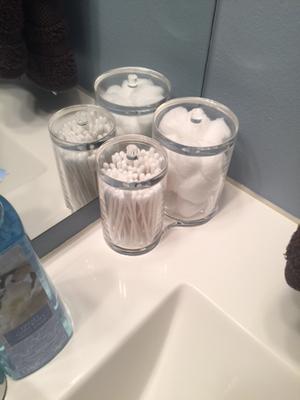 Rated

4

out of

5
 by
DizzyLizzy
really handy
Apparently I didn't read the description very carefully because I was expecting 2 separate containers and they are in fact connected. They still work for what I needed and look much better than what I had before. I really like the lids, they look like they are just resting on the top but actually have a little lip that keeps it on.
January 15, 2016
Rated

5

out of

5
 by
CuriousLittleBird
Good Value!
I bought the 2-canister holder--it looks great on my bathroom counter, like it was more expensive than it was! (By the way, this is 2 containers joined together on one side, in case that makes any difference to anybody)
December 3, 2014
Rated

4

out of

5
 by
KKNOLA
clean lines, good construction
This box has a simple design and is made of medium-weight acrylic. Its storage capacity is about 65 cotton swabs.
May 19, 2014
Rated

5

out of

5
 by
Starson
Q-Tip Acrylic Box
Best thing I've found to hold q-tips separately. Q-Tips fit perfectly.
April 25, 2014
Rated

5

out of

5
 by
Annier
Perfect!
I've been working on tidying up my dressing area while leaving products still visible and easy to reach. This suits my needs perfectly.
April 14, 2014
Rated

4

out of

5
 by
Frelly
great purchase
I feel the knob on top should be a little longer to make is easier to grab on it to open containers.
August 9, 2013
Rated

5

out of

5
 by
BabsinTX
Great pencil cups
I bought the cotton ball/swabs container (two joined cylinders) for pencil cups for my desk. They work much better than the pencil cups available in the office section.
July 26, 2013
Rated

5

out of

5
 by
tha503
Love this container!
I purchased two of these to hold Q-tips in the bathrooms. It is simple, yet attractive, and makes it easy to find those Q-tips! No more searching under the counter.
April 27, 2013
Rated

5

out of

5
 by
JewelryChik
So glad I found this!!
I wanted something pretty to keep swabs and cotton balls in for both baths and this works great. I love the design and the acrylic is so attractive. Love it!
April 26, 2013
Rated

5

out of

5
 by
BDM1981
This Little Change Made An Attractive Difference
I have been in the home I built for 23 years now and, over that time, things have broken, worn-out or I have just decided I didn't like the look any longer. For a while now my master bath counter has really been bugging me. I like to have cotton balls and swabs readily at hand, but the containers I had been using had worn out and, after looking around at a few stores and not finding what I liked, I had resorted to using the manufacturers' packaging. I have loved the Container Store since first visiting it with my friend in Houston in the 1980s; but, since I live in Tampa, I didn't get there very often! Imagine my excitement when you finally opened in Tampa! I was there within the first week, and purchased your Acrylic Cotton & Swab Holders. I have been very pleased with them and love the elegant simplicity they provide on the countertop! I love the fact that they are not large, as I have a two sink countertop with adequate space in between, but not excessive space. The countertop looks much better now. I will be back for more as needs arise!
April 26, 2013
Rated

3

out of

5
 by
Worv
Sounds great
I have not used this product yet as all of my acrylic containers are brand new. However, the quality of the items I've purchased through the Container Store makes me feel sure this product will work as described.
April 24, 2013
Rated

5

out of

5
 by
Kittie
Acrylic Cotton & Swab Holders
replacing similar holders-good buy- like new shapes on cotton holder
April 9, 2013
Rated

5

out of

5
 by
Lauri
very clever!
What a great product! I have it on the counter in my boys bathroom. No more searching for q-tips and cotton balls! I like the fact that it is one piece yet serves 2 purposes! Clever !
March 15, 2013
Rated

5

out of

5
 by
ClaireV
Q-tip holder
Great purchase for holding q- tips and other small items.
February 26, 2013
Rated

5

out of

5
 by
Alliactress
I Would Buy it Again and Again!
This acrylic and cotton swab holder is so convenient! I use it to hold my makeup brushes and lip glosses. I have one on the top of my dresser and it provides me with easy access to my cosmetics while giving my dresser a stylish look. I'd buy more any day! It could also be used to hold small items such as candy or jewelry. The clear color allows you to see its contents with ease which makes it good for decretive purposes! :)
February 18, 2013
Rated

3

out of

5
 by
JuneCleaver72
Caution - chips easily/top heavy
I purchased this because I was tired of swab/cotton round holders that had metal lids, which rusted from the humidity in the bathroom. I thought I had found the solution with this all acrylic dual holder and was quite excited about it. However, I bumped my elbow into it, knocking it over in the cabinet, and the lid fell to the tile floor. The edge of it chipped off, and is obvious. The set still functions, but now I have a set that still doesn't look great. Granted, in a competition of anything vs our 70+ yr old tile floor, the floor generally wins, but I would hope it would be more durable. Also, the handle on top could either be thicker or longer - and I have very small hands.
July 17, 2012
Rated

5

out of

5
 by
swayers
LOVE
Perfect in every way! Looks great on my counter and worth every penny - not cheaply made.
May 4, 2012
Rated

5

out of

5
 by
Seuss83
I looked everywhere for something like this. It's so simple I don't understand why it was so difficult to find. Durable, looks nice and doesn't take up a lot of space. Definitely serves it's purpose. Very pleased with my purchase.
April 30, 2012
Rated

4

out of

5
 by
CaliChrissy
Tidy Bathroom Helper
This is a very helpful product. It keeps cotton balls and swabs tidy and looks nice. You always know where to find them when you need them, and it doesn't take up much space. I'm very happy with my purchase!
April 29, 2012
Rated

5

out of

5
 by
YeahOrganization
Great Product
My last set had metal lids which rusted over time. Love that these are all acrylic - they look nice all the time!
April 4, 2012
Rated

5

out of

5
 by
Michelle78
perfect for guest bath
i wanted something to put in the guest bathroom so they would have easy access to q-tips and cotton balls and not feel like they had to search around for them. these are very sturdy and do not look or feel cheap at all. i also like the fact that they are connected. the ones i have in my bathroom are glass and they are 2 separate containers. i am thinking of replacing those with these acrylic ones.
March 26, 2012
Rated

5

out of

5
 by
GaylaK
Just what I needed!
It makes so much sense to have my cotton balls and q-tips together at hand in a clear container/clear lid, so this was perfect for me! My parents actually got this for my birthday because we were redoing my bathroom, and I have to say it's a cute and classy looking holder for on top of my vanity! It's made of thick and sturdy acrylic so it doesn't look cheap at all. I'm very happy with this purchase.
March 9, 2012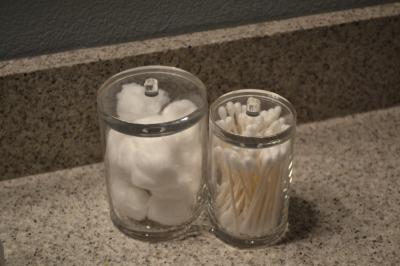 Rated

5

out of

5
 by
Pooh33
Good quality, great for small spaces!
This is a good product. We purchased the cotton & swab holders container and it is very sturdy. I like the fact that the cotton swab and cotton ball containers are combined. Works great!
February 26, 2012
Rated

5

out of

5
 by
bagginit
Love this!
I bought this to go with the Droplet Soap dispenser and it compliments it well. I like that the Q-tip and cotton ball/make-up pad remover sections are together and it looks really nice on my countertop.
February 2, 2012
Rated

5

out of

5
 by
Nicola
I think it's cute!
I ordered this clear container so I could put my cotton swabs in there. It's clear & also is more attractive & fits in a lot of small spaces & is great if you do not have too much room! You can see what the contents are & easily see if it is time to refill! Just what I was looking for! Also, if you drop it, you will not have to pick up a whole bunch because it holds plenty, but not too bulky!
August 8, 2011
Rated

5

out of

5
 by
dorth
cute little container
If you must have q tips at your quick disposal in the bathroom (or kitchen) this little hinged box will do the trick. It is small so it is pretty much out of the way on the counter. And it is substantial so it will hold up for awhile!
June 16, 2011
Rated

5

out of

5
 by
DrivesTooMuch
Great little organizer
Just the right size to keep a supply of cotton balls and Q-tips within reach at all times instead of having to haul out the whole bag or box each time.
February 16, 2011
Rated

5

out of

5
 by
Verified Reviewer
Love these!
I have 3 of the containers--one for each bathroom! I love them! I use mine for Q-Tips and round cotton pad used for removing make up. Look great in any bathroom.
February 4, 2011