Rated

5

out of

5
 by
irpdickinson
Handy at work and home!
I use these to corral my different types of pens, pencils, markers, etc. At home, the lower compartment holds brush pens/markers and washi tape. At work, it holds different sized post-it notes. I'm going to have to get another one for my daughter to keep her school supplies at her desk at home. Love that it's clear - you can see everything at a glance!
July 17, 2016
Rated

5

out of

5
 by
Leahj
Great for my desk
I use this organizer for my desk at work. I have several stamps that I use to help me track invoices, and they fit perfectly in this organizer. I put my stapler (it hooks on the edge) and scissors in the tall section and the stamps in the shorter section. I guess I could put pens in there as well, but I already have a pen cup for that. I would definitely recommend this organizer to anyone who has a lot of stuff on their desk!
September 30, 2014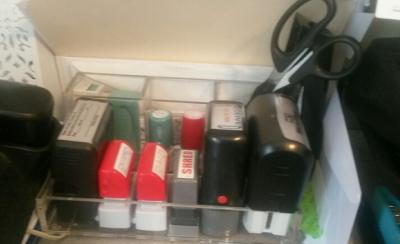 Rated

5

out of

5
 by
IrisSpring
Perfect Organizer!!
I am using this for makeup, etc. I have eye products in the first cubicle, lip products in the middle one, and some smaller brushes in the last one. I have eye shadows in the front area. It's wonderful. I am so happy I purchased it.
April 26, 2014
Rated

5

out of

5
 by
ManhattanMom
Excellent for small space
I paired this with acrylic drawers for a small space on my vanity and it worked/matched quite well even though items weren't same brand. It's good for making a small space more useful.
April 8, 2014
Rated

4

out of

5
 by
Carinita314
This acrylic make up organizer has worked our marvelously for me. In one of the cups I have all my brushes, the second has small powder eyeshadows stacked up and the third has tubes (Bb cream, primer, etc). The front has compacts (blush, foundations...). *The only flaw is that I couldn't find coordinating drawers to go underneath for additional storage and to stack it up higher.* Love that it's clear though so you can see but also could apply contact paper inside for a cuter look! Also easy to clean!
January 9, 2014
Rated

5

out of

5
 by
ssfinva
Just the right size!
Wanted something for my new makeup collection. Everything fits perfectly without it taking up too much counter top space. I definitely recommend this one!
January 7, 2014
Rated

5

out of

5
 by
Tam1
Great organizer
I bought this particular organizer because it is the exact depth of my medicine cabinet so I am able to maximize the space. Very happy with it!
April 26, 2013
Rated

5

out of

5
 by
slkcal
Great value
Needed to organize area for makeup and wanted something for countertop. This met my needs and holds more than it appears.
April 23, 2013
Rated

5

out of

5
 by
Guamie
Great Organizer
I bought 3 of these to put all my cosmetics, hair products, etc in and they're great.
March 21, 2013
Rated

5

out of

5
 by
VicCake
Great Organizer!
I am a metal-smith and I wanted an organizer for some of my bench tools, and this one is fantastic! It is very sturdy and well made, which I really appreciate. It seemed a little expensive to me at first, but it is very well constructed so I can see why it costs more than some of the other organizers.
March 7, 2013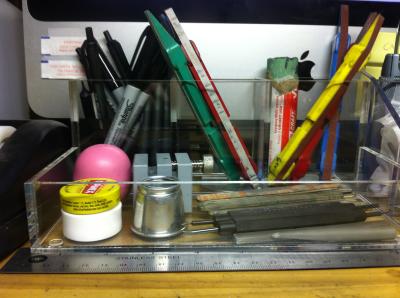 Rated

4

out of

5
 by
SherryK
4 section acrylic cosmetic organizer
Love it - used for children's toothbrushes and other products.
February 17, 2013
Rated

5

out of

5
 by
khoop
NEVER GET RID OF THIS!!!!!!!
I LOVE this thing...I use it as a makeup organizer...I keep my brushes, mascaras and liners in the back compartments and all my daily makeup plus some in the front. It makes my life so much easier and more organized...which makes me a happy girl! I would recommend this to anyone and am so glad I found it!
October 30, 2012
Rated

5

out of

5
 by
susie87
Finally I can see what I'm looking for!
Always had a bin of make-up. This container fit neatly in a drawer but when I pull it out, I no longer have to dig for what I'm looking for!
March 3, 2012
Rated

5

out of

5
 by
Gloss
Great for daily makeup
This is perfect for holding the makeup I use on a regular basis. I love cosmetics and have many items, some of which I want regular access to and some of which I don't. Previously, I had my "main" makeup in a basket on my counter, but since it was just an open compartment, it tended to accumulate extraneous items that I don't need as often or prefer to keep elsewhere (special-occasion eye shadows, mints, multiple lipsticks, etc.). I was looking for something that would hold only my most basic makeup items - primer, tinted moisturizer, powder, mascara, eyeliner, my favorite / most basic blush, eye shadow, and lipstick, and one or two tools. This is perfect; it's exactly the right size to organize all of that (and display it nicely) but not much more. Now any extraneous items will be put back in their own proper place instead of making their way into my "essentials" area just because it's right there and roomy.
August 27, 2011
Rated

3

out of

5
 by
LisaH
Nice
Like this for its portability but wish it was a tad larger.
May 10, 2010
Rated

4

out of

5
 by
Selya
Good Quality product
The make up tray is well made and the size is ideal for my make up drawer.
March 8, 2010