Rated

5

out of

5
 by
Tina07
Durable
Great quality, great price, fits multiple sizes/brands. Helps me stay very organized!
August 22, 2016
Rated

5

out of

5
 by
WANMAY03
24-Lipstick Acrylic Organizer
Organizer is perfect size for round or square lipstick tubes. Great for storing your own collection or for showcasing. Made from durable acrylic. Great quality and price.
April 5, 2016
Rated

5

out of

5
 by
AZCatMama
Perfect Fit
This organizer is a great way to corral all of those lipsticks and keep them handy in one place. I created an acrylic make-up cube from an office organizer and this item fit perfectly in the bottom right side to create a drawer of sorts. I can easily slide the lipstick organizer out to make my selection without having to rummage through a jumbled-up drawer.
March 22, 2015
Rated

5

out of

5
 by
Nitneynae
looks great!
I have gotten several compliments on how "pretty" it is. I would definitely recommend it. I will probably purchase another one. My only complaint is that I wish it was deeper. The lipsticks have a tendency to lean.
September 30, 2014
Rated

5

out of

5
 by
CMACHELLE
In love!
I am in love with this product! I ordered two, just to see if I would like them, and ended up coming back and getting two more! They're a dream come true for anyone looking to find a way to organize their lipsticks, and still make them look cute! I have redone my entire makeup vanity, and have gotten all of my acrylic pieces from The Container Store! Love this place..and LOVE this product!!
June 3, 2014
Rated

5

out of

5
 by
RainbowKissessss
Great quality
This organizer is amazing, I purchased 3 of these and I need more for my lipstick addiction. It's great quality and every one who wants to organize their lippies should definitely purchase this! I wish I can go on a shopping spree with this store!
April 25, 2014
Rated

5

out of

5
 by
Ajw21
Great purchase!
I love these! I have 3 of them, great place to store my lipstick and keep them organized.
April 13, 2014
Rated

5

out of

5
 by
Vanessanoodles
Holds every lipstick I have, different brands, perfectly. The lipsticks dont move around as much as other lipstick holders which I was afraid might happen. Will be buying a few more
March 27, 2014
Rated

5

out of

5
 by
Elle42
Holds my Mac lipsticks perfectly
Holds all my different sized lipsticks perfectly... NYX, MAC, Victoria secret. AWESOME.... it's sitting on the top left of my makeup stash.
January 21, 2014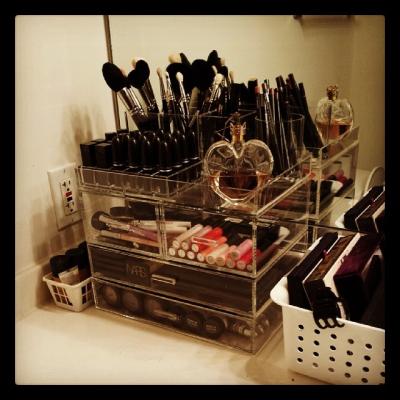 Rated

5

out of

5
 by
Twin1988
I love love love these!!!!
I love these lipstick holders! I have a total of 3 now there not filled up yet but I'm there getting there :D! Best price I've seen! & they look nice & keep my lippies organized!
January 7, 2014
Rated

5

out of

5
 by
Smika03gary
Hot item
Cute & the best idea ever! Also love the reasonable price! Many of my friends want this
December 3, 2013
Rated

5

out of

5
 by
411rhonda
AWESOME
Went back & bought another. High quality plastic. Sharp & clear looking. Very clean & looks great!
November 9, 2013
Rated

5

out of

5
 by
FrettyPace
Love these!
These are great! Organizes my lipsticks and glosses perfectly. Great quality and price. Will definitely be picking up a few more as my collection grows.
November 1, 2013
Rated

5

out of

5
 by
Janet30
Love this product. I have over 40 lipsticks and with this they are all organized I'm my drawer. Best purchase ever !!!!!!
September 5, 2013
Rated

5

out of

5
 by
Jani
I purchased this with another acrylic product and they both are great for cosmetics. I love the acrylic style. I have tons of lipstick so now that I know it's a good but I'll be purchasing more!
July 16, 2013
Rated

5

out of

5
 by
ticko562
AWESOME ITEM
I LOVE THIS ITEM, EASY TO ORGANIZE, LOOKS BEAUTIFUL IN THE COUTNER
May 2, 2013
Rated

5

out of

5
 by
Jlovin
love love love loved this product. I would reccomand it to all my friends. Excatly as described. will buy again
April 22, 2013
Rated

5

out of

5
 by
melanya2001
Great item ever
i purchased this item b/c i wanted to organize my lipsticks by color and liked that i can turn them upside down so i can see each color. It's great b/c they dont fall over. I also like that it's clear. It only cost $6.99 but it's a great inexpensive way to stay organized.
March 22, 2013
Rated

5

out of

5
 by
everythingorganized
Affordable solution
My makeup started taking over my bathroom. I need a lot of structure to keep things neat, so this lipstick organizer is the perfect solution. It's small, sturdy and affordable. Plus, it has a clean look that doesn't add to everything else "going on" in my bathroom. I've started giving these as gifts!
March 18, 2013
Rated

5

out of

5
 by
lo86
love!
Stores my lipsticks perfectly! Looks great on my vanity!!!
March 18, 2013
Rated

5

out of

5
 by
scawolita
SO STURDY!
This is perfect for holding lipsticks and it is very sturdy, not at all flimsy. Order it!
March 9, 2013
Rated

5

out of

5
 by
bh9076
FINALLY!
I have been doing some searching for the perfect way to store my lipsticks... tons and tons of searching. Nothing suited my fancy- and if it did, the price tag was unreasonable! Then, I came across this organiser on-line one day. It was affordable and looked like the perfect solution, so, I went out the following weekend to see it in person. It WAS perfect. I was so elated, I bought three! If (I should say "when"..lol) my lip colour collection grows, I will definitely be purchasing more of these!!
February 25, 2013
Rated

5

out of

5
 by
smgraff55
Love these lipstick organizers!
I absolutely love the lipstick organizers. They look great on your countertop and they won't break if they get knocked around. I wanted something that I could leave setting out so I wouldn't have to always bring my makeup out and put it away. These look great setting out!
February 24, 2013
Rated

5

out of

5
 by
Nashville615
Great looking counter top organizer!
I love the collection of acrylic cosmetic organizers that Container Store Offers. I now store all of my makeup this way. I have found that having all of my makeup where I can see it allows me to use more of what I have, and it looks pretty sitting out on my vanity too!
February 14, 2013
Rated

5

out of

5
 by
MS88
I love those lipstick organizers!
These lipstick organizers are great. They can hold both square lipstick tubes and round ones. I have 3 of those in my vanity drawer, to keep all my lipsticks organized and easy to find. Little tip: I store the lipsticks upside down, to make it easy for me to see the label and pick the shade I am looking for.
September 3, 2012
Rated

5

out of

5
 by
LindsD
Awesome!
I love this organizer. It fits all of my lipsticks and I just love them!
July 21, 2012
Rated

5

out of

5
 by
cathy41
perfect lipstick organizer
i love that i'm able to place my collection of lipsticks in one location and group similar colors together.
April 27, 2012
Rated

5

out of

5
 by
Organizer666
Great organizer for lipsticks
Love the size of this lipstick organizer especially for anyone having a lot of lipsticks. Would have preferred that it be offered in an elevated design so I can view the lipstick labels easier. Love the clear acrylic design that matches my other cosmetic organizers. Some of the lipgloss tubes might be too tall to stand completely upright in this divider.
April 19, 2012
Rated

5

out of

5
 by
noelle524
I love this! I have it on top of my vanity and put all my lipsticks in it. It looks cute and makes my lipsticks easy to get to and find :)
April 2, 2012
Rated

5

out of

5
 by
containersprung
Love it
Acrylic is amazing especially when it comes to makeup storage. You can't find a lipstick holder like this anywhere else.
April 1, 2012