Rated

5

out of

5
 by
OrganizedMLady
Guest Bathroom
This two in one container is perfect for the guest bathroom. It is very sturdy and good quality. Looks lovely on the counter.
January 9, 2017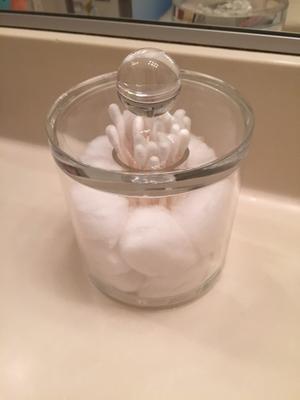 Rated

5

out of

5
 by
dc10
Perfect
This canister is perfect for guest bathrooms. I have them in my home and my condo. And, my guests must appreciate the thoughtfulness because the cotton pads and Q-tips are used frequently!
June 1, 2016
Rated

5

out of

5
 by
Bilingue
Beautiful and useful container
I had been looking for this type of container for a long time. I knew it existed, but didn't know where to find it. When I found it on your site, I immediately purchased it. Not only was I pleasantly surprised at the workmanship and quality, I was overjoyed at how it looks as well. I bought two, one for each of my bathrooms.
February 15, 2015
Rated

1

out of

5
 by
ElaineTCS
Broke after 9 months
I love the functionality of having cotton balls and swabs in one container on the bathroom counter. However after about 9 months the ball on the lid detached just as I was lifting off the lid. It was never dropped, and was always washed with water or acrylic cleaner. While it's been some time since purchase and is only $8.99, I feel that for how well we cared for it, the quality is not up to par.
December 22, 2014
Rated

5

out of

5
 by
Maxx
Wonderful 2 for 1 product!
I use this to store both regular cotton swabs (on the outside) and cosmetic swabs (on the inside). I love having them both neatly organized and readily available in one spot!
June 22, 2014
Rated

5

out of

5
 by
Lessy
So convenient
This little guy is perfect to organize cotton balls and swabs. I love that I can stuff as many cotton swabs in as possible and because of it's see through, it never looks tacky!
April 24, 2014
Rated

5

out of

5
 by
kmcdonald6
Great functional product!
Super Cute! This is very functional and very clean looking for my bathroom. I love that it's attractive, looks high quality, and will match any color scheme I choose for my bathroom. Just what I needed for my cotton balls and q-tips.
December 30, 2013
Rated

5

out of

5
 by
1AU43N
LOVE it
I used to use two Apothecary Jars for cotton balls and q-tips. I moved to using this 2-section canister and I absolutely love it. I love how you only need to lift one lid to get to two items. In my opinion, it looks nicer on the cabinet, keeps clean better, and is lighter. Excellent product!
October 9, 2013
Rated

5

out of

5
 by
Beajay
"Space Saver"
This item is a great addition to my vanity. I am able to have cotton balls and Q-tip in one container. I'm very pleased.
September 29, 2013
Rated

5

out of

5
 by
Stuckonsushi
attractive and functional
This container is very nice looking on the counter and I love that it holds both cotton balls and q tips! It's much easier to have them sitting on the counter than having to reach underneath it for items used every day. I was going to get 2 separate containers but liked the look of this too much, plus it's more compact. I like being able to see what's inside while still having a lid to keep dust and lint out. Looks more expensive than it was, I will probably be getting another one for the guest bathroom too!
July 23, 2013
Rated

5

out of

5
 by
MissyB
Great Purchase
This multi-use container is one of my favorites! So versatile and useful. I use it in my bathroom for Q tips and cotton balls. The design and durability are excellent. Thank you for another great product!
April 1, 2013
Rated

5

out of

5
 by
organizingintx
2 for 1
I went in to the store today to find 2 small jars for cotton balls and qtips when I ran across this. Love that I get 2 for 1!
February 19, 2013
Rated

4

out of

5
 by
Newyorking
Love this product!
I was initially looking for a set of 2- containers with lids to carry ear-buds and cotton balls, then came across this. I love it!! Its perfect to fit both in a compact manner. I purchased 2, one for my vanity and one for the bathroom. I use cotton balls everyday to remove makeup in the bathroom, and ear-buds everyday on my vanity to clean-up makeup spill on my face. I really like how this accommodates both in a compact manner. Also love the look! I have a mirrored vanity and this looks perfect!
July 15, 2012
Rated

5

out of

5
 by
sdutah
Awesome!
I love that this container takes care of two storage items in one jar. It looks great. The quality is nice and it looks like glass.
June 19, 2012
Rated

5

out of

5
 by
babylulu2
So convenient
I absolutely love the convenience of having both the Q-tips and cotton balls in one place! It's worth having to refill more often for the convenience.
April 21, 2012
Rated

5

out of

5
 by
mommyoftwotots
high quality container
I love this. I bought it for my bathroom counter. It holds the q-tips in the middle and the cotton balls on the outter area. Its clear acrylic so it matches evreything. Its high quality.
March 19, 2012
Rated

5

out of

5
 by
Kitty2
Great product!
Excellent quality and fairly priced. My first, but not last, purchase from The Container Store!
March 19, 2012