Rated

5

out of

5
 by
brebrebre
Great Purchase
I don't have lots of cutlery and this one keeps them in place
April 24, 2015
Rated

5

out of

5
 by
mwlou
Knife Dock
Love this item, I was looking for something for my knifes,to get them off my counter, this fits nice in my drawer and any size knife fits, My friends that saw it all, wanted to know where I bought it.
March 2, 2015
Rated

2

out of

5
 by
KatyTwinMom
Takes up too much space
Takes up too much space and holds too few knives since they can only be as close as the width of their handle.
June 7, 2014
Rated

5

out of

5
 by
Mightymom
Love it!!!!
It is one of the best things I have in my Kitchen. Every time I open the drawer to pick up a knife, I feel safe that there is no danger at all. They are kept safe and organized at the same time! With this organizer there is even space to put something else thext to the container. I love it, love it! Totally recommend this product! I must have in your kitchen, spacially if yu have knives of different sizes and functions.
May 2, 2014
Rated

5

out of

5
 by
MAC3844
Works Perfectly
I'm going back to buy a second one as all of the knives don't fit safely in the one unit. I think the knives need to be spaced out a little more to ensure a good grip to remove safely. Also, I think placing the smaller knives together and separating them from the larger ones is safer. I'm very pleased with the one and two will look and work better. Having the knives loose in the drawer is tough on the edges of the blades and not safe. Very big knives with long handles have to be handled delicately.
April 15, 2014
Rated

5

out of

5
 by
BenS
Easy and simple knife storage
I've had my eye on this for a while and finally got around to buying one. It works great for storing our knifes, and it is nice not to have to worry about which knives fit in which slot. Aesthetically, the bamboo is a nice complement to the cork.
March 25, 2014
Rated

5

out of

5
 by
mschrismac
Great Way to clear off your counters
I've had a butcher block on my counter for many years and I've decided to minimize everything in my home down to what I absolutely use and need. One of the changes was to get rid of the knives I really don't use and store them somewhere accessible but out of sight. This knife dock/block allows you to use it for as many or as few items as you want rather than dictate the max number like blocks typically do. The upright knife "holders" are too hard to get knives in/out because the of cabinet above the counter so this much better.
March 17, 2014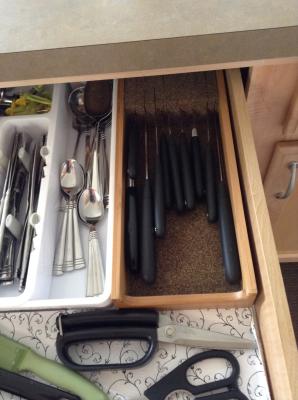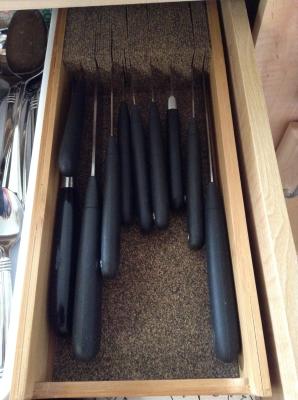 Rated

1

out of

5
 by
jenniichic
Ehhh, get something else
I didn't find this product to be as useful as I wanted. It's not easy to get your knives between the cork sheet dividers. The cork sheet dividers would leave cork residue on my knives whenever I wanted to use them. I would have to rinse and clean them again. It looks like a good idea in the beginning but it's not.
March 7, 2014
Rated

4

out of

5
 by
deastty
Bamboo Knife Block
I love this knife block because I no longer have to keep my knives on the countertop. I can safely store them in a drawer!
January 28, 2014
Rated

5

out of

5
 by
ContainerLover101
Finally!!!
Finally! I can store my knives in the drawer. My drawer never look so neat as this one. Love it!
January 3, 2014
Rated

5

out of

5
 by
Trini5501
It does the job!
This knife dock fits beautifully inside of a smaller drawer. It is easy to insert the knives into the cork dividers. Looks and feels like a high quality item.
January 1, 2014
Rated

5

out of

5
 by
krsturz
love it
Very easy to use - no futzing to make sure you align knife with properly sized cut out in block. We can almost put our knives away without actually looking. We put ours in a large pullout drawer under our cooktop next to bamboo utensil divider. No problems with knives popping up or sliding around, and readily accommodates a range of sized blades.
August 3, 2013
Rated

3

out of

5
 by
SailingMum
not long enough
I really wanted to like this for our knives, but it didn't work out. There is a dowel rod that holds all the cork at the end. For an 8" knife, the blade hits the dowel rod instead of cork. It also is not angled and the heavy knife handle makes the knife tip pop up and come out of the cork at the end. Just didn't work for our big knives and it had to go back.
May 13, 2013
Rated

5

out of

5
 by
Monicadel
Best in-drawer knife tray EVER!!!
Being a fan of clutter-free kitchens, I had looked forever for an in-the-drawer solution for my knives. Most products have a set number of slots to hold a limited number of knives. I found this tray and can now contain ALL of my knives in a very small amount of space!!! Thanks to the great design using multiple layers of cork, there are no pre-determined slots for each knife, making it easy for even my husband and two sons to put the knives away ;) I cannot recommend this product enough - in fact, since purchasing mine I have inspired other friends and family to do the same! No more knife block on the counter = more food prep space and a more serene kitchen!
May 1, 2013
Rated

4

out of

5
 by
JackieG23
Safe, convenient knife storage
It's safe and sturdy, and holds most knives. Our bread knife sticks out a little bit, but we can still close the drawer. And this fits right next to our flatware organizer. It a good size and keeps the blades covered.
April 26, 2013
Rated

5

out of

5
 by
Rhinney1
NO MORE MISSING FINGERS!
While that didn't actually happen, I always used to feel like I was risking my fingers when having to get a knife from the jumble of knives in my knife drawer. Now it's organized, safe for fingers, the knives don't shift around, and it protects the edges of the blades. I fit even my longest blades in this! I LOVE THIS!
April 26, 2013
Rated

5

out of

5
 by
DeFoodie
Sheer Genius
Absolutely the perfect drawer insert for all my knives! I'm constantly shielding the blades and now I'm finally able to grab and go with no worries. This is perfect.
April 6, 2013
Rated

5

out of

5
 by
eandi
Love this Bamboo Knife Dock!
We keep this guy right on the counter in our kitchen's prep area.... no way i would hide it in a drawer! Easy access, keeps our knives protected from each other, and also allows the to breath just in case there is any extra moisture left on them after washing. This is going to be my go-to gift to friends this year!
March 21, 2013
Rated

5

out of

5
 by
Rasa
Holds knives very well, perfect fit in the kitchen
March 21, 2013
Rated

5

out of

5
 by
momof4nj
Bamboo knife dock.....so great!!!
I would highly recommend this product. Keeps your knives safe and clean and your countertops clutter free
March 18, 2013
Rated

5

out of

5
 by
SometimesSancho
Excellent Knife Block
Keeps knives from dulling while storing them well and fits easily in common drawers.
March 16, 2013
Rated

5

out of

5
 by
stratcj
Love it!
It fits perfectly in my silverware drawer and keeps the knives tucked away and out of sight! Each knife slides in easily and stays put.
March 8, 2013
Rated

5

out of

5
 by
meghancakes
Knife Dock? How about lifesaver.
I used to have a magnetic knife strip, which, due to our plaster walls was no longer super practical. Plus I felt like I couldn't remove the knives from the strip without risking dinging or bending them over time; even if I removed them properly, I couldn't count on others to do the same! This knife dock fits snugly in one of my kitchen drawers (right under my cutting block!) and keeps everything neatly out of sight, but I don't worry about damaging my nice kitchen knives with its use, either. It turned out to be the perfect solution, and I think it looks good too!
February 17, 2013
Rated

5

out of

5
 by
EMac310
This is what I have been looking for!
We have many knives of different sizes. This knife dock holds them all safely, securely, and compactly. I love it!
February 15, 2013
Rated

5

out of

5
 by
thm05
works really well
I was intrigued and so glad I tested it out. Much better than magnets and silly wooden boxes you need to match knives to slots.
August 8, 2012
Rated

5

out of

5
 by
Pabrocb
Best knife rack ever
I rarely see anything with five stars, and this is well deserved. When we arrived at our summer home in May the utensil drawer was a mess. I got online to The Container Store and ordered an organizer for the drawer and this knife rack. I was surprised when I opened it that it had little cork dividers. Odd. Well, it is the best. We both love it. I actually enjoy putting knives away! I just ordered another for our winter home. pabrocb
August 4, 2012
Rated

4

out of

5
 by
ghbugmama
Great idea for organizing
We have many knives in addition to our original knife set. We already use the wood knife holder that sits in the drawer. This was for the additional knives. While I really like the idea of being able to place knives in quickly, it was a little too short for our 10" chef knife and didn't hold enough. we still had more knives to fit in the drawer with two knife holders. I returned it. However, if you need organization and have limited knives I would recommend this dock. Well made.
July 26, 2012
Rated

5

out of

5
 by
BeagleMom
Great for Large and Sharper Knives
Although I have a knife block on my counter, I have purchased some additional (super sharp) knives and didn't have a place to store them. The knives were expensive and I wanted to keep them sharp. A couple of times I cut myself on the knives when I reached into the drawer and knew I needed to find a solution. I went to the Container Store and spotted this item. I wasn't sure it would work because I was afraid the "sheets" of cork would get cut as I inserted the blades. That doesn't happen! I've had this item for several months and just LOVE it. I find it holds about 8 large chef-sized knives and anything smaller. Couldn't be happier with my purchase.
July 18, 2012
Rated

5

out of

5
 by
katlat
Just what I needed
Fits perfectly in the drawer. It's just what I needed. I love it.
June 14, 2012
Rated

5

out of

5
 by
mcbiker91
Bamboo Knife Dock
Received your product in excellent condition. Great for the drawer, or counter top and keep your knives organized, The best kinfe organizer ever.
May 14, 2012