Rated

5

out of

5
 by
EvieR
Wonderful for Jewelry organization
See the pictures below. My client stored her jewelry in a curved chest. She kept her necklaces in zip-loc baggies. We purchased these acrylic stackables so that they would fit the curvature of the chest and she will have room to grow. Her larger necklaces are in the 3X6 with smaller 3X3 squares on top. She can easily see all of her necklaces! These are found in the make-up section at Container, but serve many more purposes!
January 21, 2017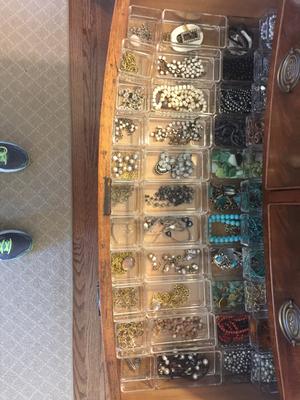 Rated

5

out of

5
 by
Reise
Great boxes, perfect for the bathroom!
These boxes are perfect for bathroom organisation. Being able to stack them really helps for organising small spaces and taking up less room. They're built really well - you don't have to worry about cracking or chipping at all, and with the transparency it's easy to find whatever you need among them. Really please with this purchase & price.
January 16, 2016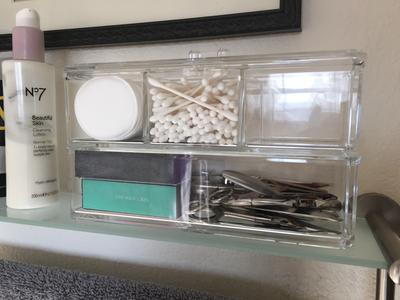 Rated

5

out of

5
 by
Nickname1
3-Section Acrylic Edge Stacking Bin Clear
I needed tea bag storage and wasn't happy with the size of those in the kitchen section of the store. So⿦thinking out of the box, from the bath/cosmetic organizer section, I purchased the 3-section acrylic edge stacking bin, which is the perfect size for 3 sets of tea bags stored side by side when bin is situated horizontally. This was absolutely a perfect fit and I added rubber feet to the bottom.
March 15, 2015
Rated

5

out of

5
 by
Ctowngirl
Great Product
I used this to organize my hair stuff in a drawer. I wish I would have ordered more though. Really pretty too, for being plastic. I have pony tail holders, clips and barrettes at easy reach now.
November 24, 2014
Rated

5

out of

5
 by
orgnzme
I can now find it
It was easy to use these for little hair ties, clips and small things to keep them all in one place and neat.
April 28, 2014
Rated

5

out of

5
 by
Vanessanoodles
The one section clear box
I needed a place to put my clean extra brushes.. this was it. I can see what is inside so that I don't have to blindly search or take everything out. Fits all of my makeup brushes perfectly. Might buy another one!
March 27, 2014
Rated

5

out of

5
 by
Tina55
Just the right size
Perfect organizer for makeup sponges, cotton balls and cotton swabs. A definite plus it has a cover to keep items clean.
February 18, 2014
Rated

5

out of

5
 by
MarkAnt
Handy box
Nice handy box. Using it in my bathroom sink to put my pils and small items.
February 7, 2014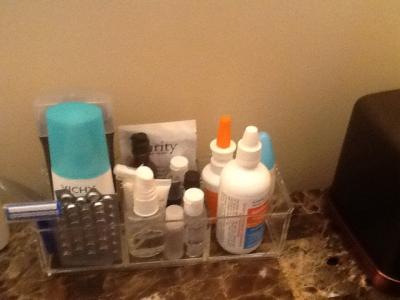 Rated

5

out of

5
 by
Karen107
Acrylic Stacabkle Box
I purchased this product in MA.. because this was the closest store to Maine. I have been looking for a ckear box to put some fun necklaces in but be able to see them on the quick. This product fits the bill...thank you !!!
January 28, 2014
Rated

5

out of

5
 by
ME667
Good stuff
I bought this in order to organize the powder room vanity cabinet. This is great! We use it to store hair bands, bobby pins & claw clips. We use the top one for combs. It works out well for us & is easy to pull out of the cabinet when we need it.
December 20, 2013
Rated

5

out of

5
 by
ticko562
nice
i bought this item to put all my make up brushes standing up with diamonds to hald way full so the brush can stay steady , and OH MY GOD i love how it loooks
April 26, 2013
Rated

5

out of

5
 by
moeyep
just what i wanted
I wanted something to put some sea glass in, to display in bathroom. I wanted to have a top so the glass wouldn't get dusty. I wanted acrylic so there is no need to worry about broken glass. I had looked in lots of stores before this!
April 23, 2013
Rated

4

out of

5
 by
jessica19
i have yet to find an appropriate use for this product (both boxes) but i know they will come into use one day so i cannot, therefore, return them. Top box is great for makeup brushes, bottom perhaps for quick go to makeup mini's.
February 28, 2013
Rated

5

out of

5
 by
JillLovesMakeup
Love this box
This is a great product and very affordable. I used it to store blush and it works perfectly. I will be getting more of these.
February 20, 2013
Rated

5

out of

5
 by
Jorja
Using for my lipsticks and lip glosses!
We have a tiny bathroom so I needed something small to contain my lipsticks/glosses. I like that I can see them easily and that the container takes up little room on our limited counter top (50's era-sized bathroom!) There is an official lipstick organizer that one can buy but I like that I can repurpose this item for other uses if I need to.
November 5, 2012
Rated

4

out of

5
 by
Newyorking
Love the product
I bought the acrylic bin stackable clear for nail polishes. I read somewhere that the nail polish container doesn't fit Opi. I wanted a container with sections so that when I remove 1-2 bottles the remaining bottles don't fall when I open and close my drawer. This one was perfect. Each section fits at least 4 Opis or 5 Chanels. I was able to fit 14 nail polishes. The product looks quite good and is sturdy.
July 15, 2012
Rated

5

out of

5
 by
Flipflopmom
Nice Storage
I bought one of these with the three compartments. I use it in the drawer in my bathroom. It holds q-tips, cotton squares, and make-up applicators. The q-tips fit very nicely in one of the compartments. I love it and plan on getting a second one to organize hair supplies.
April 27, 2012