White Elfa Utility Over the Door Hooks
Overview
Community Q&A
Can you paint these? They'd be pretty visible where I want to install them, over a blue cabinet door.
We do not recommend painting elfa components.
Date published: 2021-04-08
I'm on my second shipment of the attachment screw and am having the same issue - it's assembled too tightly for me to screw it in at all. Doesn't even budge a little when I'm trying to mount it on the top of the door. Is this a common issue?
We are not familiar with this issue. A member of our team will reach out to further assist you!
Date published: 2021-04-07
My pantry system came with a residential overdoor hook set which is too small for the door. The door is 1 3/4 inches thick. Will the commercial overdoor hooks fit?
Yes, the Commercial Hooks accommodate doors up to 1-3/4" thick.
Date published: 2021-03-06
My door is barely an inch thick will this fit it or will it be to loose? It says in the description "up to" but it doesn't seem adjustable from the pictures/video. 
It may be a little loose, as the hooks are not adjustable. Thank you for your question.
Date published: 2021-03-03
I just bought the elfa over door organizer and the hooks do not fit my 2" think door. What other hooks and screws can I but to mount this organizer? Please include sku number#. Also if anyone else had this same problem how did you solve it?.
Sorry for the late response. We do not offer any Elfa overdoor hooks for doors over 1-3/4" thick. However, we do offer Anchors & Screws for Hollow-Core Doors if your 2" thick door is constructed this way. SKU 10023062
Date published: 2021-01-19
Has anyone had a problem with the hook for the unit bending? I've had mine for 3 yrs & the top hook bent so badly this morning that everything was coming down. We had to take everything off the rack immediately before it fell while someone held it up
Yes!  We had the same issue after installing it on our pantry door.  Is there a weight limit as to what you can put in the baskets?  Are cans too heavy?!  I was so disappointed!
Date published: 2021-01-12
Will these work with hanging standards?
No, these only work with Elfa Mounted Standards.
Date published: 2020-12-16
What is maximum height difference between door height and standard height?
My non-standard door is 67-1/4" tall and I have an Elfa standard that is 60-1/4" tall. It seems like this is approximately the correct difference, but I am not sure if this will work. Will a 7" height difference allow this to work? I see that the hooks seem to have a little wiggle room in the height (via the screw at the top), and that one of the answers says that it is designed to fit for a standard door (with a normal Elfa standard) where the height difference is 6-1/4". Will a 7" difference work? Thanks.
We recommend the Standard length be 2-1/4" less than the height of your door.
Date published: 2020-12-16
Resources & Tips
Elfa Resources & Videos
---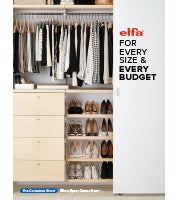 Shop directly from the virtual pages of our current catalogs by clicking on the images.
View catalog online
© 2021 The Container Store. Prices and availability are subject to change from the time and date you print this page 04/20/2021.