Rated

5

out of

5
 by
KBPhD
Great addition to my closet organization
I have a lot of shoes and have tried several different methods of storage. This one is the best by far! It has lots of pockets, so plenty of room for all my shoes. It hangs over the door, so my shoes don't take up floor space in my closet. It keeps pairs together, which allows me to easily grab my shoes when I need them. I also like that in one glance I can see all of my shoes and pick out which ones I want to wear. It's a nice cloth material, instead of cheap looking plastic-type material that a lot of other shoe storage containers seem to be made from.
January 15, 2017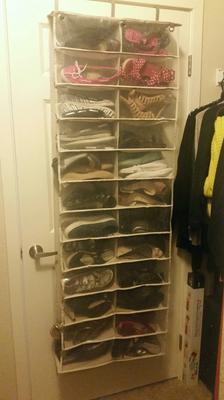 Rated

5

out of

5
 by
Aaz924
PERFECT Shoe Organizer!
I spent years with a traditional over-the-door shoe organizer with bars and all of my shoes did not fit on it and the ones that did were constantly falling off. I am so glad I found this! I have had it for a year and it is holding up very well. I can fit ALL of my (many) shoes in it - except, of course, for tall boots. Each pocket is roomy enough for a PAIR of ankle boots or even TWO pairs of ballet flats (I am not sure if one or two men's shoes would fit in each slot). I feel so much more organized knowing all of my shoes are in the same place. I also love that I can SEE the entire shoe, and not just the heel. It inspires me to wear pairs I forgot about. I have a pretty small closet and was a little worried that this wouldn't fit but haven't had any issues. A good value and a must-have!
November 30, 2016
Rated

5

out of

5
 by
TexasCustomer10
Best Shoe Organizer
Love, love this organizer. Have one on 3 different doors. It is the best. One for my kids, one for my hubby, and one for me. Works perfectly. Highly recommend.
October 2, 2016
Rated

5

out of

5
 by
Lisa22
Best Purchase Ever
Great product. Great fit for your shoes. Fit overdoor perfect.
August 8, 2016
Rated

5

out of

5
 by
bzie
Happy buyer
Ordered this because of its extra large over door hooks that fit the old pine door in my home. But, the product overall is quite lovely and I am a happy camper with the overall utility and quality of the organizer. wonderful to use as a backup to my primary closet shoe storage.
July 27, 2015
Rated

3

out of

5
 by
DCDiva123
Door would not shut
I loved this product until I could not shut the door. I ended up returning because the hang component is very thick.
July 24, 2015
Rated

1

out of

5
 by
ELW1976
Worst Shoe Rack
This shoe rack is not sturdy and did not last. I bought it last year to hold my shoes on the back of my closet door. The silver/metal rods continuously popped out of the plastic holders and all my shoes would fall on the floor. The rods did not stay in and the plastic bulged and did not interlock appropriately. this is the second time I have purchased this shoe rack and had this happen both times. It was a complete waste of money.
June 14, 2015
Rated

5

out of

5
 by
ohpham
Perfect Organizer for more than shoes.
I purchased this over-the-door organizer to replace two different ones I had. It is PERFECT. The other organizer I purchased used pockets that I would store my accessories and scarves in. The other one barely held one shoe (not one pair, just one shoe) per pocket. This holds an entire pair in each pocket (even my tennis shoes) and frees up SO much space in my closet. I use the left column for shoes and the right side for chunky scarves. It's a surprisingly durable product and is 1000x better than any other product I've purchased along the same lines. I highly highly recommend this product. It should be your end-all be-all for shoe/accessory organizers.
March 4, 2015
Rated

4

out of

5
 by
Kb1211
Shoe storage is great
I do like the shoe storage, it does hold pairs of my dress shoes and sneakers easily. I thought it would maybe only hold one sneaker per slot, but I actually can put a pair of sneakers in a slot by itself. The only negative I have is that the hangers are scratching my door jamb. And I can see the indentations from the hangers. Other than that, I do like how many pairs of shoes it can hold.
January 27, 2015
Rated

1

out of

5
 by
DeliMan
Too small
I wear men's size 13 and the pockets are too small and if put shoes in each pocket they hang over the door edge and door will not close.
January 23, 2015
Rated

5

out of

5
 by
Shoelvr
Perfect fit
This shoe organizer fits perfectly over the door and each pocket is sized just right for each of shoes.
October 12, 2014
Rated

5

out of

5
 by
Gwynnie
Very useful
I purchased this for my daughter's dorm and it has been very useful. She has shoes, scarves, a poncho and an umbrella in some of the compartments. It is very well made.
August 28, 2014
Rated

5

out of

5
 by
jordanc
Organization for the shoe lovers
I have too many shoes and not enough space to store them. This is perfect. It keeps the dust off while allowing me to see through the holder to what shoes are there.Keep in mind the depth needed to allow it to hang over the door. It is wide enough for a pair of shoes to fit in.
August 28, 2014
Rated

5

out of

5
 by
lefselutifisk
Handy Organizer
I re-purposed this shoe organizer to use in our coat closet to organize all those mittens, gloves, scarves, and hats that were in multiple bags and on shelves. With all its pockets, this item holds so much more than the usual over-the-door shoe organizer. You slip the items in through the sides, so nothing will fall out and you can see the items clearly. Everything is now together and easy to find. Best $20+ I've spent in a long time. I live in a Queen Anne home with very thick doors and this organizer worked with my doors.
August 3, 2014
Rated

5

out of

5
 by
Frenchy25
A Terrific Purchase
The best features of this product are that I can SEE all my shoes at a glance, the storage is compact and out of the way, and the shoes will stay relatively dust free. I freed up floor space and shelves that were loaded with shoe boxes. I wear size 11 shoes and 95% of the shoe fits in the slot. It doesn't present a problem. The brackets that fit over the door (holding the organizer) do not allow me to close the door easily. I needed to sand down a couple of spots in the door frame to make that work, but not all doors will have this problem. Definitely worth it.
July 18, 2014
Rated

5

out of

5
 by
Happysewer
Love it!
I bought this in hopes of storing 2 large cardboard boxes full of fabrics in the shoe organizer. It did that and more! I can now see my fabrics, clearly, and I have cleared a ton of floor space. I only wish I had another door in this room so I could have 2!
July 14, 2014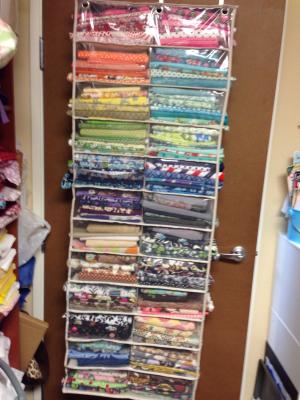 Rated

5

out of

5
 by
Phyllis1959
Takes up no space at all!
I can't believe I didn't buy this sooner! It is a life saver! I had shoes everywear in the closet and my bedroom, and now I have them all in one convenient place! Thanks Container Store!
June 18, 2014
Rated

5

out of

5
 by
ESmit
Awesome Shoe Organizer
This is a great shoe organizer! I was able to fit my flats together in one pocket and my heels separately with no problem. My husband is a size 10 and his shoes just barely fit. Overall, great and sturdy product! Fits perfect on my closet door. So glad I bought it!
April 28, 2014
Rated

5

out of

5
 by
AllyMcG
Great product!
For those like my husband and I: many shoes, small space, this is a fantastic addition. I just wish we had more doors to hang these on, and we'd buy more. We have been trying many shoe storage options, but what makes this one useful is it is not flimsy (other over-the-doors fell apart or didn't sit well), easy to put together (ridiculously easy - 15 seconds!), you can see all your shoes easily through each pocket (no rumaging) and reach them easily (I am short so hate reaching up to high shelves to retrieve things), it keeps them tidily off the floor, and comfortably fits two shoes per pocket (of mine, one for anything of my husband's). The bonus is that being off the floor they are now dust free. I was amazed how dusty shoes became after a season on a shoe rack. My only complaint (and it is very minor) is that the hooks to hang over the door are much wider than our door. It doesn't seem to affect how it hangs though, and is not obvious. Additionally, I was worried the door wouldn't close with the hooks - but it does. It is a little snugger than it was, but still closes easily. All in all great value for the price when compared to other storage options. Very happy!
April 26, 2014
Rated

5

out of

5
 by
kynyc
GREAT product
As I live in New York City, space is limited. I do have a hallway but no area for shoes. With this product, I am able to keep all the shoes for 3 people in one convenient place. LOVE IT!!!!!
March 25, 2014
Rated

5

out of

5
 by
PReviews
Really like- only minor issue was solved easily
I love how compact this is, while still fitting many pairs of shoes comfortably! I found that I could fit ALL my husband's shoes, full pair per slot, except boots, of course. I could *not* fit my heels (no matter how I configured them) - but could also fit all my flats or low wedges, full pair per slot. For reference, my husband is a size 10, and so am I (which may explain why I can fit both our flats, but not my heels, also the heels I do have, are 3.5 -4 inch heels) Only one thing to note - it is a heavy organizer - the hangers they have are very sturdy, *but* if your door is not as thick as the hangers are intended for, it will make the whole thing sag (since the hangers slope downward when the door is open), which makes it difficult to use. It also makes it hard to close the door once it's loaded. I fixed this by wedging folded up cardboard pieces between the hardware and the door on each of the three 'hangers' to make up for the "missing" thickness - worked like a charm.
March 17, 2014
Rated

4

out of

5
 by
kidkong
Good Enough Shoe Organizer
Each pocket is big enough to store a pair of women's shoes whether it be a flat shoes or high heels although high heels need to be put in carefully at a certain angle to fit two in one pocket. As for the men's shoes, each pocket will only be able to hold one shoe. Clear cover makes finding shoes easy and fast. Also, pockets are open on the side and not on the top, so this organizer feels cleaner and safer to hang over the closet door where my coats hang closely. However, I can only give four star to this product as the hooks at the top does not fit well so each time I close the door, it makes a squeaking sound and the door does not close smoothly. Also, color of the hook is silver, which stands out on my white closet door. I wish the hooks are made in white and a little thinner.
March 9, 2014
Rated

5

out of

5
 by
OrganizedGrandma
Best shoe organizer
This is very well made and I really love it. I had a different organizer that I was using behind the door before I ordered this one. I was amazed that both were the same size but the new one holds more shoes. I like that you can see exactly what you have and they can slip in and out so easily. The bonus part is that it takes up so little room on the back of the closet door. I was actually thinking of what else I could store in one of these as I like this so well.
January 29, 2014