Rated

4

out of

5
 by
ToddH
Functional and simple
My wife had been wanting to store her platters vertically for a while, but she hadn't looked that hard for a solution. When I saw these (Nov. 2013), I picked them up and (easily) installed them in short order. Voila! She loves them.
November 30, 2013
Rated

5

out of

5
 by
ToriJune
Tray divider
Worked well for corralling baking sheets and such. Somewhat awkward to install but oath wise good product.
August 4, 2013
Rated

4

out of

5
 by
patricia123
Very Handy
Very useful for cutting boards and cookie sheet pans.
April 2, 2013
Rated

4

out of

5
 by
biobabe
Exactly what I needed
I got several of these for the deep and tall cabinet right above my wall oven (which was just one big open space). They were easy to install and don't seem too wobbly. They hold my baking sheets, trays, and other shallow/flat items upright. I am very happy with this product and would recommend it. The only reason I'm not giving it 5 stars is that I don't know how it holds up over time, since they only went in last weekend.
November 15, 2012
Rated

5

out of

5
 by
DiehardFan
Genius
I wish I knew about these sooner. Whoever thought of it is a genius. I was so tired of my baking items getting all caught in each other and it all pulling out when I needed one item.
March 23, 2012
Rated

4

out of

5
 by
Teaches490
Convenient
Organizes cutting boards, cookie sheets, baking racks, lids, etc. Extremely helpful
March 20, 2012
Rated

4

out of

5
 by
Karyn
Not bad once you figure it out
I just installed two of these. They were easy to install once I figured out that the hardware doesn't match the pictures or the directions!
March 1, 2012
Rated

5

out of

5
 by
AnnaD
Does what it is supposed to do
I bought several of these to keep my cutting boards and half-sheets organized and it works perfectly and is as sturdy as I had hoped. Installation is very straight forward too.
February 27, 2012
Rated

5

out of

5
 by
Hapyone
such small things..make life so much easier!!
Not only is it much easier to pull out the desired item..in my case baking pans..I have so much more room. In fact I had ordered 2..only need one though..however I am sure I will find a use for the 2nd one! I have ordered a number of items...and all have been of high quality.
January 12, 2012
Rated

4

out of

5
 by
alissa01
Easy to install, useful!
Easy to put in, nice and helpful for organizing cookie sheets, cutting boards, etc!
October 3, 2011
Rated

5

out of

5
 by
jxa1
Great organizer for baking sheets, etc.
We love this divider...much easier to access our baking sheets, cooking racks, and cutting boards. Very useful and a good price.
February 11, 2011
Rated

4

out of

5
 by
LindaH
Adaptable, adequately supportive, and easy to install.
January 17, 2011
Rated

5

out of

5
 by
VTLisa
Ingenious storage idea!
These are an amazing organizing tool for all those cutting boards and baking pans that never stack neatly. Installation was quick and easy with an electric drill. They are one of my favorite things about my newly remodeled kitchen!
December 30, 2010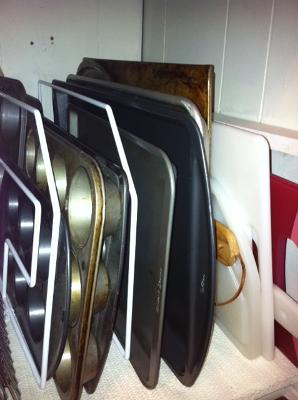 Rated

3

out of

5
 by
dupes
Good product, wrong hardware
Just installed this and it seems to be a good product and work well. Only downfall was that this shipped with different hardware. Instead of having the screw to the side of the divider, it installs directly through the hardware and then you "click" in the divider. It was a little tricky to get installed straight and confusing since the directions didn't match.
August 16, 2010
Rated

4

out of

5
 by
JNContained
Perfect for what I needed. Installed very easily! I only needed one to work well in my cabinet.
July 20, 2010
Rated

1

out of

5
 by
Ginger
A Good Idea.....but
It's a great affordable idea. However, the brackets do not hold the dividers in place when there are heavy pans and cutting boards.
May 18, 2010
Rated

5

out of

5
 by
gingi
Perfect for Platter & Tray Storage
After having stacked my large platters for years, I finally realized that I could remove the middle shelf in my cabinet and install these dividers. They are very easy to install. Now all my platters and trays are at my fingertips. No more climbing on the ladder and having to lift platters to get to the ones at the bottom. Amazing how they transformed my cabinet.
May 17, 2010
Rated

4

out of

5
 by
m7cakes
does the job
this works well for flat items like cutting boards and baking sheets... note that it comes with one divider. if you want 2 like shown in picture you must purchase 2. (i made this mistake)
May 13, 2010
Rated

5

out of

5
 by
Kayelou
12" Tray Divider
This product saved so much hassle. Being able to keep all my cookie sheets, muffin pans, etc. in order has made my life easier. I am looking for more cupboards that may need the help of another divider to make my life even easier. Fantastic product. They were easy to install.
May 10, 2010
Rated

4

out of

5
 by
canic
Easy to Install
These were easy to put in the cabinet. Wouldn't recommend for pans, because the handles tend to get stuck in the holes.
April 16, 2010