Rated

5

out of

5
 by
ReneeZ
Awesome for wine charms too!
I love these! I got them to fit into apothecary drawers I have in my kitchen and I used them to store my wine charms. I have lots of them and this works great to keep them organized. Since I can actually see them in it makes choosing one for the right holiday or occasion very easy!
April 11, 2016
Rated

5

out of

5
 by
sunnydaze97
Displays Well
These display my nail polishes really well. It's sturdy and well made. I keep buying more since my polish collection keeps growing!
December 8, 2015
Rated

5

out of

5
 by
clsp
Nice and sturdy divider. Large enough to handle larger nail polish bottles.
March 1, 2015
Rated

5

out of

5
 by
Roshonda1
So worth the money
I wish that I hadn't waited so long to purchase. I have an extensive nail polish collection (needed 4 containers) and I finally get to display it.
April 28, 2014
Rated

5

out of

5
 by
Dasha
love my nail polish riser
i work at a cosmetic company and i always get free nail polish and i this is a great organizer. i used to put all of them in a box, but it was hard to pick the color i want. now i can see all my colors and not have to dig through a box - it fits all the different sizes i have. will need something bigger soon i think :)
April 7, 2014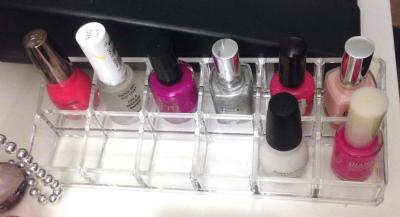 Rated

5

out of

5
 by
tallyho
Good storage for polish
This holds my daughters nail polish and so easy to just pull out of drawer and take to do nails.
March 21, 2014
Rated

5

out of

5
 by
TAMC
Finally Organized!
I purchased 4 of these nail polish organizers to reflect the four seasons. There were bottles everywhere (pocketbooks - drawers) prior to this purchase. Now ,when I need to touch-up a manicure or pedicure, I know just where to go! Highly recommend for the sake of organization and glamour!
February 24, 2014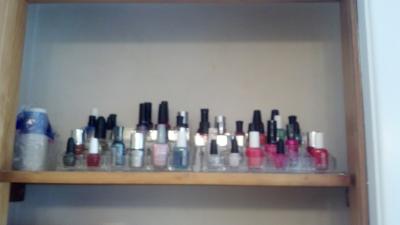 Rated

5

out of

5
 by
Emy1
Never knew how much nail polish I had
Wow! I had no idea I had enough nail polish to need to go back and buy a second one of these. Now I know where all my polish is, and exactly what colors I have and what I don't need to buy more of! Great invention! And the bottles stay put now too!
February 23, 2014
Rated

5

out of

5
 by
Jojo024
Greatest experience!
I ordered online to be picked up at the culver city store. The experience could not have gone smoother....except for the 405 traffic gettin there! The store is a dream and the customer service was on point! Great company great employees will definitely put in more orders soon!
December 28, 2013
Rated

5

out of

5
 by
Oshavano
I bought two as I collect nail polishes and was looking for a place to store them while still having them on display. I absolutely love these. I have nothing negative to say. I can easily see which polishes I have with these risers. They sit proudly on my dresser displaying my nail polishes and I couldn't be happier!
November 15, 2013
Rated

5

out of

5
 by
SaraJH
Love!
I just received this purchase since my order was on back order and it was definitely worth the wait! It was not available at my local store so I purchased it online. I wasn't sure how good of a quality it was but it's a very nice thick plastic. They are nice enough quality to were you could display these. I also got mine on sale which makes it even better!
October 4, 2013
Rated

5

out of

5
 by
BayonneBoricua
Classy look
I like the sturdy material and the high shine of the product. It fit perfectly in my new medicine cabinet and gives it a clean luxurious touch without the potential danger of glass. I like how it is set up where the back row is slightly higher than the front.
October 1, 2013
Rated

5

out of

5
 by
laiyap
fantastic purchase
This product allows me to organize my lipsticks in a neat manner.
September 23, 2013
Rated

5

out of

5
 by
OrganizedFemale
Excellent product
I purchased one of the Acrylic Nail Polish Risers and was very pleased with it so much so, that I went back to purchase another. It holds all of my polishes and helped me organize them very well in my linen closet. It is very well made too.
August 28, 2013
Rated

4

out of

5
 by
UNCLUTTEREDMOM
NAIL ORGAINIZER
1ST ONE ARRIVED BROKE ...CALLED CUSTOMER SUPPORT AND WAS QUICKLY SENT A REPLACEMENT . EXCELLENT SIZE FOR CABINET AND HOLDS OPI NAIL POLISH BOTTLES.
July 15, 2013
Rated

5

out of

5
 by
LMLH
perfect
I got this to store my essential oils & it is perfect!!
May 11, 2013
Rated

5

out of

5
 by
Midiety
Not Just a Nail Polish Holder
I own a fragrance company and I am constantly creating new scents using essential oils. My collection of oils is quite large and I had been looking for a way to keep them organized and easy to access. I was browsing the store in Allen, Texas and came across the 12-Section Acrylic Nail Polish Riser and thought it would be perfect for my oils so I bought 1 to try it out. My oils fit perfectly!! I came back the next day and bought the stores entire inventory and then went to 2 other locations and bought all they had in stock too. Then I bought several small bamboo trays (from Container Store) to hold the risers in (see picture). Thank you Container Store for making such a great product!! I know you were thinking about nail polish when you made it but it worked for perfectly for my business' organizational needs.
April 2, 2013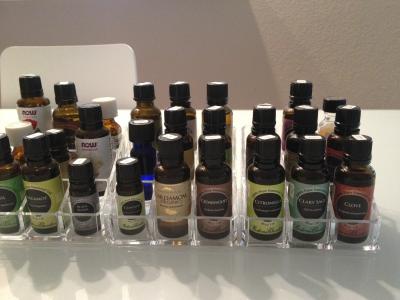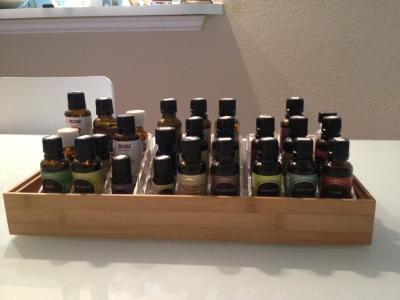 Rated

5

out of

5
 by
Binrah
Great organizer
The weight and look of this organizer is exceptional. The acrylic has a solid feel and stays put when it is set down. Highly recommend.
March 3, 2013
Rated

5

out of

5
 by
Kalynch
Easy Access
This is a great way to keep all your polishes neatly in one place. I have them in my med cabinet and they were all over the place. This forced me to throw out old polish and keep the ones I wanted and display them so I can see them easily. Great product.
February 27, 2013
Rated

5

out of

5
 by
OPILUVR
GREAT ORGANIZER!
I am a huge OPI nail polish fan. This holder fits 12 bottles of OPI nail polish easily. It has a riser effect, so you can still see the colors in the back row as well.
February 11, 2013