< Return to Product Page
Customer Reviews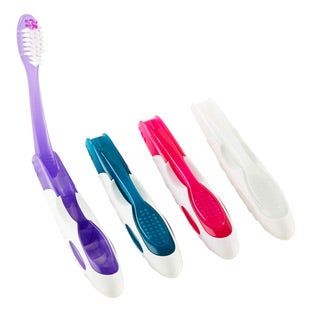 Folding Toothbrush with Microban
Overall Rating:
Customer Reviews
Rated

4.8

out of

5

 by

8

reviewers.
Rated

5

out of

5
 by
DesertDove
Best travel toothbrush I ever used
This toothbrush is full sized once it is opened up. It's strong and sturdy and doesn't fall apart when your using it. Do I recommend it? I recommend you never use a different travel toothbrush ever again.
May 16, 2015
Rated

4

out of

5
 by
Deepika
Good
It's a good portable toothbrush,not to flimsy or stiff.
May 18, 2014
Rated

5

out of

5
 by
lj48
Great Toothbrush
Love this toothbrush!! So compact and the Microban is a great feature. No need to mess with toothbrush holders again.
February 22, 2014
Rated

5

out of

5
 by
Verified Reviewer
One of the most useful items I've bought in years.
When I eat in restaurants, there's always a bit of food left on my teeth. The food is uncomfortable, but when I try using a toothpick it doesn't work very well, takes time, and I get dirty looks and little kicks from my wife. She say's it's very rude to pick your teeth in public, and she's right. But, I tell her, the food is uncomfortable. The solution? This wonderful little toothbrush. A quick trip to the men's room, and I flick the brush open like a tool from Dr. Who, put it under the faucet and give a few quick brushes. Bingo! Wonderful. No toothpick cleans a fraction as well. Yes, it's a humble little toothbrush. But it's compact, will not pick up lint from your pocket or get it wet, and is essentially effortless to carry. I bring one every time we go out, and it's a savior on vacation. There aren't many things you can buy that improve your life day after day, but this is one of them. And it's cheap! Highly recommended.
June 7, 2013
Rated

4

out of

5
 by
Julz4951
So cute
Such a great idea! Love the fact that I dont have to put the old fashioned top on the travel toothbrush!
March 6, 2013
Rated

5

out of

5
 by
PamG
Perfect for Travel
This is a great tooth brush for traveling- I love it
March 3, 2013
Rated

5

out of

5
 by
Bubba1
Great buy
Perfect for travel. Compact and fits anywhere in your luggage
April 20, 2012
Rated

5

out of

5
 by
nolly
Very handy toothbrush
A very handy travel toothbrush - very compact and dries quickly. Excellent price as well.
June 10, 2011