< Return to Product Page
Customer Reviews
Divided Pill Boxes
Overall Rating:
Customer Reviews
Rated

4.4

out of

5

 by

32

reviewers.
Rated

5

out of

5
 by
Sasadaire
Perfect Fit!
Just the right size for any handbag or clutch, and it keeps my pills organized!
June 24, 2014
Rated

4

out of

5
 by
Sensha
Good enough, but...
While these boxes have the advantage of a low price, the hinges and catches sometimes fail to work well. However, if you wander up to the home office aisle, you will find two versions of a narrow bamboo tray, used to store pens and such on your trendy desktop. As it turns out, both of these boxes are a perfect fit to hold numbers of the small, four compartment boxes. When we travel, I pre-load a series of the small boxes, then put them in the narrow bamboo boxes, where they are a nice snug fit. Then, the whole array goes into a large Zip-Loc bag for complete security. Then, each day's dosage gets pulled out and carried along. A nice and neat solution to keeping track of multiple doses of medicine.
June 22, 2014
Rated

3

out of

5
 by
Welltraveled
Divided pill boxes
Idea is good but not for extended use on long(er) trips as does not close very well.
May 22, 2014
Rated

5

out of

5
 by
Lucyknickers
Great case for traveling
Bought this as a stocking stuffer for my daughter to put her earrings in when we travel. Works fantastic!
April 28, 2014
Rated

5

out of

5
 by
StateStGirl
Perfect Traveler
Great size, easy to spot in bag (pink), won't open in bag but easy enough for me to open. Sized just right for different pills. 3 compartments are just right.
April 19, 2014
Rated

1

out of

5
 by
jules596
I wouldn't throw this in my purse...
Not all 4 sections of the pill box snap securely shut. I wouldn't just throw it in my purse. I may find some other use for like keeping pills on the nightstand.
April 3, 2014
Rated

3

out of

5
 by
Sisu
Good size
Organizes medication without taking a large amount of space. Only negative is the sticker on the box - you have to use Goo Gone to remove it. The top lid snaps off for easy cleaning.
March 30, 2014
Rated

4

out of

5
 by
emojo37
very handy
I have been using this case to keep my daily pills in as well as advil, aspirin, etc. Holds enough for a couple days' worth of doses, but not much more than that. My only concern is that over time the clasp to hold the lid closed will become loose and may spring open randomly.
March 5, 2014
Rated

5

out of

5
 by
esteegriff
Perfect Pill Box
This container is just the right size for a few of your favorite meds or vitamins. No need to take your full size bottles anymore when you have this. Easy to label and carry.
February 16, 2014
Rated

5

out of

5
 by
Jessika
Great pill box
I like how slender this pill box is, as I carry a small cross body bag and space is limited in there! I have not had a problem with it opening either. I also like that it has 4 compartments to separate your medications or vitamins.
October 10, 2013
Rated

5

out of

5
 by
1AU43N
Love it!
My mom and I each have one of these and have labeled each compartment with the name of the pill it contains. I keep mine in a small bag in my purse so that I have a few pills of my necessary prescriptions on me at all times in case of emergency. I like how the compartments snap so you know that they have closed. Excellent product!
October 9, 2013
Rated

5

out of

5
 by
AmyLea
Divided Pill Box
I bought the Pink, wish I would have bought 2 more. I would like to get a few for gifts also. They fit perfect in my purse!!!.
September 17, 2013
Rated

5

out of

5
 by
SteffieH12
Great idea!
This pill box is great! I love that you can hold at least 4 different medications!
September 6, 2013
Rated

5

out of

5
 by
LoveTheStore
What a find!
I travel 3 out of 4 weeks each month. This little pelican case is such a gem. I keep any Rx, vitamins, extras, and Q-tips in it. I think I'll get another one for earrings. Such a deal for $1.99. Are you kidding? I'm having a meeting with all of my managers next month and I'm including one of these in each of their welcome gift bags. They're sick of chocolate bars.
August 21, 2013
Rated

2

out of

5
 by
asdfdghk
Would like less fragile lids
This pill box was inexpensive and the cover and bottom are a good weight. The lids to the compartments are not hinged, they're creased and I do not expect that they'll last very long.
July 26, 2013
Rated

5

out of

5
 by
Irchik007
Use it everyday
I have it in pink and always carry it in my bag. I put vitamins in it and take them at work. Very convenient and so cute.
May 4, 2013
Rated

5

out of

5
 by
lfcs
Just the right size for medicine and earrings to be taken on a long trip.
March 31, 2013
Rated

5

out of

5
 by
LibLady
Great product!
I love these! So many different uses and functions for this. Great for travelling and holding extra pain relievers in your bag. Very stylish.
March 11, 2013
Rated

5

out of

5
 by
WildbillGeezer
Great item
I like this item because I can separate urgent pills from the not so urgent pills each morning, as I have many pills to take but not too many for this container. I recommend this item.
November 7, 2012
Rated

5

out of

5
 by
Dobychops
Best pill container
I have both the large and small size. They are great for my purse and desk. My daughter also has one in her softball bag.
May 1, 2012
Rated

5

out of

5
 by
snelise
Perfect size for slipping in purses, bags, pockets, etc. The three compartments are great for splitting up different medicines/vitamins for different times of day. I bought a bunch of the clear and even labeled the compartments breakfast, lunch, and dinner to make my life easier!
April 27, 2012
Rated

5

out of

5
 by
Mosaic29
The divided pill box is the perfect size. It was a great purchase.
April 15, 2012
Rated

5

out of

5
 by
Calico
Helpful and small enough to fit in a purse or any small bag easily!
March 25, 2012
Rated

5

out of

5
 by
cdub
perfect for travel
useful for small amounts of meeds not used daily such as benadryl, tylenol, ibuprofen; or for other small items such as safety pins, single use superglues, etc
March 21, 2012
Rated

5

out of

5
 by
Robin2012
I like to have some basics- ibuprofin, allergy meds, benedryl on hand at all times. I bought 3 of these- one for each of my personal bags (purse, laptop bag, backpack) so I have my necessary meds on hand at all time.
March 21, 2012
Rated

4

out of

5
 by
justakick
Great little pill case
I've used different types of pill containers for my purse and this one is the best. Because I have 4 types of small pills I have to take when away from home, the 4 compartments are perfect. And I like that each compartment has its own lid, which stay tightly closed.
March 7, 2012
Rated

5

out of

5
 by
Kayla12
No problem here
I have a three-section pill box and I have had no problems with it at all! I've been using it for over a year now and it still works great. It was exactly what I was looking for to store my medicines. Pretty awesome for only 99 cents!!
February 28, 2012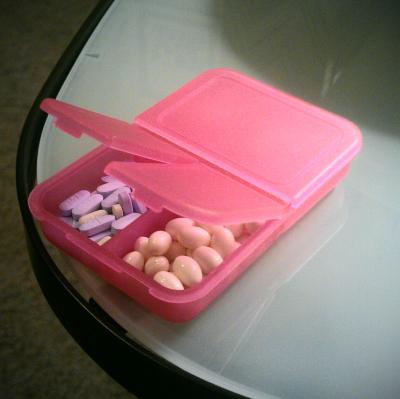 Rated

4

out of

5
 by
lvjttb
great litlte pill box
this are great and so is the price however I really liked the ones I ordered first.They were doublesided and were great to store Qtips,bandaids and dental picks on one side and all your pills on the other side.
December 19, 2011
Rated

2

out of

5
 by
Griswold
Disappointed in these
I wanted these to carry pills in my purse. Unfortunately, the individual compartments do not seal, so I am not able to use them.
June 28, 2011
Rated

4

out of

5
 by
drsues
Very useful item
I have been using these divided pill boxes for some time now. They are a convenient size to slip into an evening bag or a pocket. Unfortunately, I have lost a couple of them because they have slipped out of a pocket or I've left them on a table in a restaurant. I've just received a new order of a dozen of them. I'm now writing my phone number on the back, so someone can call me if they find my lost pill box. Only problem, of the 12 I just received, one of the smaller ones was missing both lid clasps on one side (production quality control problem), which should have been caught by the person pulling my order.
May 17, 2010