< Return to Product Page
Customer Reviews
Nalgene Round Leakproof Travel Bottles
Overall Rating:
Customer Reviews
Rated

4.8

out of

5

 by

52

reviewers.
Rated

5

out of

5
 by
TurnBackSarah
I purchased the 1oz bottle to use to transport Cerave face wash during my travels, as Cerave doesn't make a trial size bottle (that I'm aware of, at least). This is one of the few travel bottles I've found that is truly leakproof! I don't worry about it busting open in my suitcase. Thanks Nalgene!
January 13, 2016
Rated

5

out of

5
 by
shankopotomus
Love these!
These were fantastic for travel. I used them for shampoo, conditioner, lotion, and sunblock. They were totally leakproof! I was skeptical, but they were true to their name.
October 25, 2015
Rated

5

out of

5
 by
BD09
The best bottles for travel
I always suggest Nalgene bottles to people because they are truly the only ones that never leak!!
June 19, 2015
Rated

4

out of

5
 by
WoodsWanderer
Bottles okay except for sticker
The Store puts ID and price labels on every single item. They came off fairly easily from the snap top vials, but with difficulty from the bottles and the pill boxes. Had to soak and then use goo-off. They should find another kind of adhesive label or not use them at all.
April 14, 2015
Rated

5

out of

5
 by
FlaScrubJay
Really doesn't leak!
I've tried several types of travel bottles but most of them leak a little and some leak a lot, especially on airplanes. I just got back from a trip with my new collection of Nalgene bottles and none of them leaked! I used the 2 oz. bottles, which held plenty for the 5-day trip.
July 1, 2014
Rated

5

out of

5
 by
Zonz
They really do not leak!
This is why I went to The Container Store as my toner and eye makeup remover were always leaking in my travel bag no matter what small container I used. These do not leak, plus the selection is fabulous. You can get what works best for you rather than having to buy a bag of assorted sizes. My husband and I both ended up buying several different sizes/styles. You can even get fancy and buy some nicely printed labels. We just write with a Sharpie on the side or lid. Another great find!
June 28, 2014
Rated

5

out of

5
 by
cidbrach
Love these Bottles
These bottles are the perfect size for your travel necessities. Have several and love them!!!
April 11, 2014
Rated

5

out of

5
 by
Cking
Great!!
I use these for inks and paints. They are really good at keeping them from drying out. Great product!
March 11, 2014
Rated

5

out of

5
 by
RobynM
Great for travel
I absolutely love the Nalgene bottles! I use them for everything liquid on every vacation. They really are leakproof. Just make sure to keep the caps rinsed off or that much will get on the bag. They are easy to squeeze, even for kids. Great quality product!
February 12, 2014
Rated

5

out of

5
 by
TravelingGirl42
Great little bottles
I have a whole bunch of these little bottles. They are great from traveling and I use them in my medicine cabinet by offloading smaller quantities from my big thrift-size bottles. They never leak. Highly recommend!
December 19, 2013
Rated

5

out of

5
 by
bettyh
Soft sides make this bottle easy to use
Great container for lotion. Easy to pack and easy to see what's inside.
July 29, 2013
Rated

5

out of

5
 by
MissAmy
Great for travels...durable & leak proof!
The Nalgene Round Leakproof Bottles are amazing for travelers and at home use. The bottles are sturdy and durable and will not leak. I fill these with shampoo, conditioner and lotions and toss them in my suitcase without worry. The smaller sizes are great for those going through airport security or the gym. I highly recommend this product!
May 4, 2013
Rated

5

out of

5
 by
Quamiro
Finally Found One
I have gone for far too many years, coming home to a disaster in my cosmetic travel bag. This last trip was enough; what a mess. I threw everything out. So, I finally researched leakproof bottles and found one that does what is supposed to; contain your products without ruining everything. Also, I like to travel with carryon if possible and the size is perfect for me.
April 2, 2013
Rated

5

out of

5
 by
k9lvr217
Best travel bottles found!
I have over a dozen of thse bottles in all shapes and sizes which I use for travel for any destination or length of time. They come in the right size to meet FAA guidlines and they never leak! They are so versitile and convenient. I will always purchase these bottles for travel in the future!
March 16, 2013
Rated

5

out of

5
 by
Wynkyn
Truly leak proof
I recently bought an assortment of Nalgene bottles/jars which I use to store small amounts of water and paint for artwork when on the road. There is nothing better. They don't spill or dry out and last for years. I have some I've had for 10 years. Can't get enough! Great product.
March 3, 2013
Rated

5

out of

5
 by
ContainedNY
Plastic
Looking for a plastic bottle to hold things, this one has worked so far.
February 20, 2013
Rated

5

out of

5
 by
Renee96
Love these!
I have been using these bottles for years. They are of excellent quality and last nearly forever! I read a tip to also purchase the smaller Nalgene containers with the flip top in order to use the flip top on the larger bottles. This is what I have been doing for nearly 3 years. I do not keep my products in the advertisement bottles as they come in all shapes and sizes and don't fit together well in a holder or side by side. I use a variety of sizes for home and travel. I label them each according to their contents. The smaller Nalgene bottles are perfect for my daily facial products I keep out on my vanity. You can even store them upside down for an easy, immediate flow of thicker products. It's amazing how much using these bottles "cleans up" your bathroom! The remedy for product clutter on your vanity, sink top, bathtub or shower!
January 11, 2013
Rated

5

out of

5
 by
Privateer
Truly Leakproof!
I put an enzyme that deactivates ethanol in fuel in my motorcycle. There are no "pure-gas" sources near where I live. When I travel, it is difficult to carry the liquid that I pour in my tank (1 ounce per 5 gallons) because once you open the lid of the bottle it is sold in, it leaks like a sieve if it falls over in the luggage case where it is stored. Which stinks up everything in there, and damages cloth and so forth. So I purchased an 8 ounce bottle (basically enough for 8 tanks of gas) to see if this would work, and it did indeed. Never a trace of odor or dampness in the rag I had the bottle wrapped in. Perfect! And it pours predictably and smoothly, a bonus when you don't want it on the expensive paint on your gas tank. I will buy either another one, or a bigger one, soon, because this is the first solution I've tried which actually works. And if it seals in fuel treatment, it will pretty much seal in most anything else.
July 31, 2012
Rated

5

out of

5
 by
smitty
Love it
These travel bottles are so reliable and never leak!!
April 28, 2012
Rated

5

out of

5
 by
InternationalTraveler
Great for Travel & Bathroom Shower Rack
These are perfect for travel. I use 1 oz bottles to keep fully stocked in my emergency overnight travel bag (in case of flight delays that affect next flights, etc.) and 2 or 4 oz bottles in my checked luggage. I have travelled overseas with no spills. They wear well, still look great after years of use and they do not leak. I also use them for a clean organized shower rack. I just label everthing with my Brother P-Touch labeler. This way I can buy the better products in larger sizes and store the bottles on the rack for daily use. I find I use less product and they are easier to handle. It's a great way to save money.
April 27, 2012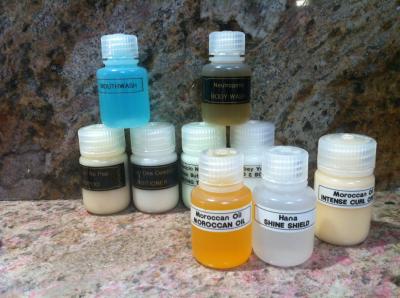 Rated

5

out of

5
 by
WillsMom
Never leaks even in planes
Bought these to hold liquids on long distance international flights. I also use them hiking. They just never leak.
April 27, 2012
Rated

4

out of

5
 by
kbabe
these are awesome for travel
I got these for my boyfriend when he was traveling a lot for work. They are truly leakproof. His only complaint was that there was no flip top bottle, and it was a pain to keep up with the caps.
April 27, 2012
Rated

4

out of

5
 by
jennpren
so far so good
i leave in another week for a trip, so i havent traveled with them yet... but they hold my shampoo and conditioner that i needed. i got the 16 oz, and hope they will last me while im away. seems to be sturdy and have a nice slim design!
April 22, 2012
Rated

5

out of

5
 by
superneatfreak
Very Useful
I love these spill proof bottles! They are great for travel. But what I use them for mostly is mouthwash at home. I buy the really big bottle of mouthwash at Sam's Club. Then I fill each family members personal Leakproof bottle. This way we don't spread as many germs =)
April 17, 2012
Rated

4

out of

5
 by
Peeb
Has many uses
I use these bottles for those supersized products that I want to didvide into smaller containers. They are very useful
April 12, 2012
Rated

5

out of

5
 by
glorial
must have
this product is the best. it works really good as described above. it doesnt let water get into the liquid making it great
April 9, 2012
Rated

5

out of

5
 by
Geneva
Great for travel and art supplies
I love these containers. They come in different sizes and styles. Nalgene products don't leak. I can travel with small sizes of lotions, etc. I can put my painting medium and other artist oils in them and never have to worry about leakage. Great products.
March 24, 2012
Rated

5

out of

5
 by
bryar4561
What a great product!
This product works just as it's described. I have no more leaks since I started using the Nalgene leakproof bottles. Even mouthwash doesn't leak out.
March 19, 2012
Rated

5

out of

5
 by
socalmom
I use these in my lunch box
I have the 1oz and 2 oz. I use them for condiments and chia seeds or other things I like to add to my water bottle.
February 8, 2012
Rated

5

out of

5
 by
Kwiteena
Does what they claim
I recently traveled to Illinois and didn't have any spills, so glad I bought these!!
September 9, 2011