< Return to Product Page
Customer Reviews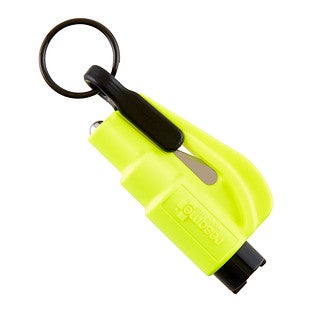 ResQMe Key Chain
Overall Rating:
Customer Reviews
Rated

4.3

out of

5

 by

12

reviewers.
Rated

5

out of

5
 by
BalletTech
I have been wanting this!
All news stories talk about having one of these for safety in the car, just in case. Now I finally have it!
June 20, 2015
Rated

5

out of

5
 by
Klmac
Perfect stocking stuffer
Put this in my daughter's stocking to keep her safe. Typical mom thing. She was surprised but happy to have it. Hopefully she'll never need it.
December 31, 2013
Rated

4

out of

5
 by
Kiminsa
Useful and compact
I would have given this 5 stars, but because of the blade I will need to remember to take this off my key ring when flying.
October 27, 2012
Rated

5

out of

5
 by
awesome1
Got one for me and one for my spouse for the holidays. It's nice that it's on our keychains, but hopefully we won't have to use them.
March 25, 2012
Rated

4

out of

5
 by
mreinl
I loved it, but it broke?
I ordered the orange ResQMe, and I loved it! I kept it on my keychain and people would always ask me what it was, and I loved to tell them. But it BROKE!! The plastic snapped and I can't use the keychain anymore. Now I just throw it in my glove compartment, I guess, and hope I can get to it. I do still like it though. Just suck that it broke. :( Otherwise, 5 stars.
March 22, 2012
Rated

5

out of

5
 by
ShellyD
Easy Access
I bought one of these for myself, and one for each of my parents. There may be a lot of these on the market, but this is the only one I know of on a key ring. In an emergency, you'll always know where it is, and if injured you can easily reach this one. A must have
February 23, 2012
Rated

5

out of

5
 by
queenorganizer73
Love This Little Lifesaver
I received this in my Xmas stocking a few years ago and I love it. It makes me feel so good to know that I have this, but I hope that I never have to use it!
February 16, 2012
Rated

4

out of

5
 by
luv2shoppe
a handy gadget
A simple way to be able to save your life in an emergency.
February 14, 2011
Rated

5

out of

5
 by
Kymberly
always where I can find it
great gift for people living and working near the water
February 8, 2011
Rated

4

out of

5
 by
Hanadu
Hope I never need to use
Love that the product is designed to fit on my key-chain. Although it may make it a little bulky, I prefer the bulk to the possibility of being stuck in my seat belt or car. I like the product but it is one that I really hope I will never need to use!
January 13, 2011
Rated

1

out of

5
 by
SuQue
Compact doesn't mean simple. This makes my keychain too clumsy.
December 22, 2010
Rated

5

out of

5
 by
mtwx
Safety
great object for car safety easy to find in a emergency
December 13, 2010