< Return to Product Page
Customer Reviews
White Connectable Trash Cans with Hinged Lids
Overall Rating:
Customer Reviews
Rated

4

out of

5

 by

12

reviewers.
Rated

5

out of

5
 by
BLDR
Great option for recycling
I purchased 2 of the smaller sized cans and 1 of the larger ones to hold my recycling - cans, plastic, and glass respectively. So far they are working great! I really wanted to get an all-in-one/separated recycle can but was having a really hard time finding one that was a decent size, didn't look ugly and wasn't outrageously expensive. While this is still on the high end of my budget, I've felt these were totally worth it and still cheaper than nearly all of the other options I was considering. My husband and I aren't the type to run to the recycling center ever week (or even every other week) so we wanted something that we could actually keep using for a longer period of time before having to take them in they fill up. I did see what the other reviewers were mentioning about the hassle to get the bag in place but that is no longer an issue for me once I figured out a trick to do it. I've discovered it's easier to hold the bag up and place the grey plastic piece they give you INSIDE the bag before you put it in the can. When you have the grey piece in the bag its a lot easier to get the bag in place quickly. This process is so much easier than putting the bag in the can first and then trying to get the plastic piece in place. Once it's in, just fold the edge of the bag over the plastic piece into the can for a cleaner look. I personally like the white color and didn't have too hard a time cleaning off a smudge of dirt that was on one of the lids when they were delivered and to be honest we've moved them into a closet and we've had no issues with them getting dirty. One thing though, they are almost a matte finish so I think if you were to accidentally kick/scuff them a lot (maybe if they were in a high traffic spot) I could see dirt getting in the finish and being harder to clean. This hasn't been a problem for me though. I like these more than the stackable option because you can actually put a bag in them. We have 2 of the stackable bins which take up less floor space but they are annoying to move when you are ready to empty out one section but want to leave the rest alone. These you can empty out as needed without having to do anything to the other cans. In the photos attached, one is showing the interior of the smaller sized can and in the other photo the cans are next to a Simplehuman 12 Gallon trash can (for size reference if you have one of those).
November 9, 2016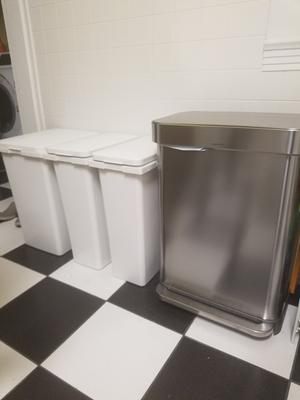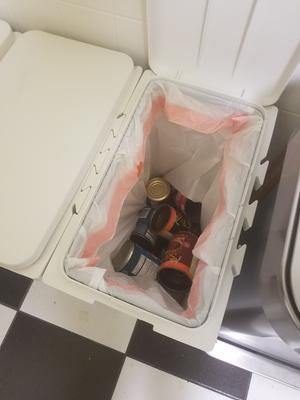 Rated

4

out of

5
 by
Bee512
Great affordable option
I bought a set of three of these containers for trash, recycling and cans at my house. Overall, I'm very pleased with the purchase. They fit tall kitchen bags very comfortably and therefore hold just the right amount of trash for my needs. My only critique is that the plastic rim around the top that keeps the bags up is a little cumbersome to manage (but worth it because it keeps the bags upright) and I wish the cans came in darker colors - mine are already getting scuffed and dirty.
April 12, 2016
Rated

2

out of

5
 by
wisek8
bag holders don't work
We bought the 12 gallon can, and the bag holder on the inside of the trash can was a little small to fit on the ledge it is meant to, which means the bag is constantly falling down. We ended up returning it.
February 6, 2016
Rated

3

out of

5
 by
Upwife
Good product
I really like these cans the only issue that I have with them is keeping the bags up. They tend to slide down into the can
November 28, 2015
Rated

4

out of

5
 by
containerclo
Great Recycling Bin
I recently bought one of these trash cans to use as a recycling bin in our kitchen. It serves our needs well and fits easily in a corner. The lid snaps on tightly and it is really light weight so that it is easy to carry to our outdoor bin. I do wish that this product was available in colors other than white.
June 14, 2015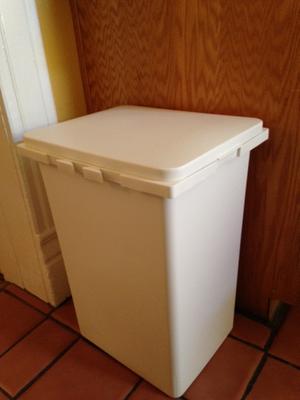 Rated

3

out of

5
 by
Nieves76
Another Color
I bought the pewter venti can a year or more ago and love it. This would be great for my recycle garage container but in any other color other than white. Please make this in another color I would buy more than one. I would also put one on our back patio. White gets dirty and I end up spending way to much time cleaning the bins in white.
February 20, 2015
Rated

5

out of

5
 by
LibrarianLiz
Just what I was looking for
Just the right size and exactly fits my needs. Also has a removable plastic rim on the inside so you can hang your garbage bags within the can.
April 21, 2014
Rated

3

out of

5
 by
ladybel
Useful but could be made better
Very practical when you need multiple cans (in our town, we need 3) however, the lids have fallen off a few times and I think the construction could be better. That being said - they serve the purpose and I like the rings that holds the bags.
April 20, 2014
Rated

5

out of

5
 by
Lakshmi
Perfect for my needs
I needed a trash can to fit a narrow shelf, and this works perfectly. The ring inside the rim of the trash is handy for holding the bag in place.
March 27, 2014
Rated

4

out of

5
 by
DallasGirl648
Good but Too Wide w/ Connectors
I was going to use this for my itty bitty bathroom closet to hold kitty litter since the buckets it comes in are so wide. This would be the PERFECT size, if it weren't for the connector thingies on the side. I had to put it in my pantry instead and fill it with recycled grocery bags.
February 13, 2014
Rated

5

out of

5
 by
OnlineGMa
Perfect solution
Bought the smaller size to sit by back door, to avoid going outside for every recyclable item. Lid is hinged and bags remain in place.
January 28, 2014
Rated

5

out of

5
 by
madebylouise
Medium lidded trash cans
I am using these for dry storage. I am very please with the way they fit together so nicely and hold the bag in place. Overall exactly what I was looking for.
December 24, 2013