< Return to Product Page
Customer Reviews
White Swing-Lid Trash Cans
Overall Rating:
Customer Reviews
Rated

4.6

out of

5

 by

45

reviewers.
Rated

5

out of

5
 by
Amnot
Just what I needed
I wanted a covered trash can that would fit under the counter in my laundry room. This was the perfect can for the job. I'd have to sacrifice capacity if I purchased a step on can, but didn't have to make that compromise with the swing lid.
January 8, 2017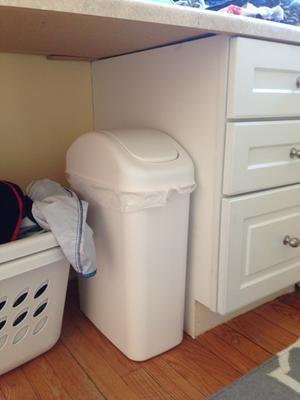 Rated

4

out of

5
 by
superhappycustomer
happy
perfect size for what we were looking for in our office. Small discrete and did the job
July 29, 2016
Rated

5

out of

5
 by
PetuniaWilcox
Strong & Just the right size
I needed a good sized trash can with a lid (to keep my cat out of it) which would fit in a small area (behind a door, next to a wall). After a lot of research this is the only one I could find with the right measurements, a lid and without a step-to-open feature. It's sturdy, attractive and does it's jobs (holding trash, keeping cat out) well. Now and then I'm surprised by what sounds like a heartbeat and then I remember it's the rocking of the trash can's lid after I use it.
January 18, 2016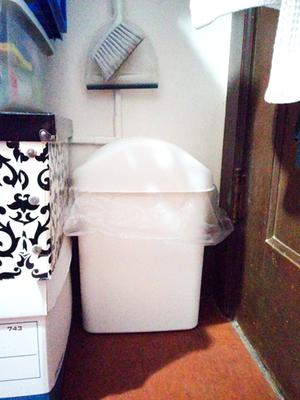 Rated

3

out of

5
 by
JamieInWA
noisy
I have a small one of these for receipts. I can easily toss them in and eventually enter into Quicken. However I had to remove the lid, because when I use it, the lid keeps swinging back & forth and is noisy. Other than that, it's sturdy.
June 17, 2014
Rated

4

out of

5
 by
Nilu
Small
Actual usable inside volume is 9" high, and 7.5" wide x 4.5" deep at base. The quality of the materials is good though.
May 20, 2014
Rated

5

out of

5
 by
LisaJ22
Perfect
Didn't think the 4.6 gal would fit under my sink, but after some measuring and some gambling I decided to try it. It's a nice, sturdy trashcan and as it turns out it fits exactly where I need it to.
May 1, 2014
Rated

5

out of

5
 by
Jorganized
Perfect for under the sink!
I have a pretty small kitchen and the 4.6 gallon was perfect. It's easy to wash and doesn't have a strong plastic smell. I bought 2 of these and used black labels with white chalk paint to label garbage and recycling. It looks super cute!
April 4, 2014
Rated

5

out of

5
 by
Sheila273
Just what I was looking for
I was able to select a size that was perfect for what I needed.
March 18, 2014
Rated

5

out of

5
 by
LGreen
Very sturdy, very small trash can
I needed something that would fit between the washing machine and the wall. I looked at dozens of trash cans and even "ultra-slim" ones were 6 or 7 inches wide. This one is smaller, has a nifty swinging lid, and fits the space perfectly. It is tiny, but perfect for throwing out the lint from the dryer without having to go to another room to get to a trash can. The only downside is that the shipping cost was about as much as the price of the product, but I bought it anyway because it was the only thing I found that met my needs.
March 10, 2014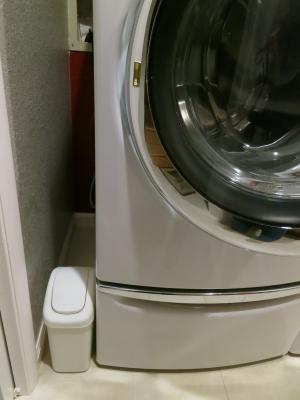 Rated

5

out of

5
 by
4dogs
Fits the bill
This trash can totally met our needs - perfect size and shape - and does not destroy trash bags as our previous trash can did.
February 20, 2014
Rated

5

out of

5
 by
Pepe
Met all needs
Swing top easy to use.I no longer have to see the trash. The small size is perfect for the bathroom.
January 24, 2014
Rated

5

out of

5
 by
FarmerGirl
Finally found what I was looking for.
I searched high and low for this trash can to replace one that finally fell apart from sitting out on the porch in the heat and sunlight for 10 years. Was so happy to have found it here. It was shipped quickly. I even bought an extra one for when this one wears out in another 10 years. So afraid I won't find it again in the year 2023. LOL! I would highly recommend this company!
December 12, 2013
Rated

4

out of

5
 by
PegNM
Perfect spot
The smallest of these was the perfect size for the narrow space between the toilet and vanity. Closes well. Grocery plastic bags are a little big for it so I wish there were appropriate liners available.
June 28, 2013
Rated

5

out of

5
 by
SandyR
Great buy
I bought the medium one for the bathroom- fits perfect next to toilet, swing lid makes it very easy to use and the price is right!
May 5, 2013
Rated

5

out of

5
 by
Feebe
Can Collecting Has Never Felt So Good
I was in need of a specific size of waste disposal container. I searched and searched other department type stores; however, was disappointed. Where other stores fell short, the container store delivered! They had the perfect slim sized container I was looking for! Thank you!
April 26, 2013
Rated

4

out of

5
 by
LucyHC
My husband is happy now...
My husband asked for a trash can for his bathroom and said that the little wastebasket under his sink wasn't quite right. He wanted something that sits out in the open, but the dog wanted that too. To keep him happy and keep the dog out of the trash, I got him one of these. It's larger than the typical bathroom wastebasket, to keep our little dog out of the trash, and it has the swinging lid so that people can't see what's in it. It's just what my husband had in mind, and it doesn't bother me to see it. My only criticism is that there is no way to tuck the edges of the trash bag in to hide them.
April 16, 2013
Rated

4

out of

5
 by
Nanjoy
Great size for NYC Apartment
Love the slim design, it fits easily into a corner. It is unobtrusive but a good size for paper trash. I plan to paint it, a review I read said it can be done because the plastic is not smooth but mildly textured. It is so much better that the very obvious can I had before. I was happy to find it- I have been looking for just the right size, volume, and shape with a lid.
March 23, 2013
Rated

5

out of

5
 by
Gma51
Love It
I wanted a covered trash can to fit under the extension of the bathroom counter. This is the perfect size and shape. Very convenient to use and empty.
March 18, 2013
Rated

5

out of

5
 by
katblue
good for price
Got this can for my bathroom and it's great for keeping my cats out of our garbage. Good price for plain can.
March 15, 2013
Rated

5

out of

5
 by
HRobbins
Great trashcan for under sink
We had a hard time finding a trashcan narrow enough to fit under our sink, but this one works well. I checked it out on line and then went to the store to purchase it. ( We may or may not be able to keep the swing-lid on the can, that remains to be seen, but it does fit. )
March 13, 2013
Rated

5

out of

5
 by
tcarr40
Great value
Durable, easy to clean. Very satisfied. I like the big variety of pails at the store and have bought several different ones for other uses.
March 6, 2013
Rated

5

out of

5
 by
MotoBella
High quality material, well made product.
Bought this to fit in a narrow, tall drawer - fits almost-perfect (just wish it were a few inches taller - but that's not the bin's fault, it's a taller-than-usual drawer). Impressed by the packaging it was shipped in, sturdy box & wrapped well inside. The quality of the plastic is quite strong and it has a good weight to it. The lid works perfectly, swings with absolute ease, unlike some cheaper, or same priced items at the local store. Overall, very happy with this purchase.
February 25, 2013
Rated

5

out of

5
 by
abla
Perfect Slim Can - Easy to Customize
We have a tiny guest bath and this can fits perfectly between the toilet and vanity. Huge plus is that it is slightly textured so we were able to change its color by using metallic bronze spray paint to match the rest of the decor. (Slick plastic-type materials are difficult to paint, sometimes even with considerable sanding.)
January 27, 2013
Rated

4

out of

5
 by
Divasmith6
Works for me
Itâ¿¿s a nice little trash can. Itâ¿¿s slim and the hinged top swings freely. The only issue I have with it is the top is not very secure and pops off at the slightest provocation. My husband placed felt pads along the rim of the lid to act as spacers and that seems to be doing the trick at holding the lid on. The lid issue is the reason for 4 stars.
November 12, 2012
Rated

5

out of

5
 by
Moviequeen
Keep Trash Contained
I bought this trashcan for my office after the umpteenth time my dog raided it. This trash can works very well to keep her from getting to the trash! A tall kitchen trash bag fits it well (I also recommend the large trashcan "rubber bands" that are sold at the Container Store). It's easy to handle trash removal and fits nicely under my desk.
August 25, 2012
Rated

5

out of

5
 by
wannabeeorganized
perfect for under the sink
Remodeled the kitchen and needed a trash can for under the sink. This fits with just enough space for the lid to swing open. The slim foot print is great. The size is fine as our household is composting more and reducing the amount of trash.
April 28, 2012
Rated

5

out of

5
 by
gerimed
Car Trash CONTAINED!
The Container Store wins top prize again! I love the littlest swing -lid can in the car. We have one in each vehicle! All the other moms want to know where I got it from. The car stays tidy even with all the kid- created mess. It is the perfect size and a perfect purpose.
April 28, 2012
Rated

4

out of

5
 by
organizer26
Great fit in a tight space under the sink, I would of loved the next size up but would not fit. Wish they had this in black.
April 27, 2012
Rated

5

out of

5
 by
start
Love this can!
I had to find quickly a new can for under the sink that fit with the plumbing for the new sink. Am not using the swing lid because it won't fit but the base can fits perfectly. Size was most important and I could not be more pleased.
February 17, 2012
Rated

5

out of

5
 by
ILoveContainers
Perfect size and design.
Just what I needed for my teenage daughter's bathroom.
February 1, 2012