< Return to Product Page
Customer Reviews
33 gal. Clear Tote with Locking Lid
Overall Rating:
Customer Reviews
Rated

4.8

out of

5

 by

31

reviewers.
Rated

5

out of

5
 by
PetCrazy
Great Litter Box Cover
Used this container to cover my litter box. It worked great and was the perfect size. I looked elsewhere but other stores products were either too big or too small. This box keeps the litter and "missed the box" accidents off the carpet. Added benefit is it keeps my large dogs out of it!
September 27, 2016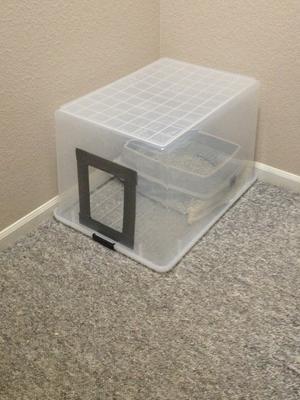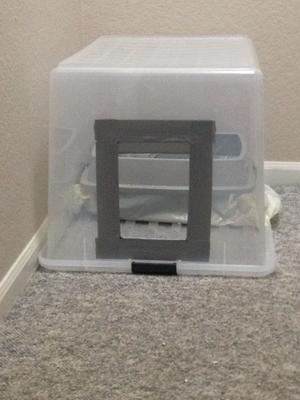 Rated

5

out of

5
 by
LoyalChef
I get so excited to go to The container store! I'm like a kid in a candy shop! Great service and great quality of products!
December 4, 2015
Rated

5

out of

5
 by
maybel
This is great
I have several of these. They are nice and thick they are not made cheap. They hold a lot. Thanks for a good quality product.
January 6, 2015
Rated

5

out of

5
 by
katzen7mama
BEST LITTER BOX EVER
these boxes are ideal for a cat litter box. they are strong (less likely to crack/break), large enough (1.5x length of cat), flat bottoms deter waste sticking to bottom of box making scooping easy and leaving a cleaner box, they help keep litter contained because of their tall sides, and they are clear so any cat using the box can see other cats outside the box and avoid getting spooked/bounced as they exit the box. DO NOT USE THE LID if using as litter box. This allows the cat to exit the box three ways in case another cat tries to bully. I even hang my brush and dustpan on the side of the box using a s hook. Just cut one U shape at the top of the box (either long or short side depending on where the box will be placed) using a dremel tool then sand the U with sandpaper to smooth. Place some Dr. Elsey's Precious Cat Litter in the box and you're kitties will be happy! Guaranteed!
July 28, 2014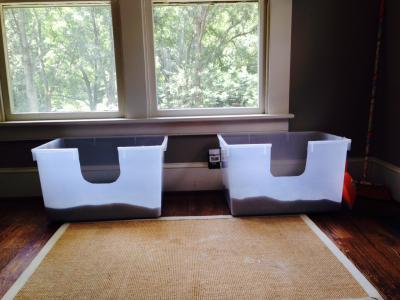 Rated

2

out of

5
 by
Chigirl42
Lacking Quality Clasp
I purchased two of these totes to store seasonal clothing. They are large, and hold a lot of pieces, but the clasp that locks the top in palce easily pops off, and doesn't properly lock the tote. Every time the tote is moved, the clasp unlocks, and the top pops off. I expected a better quality locking clasp for the price.
May 25, 2014
Rated

5

out of

5
 by
Hautemomof3
So worth it!
I purchased 6 of these to store our winter stuff (mostly thick coats and jackets and heavy comforters) and I'm amazed how much you can put in these bins especially when used with the vacuum storage bags. I've stacked them up in our storage room and they've been holding up pretty well. It's made out of very sturdy material. Plus, I love the fact that they're clear and it makes it easier for me to identify which bin has which, so I have no problems pulling out whatever I need. No regrets buying it!
April 25, 2014
Rated

5

out of

5
 by
OrganizedGranni
Great Product
I purchased this storage bin to help store away Christmas decorations and love that I can see what is in the bin before I move it.
February 26, 2014
Rated

5

out of

5
 by
Redlipstick
Perfect for comforters/blankets
Previously I purchased the 33 gallon clear tote to consolidate all my holiday decorations. I then purchased a new quilt for my bed and needed to store my king duvet during the summer months when it was too hot and heavy to use on the bed. I was staring into my closet trying to think of the best way to store it and then I honed in on the 33 gallon tote and voila I headed to CS to get another one. Because these are stackable I was able to place one on top of the other. These are a great buy and they hold a ton of stuff!
February 20, 2014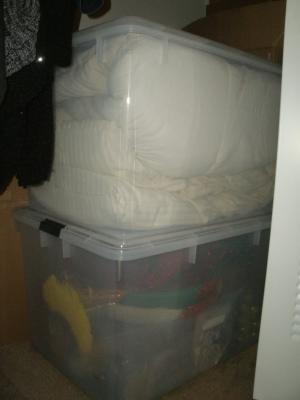 Rated

5

out of

5
 by
Figment46
Best storage container I've every had. Easy to stack boxes inside since there are minimum gaps due to sides having only a very slight angle where others are so angled you lose a lot of space. The lid is flat so you can stack up to the top where other have indented lids and you have to leave room at the top for the lid.
December 4, 2013
Rated

4

out of

5
 by
NEBoston
Good quality storage container
Nice way to store large quantity of items. Since this is very large, best for light weight items, otherwise becomes too heavy to lift. Clear container makes it easy to see contents. Lid / handles lock nicely.
November 12, 2013
Rated

5

out of

5
 by
LadyLoneStar
33 gal clear tote is the best storage box
This box is great for storing Christmas items or for storing memories away safely. The box is stackable with reinforced, heavy-load bottoms and easy-locking lids. Perfect size for keeping all the items together.
July 24, 2013
Rated

5

out of

5
 by
OrganizedGivesMeTime
Sturdier Than Any Other for a Nonprofit's storage
I volunteer for an environmental non-profit in Dallas and we needed super sturdy storage containers for increasing our efficiency at finding it all when we needed it. These are absolutely perfect because the clear material has better visibility than other manufacturers. The lid locks stay locked and they're easy to carry. Lightweight so all the weight is primarily in what we're storing. The Northpark store staff was helpful in discussing the different options. Great value, aligns with the Conscious Capitalism model talked about by John Mackey in his terrific book.
May 3, 2013
Rated

5

out of

5
 by
MariaMiami
Amazing purchase
The 33 gallon clear tote is fantastic. I use it for clothes , fabrics, storage of large and small items. I can see easily what is inside. I have used it for many years and still buy it for my children's storage. Now they are on sale which is a good opportunity to try them. I live in Florida and everything mantains itself well in the home.
April 30, 2013
Rated

4

out of

5
 by
ibsherry8016
awsome container!
I really like this container. I packed one full of seasonal clothes. I packed another with all my knitting & crochet yarns. And I knew everything would be safe from moisture and creepy/crawlies!
April 20, 2013
Rated

5

out of

5
 by
Grand
just what I needed
Storing linens and blow-up beds in a Manhattan apartment is challenging to say the least. These totes, with their straight sides, fit all of it perfectly. Bring on the visitors!
April 8, 2013
Rated

5

out of

5
 by
Dick
Excellent
I purchased 8 containers of different sizes. Really strong but also light weight. Can clearly see through which is very convenient.
March 18, 2013
Rated

4

out of

5
 by
steph61
TOTE
It is the perfect size...but. I should have had the foresight to notice it didn't have any wheels to move it. I will have to unload it to move it to a semi-permanent location. Once filled, it is a TWO MAN movement operation.
August 17, 2012
Rated

5

out of

5
 by
mscoutts
Awesome product
I was looking for containers large enough so I could combine all my Xmas decorations and get rid of all the ugly miss matched card board boxes that were stacked so unstable in the garage. These totes were the perfect choice. I was able to condense multiple boxes of Xmas decorations into 3 of these large totes. I am also using one of the totes in my office where I have a hide a bed for guests, it keeps all my linens fresh and clean until needed. Its amazing how much this tote holds, I was really pleasantly surprised!
August 15, 2012
Rated

5

out of

5
 by
2012movinghouse
excellent product
Very good quality and easy to use. I highly recommend it.
April 27, 2012
Rated

5

out of

5
 by
Sharlease
Great Storage Solution
I am so happy that I purchased the clear totes w/locking lids. Not only can I be sure my items stay dry and protected but no more opening bins to see what's in it until I can label them. Woohoo!
April 27, 2012
Rated

5

out of

5
 by
mikeshelc
multiuse
great for a wide variety of storage - good size and lid actually does stay on.
March 8, 2012
Rated

5

out of

5
 by
DragonflyPeace
Totes
We needed a strong tote to store my husband's LBG train cars and track, to keep them protected. This tote was perfect. High quality clear plastic that shows what is inside and strong enough to stack!
February 27, 2012
Rated

5

out of

5
 by
GhillieMan
Great Tote, But Even Better Service
These are great, durable totes as long as you can receive it safely--and in one piece!-- from the carrier if it is shipped. The Container Store service is even better because they follow up and make sure all is well with your order. While these are not watertight "trunks" (also available from the Container Store), if you drop a mold preventer product from Container Store in the trunk, then SEAL the container base and lid with common clear packaging tape, you will have a good, long term storage solution.
December 13, 2011
Rated

5

out of

5
 by
pixiekid
Just Right for My Need
Just the right size for my need to store some extra bedding, including pillows. I really appreciate the locking tabs to keep everything dust free. The tote is excellent quality material. Great purchase!
July 29, 2011
Rated

5

out of

5
 by
tigerart
Solid Product
Used to store toy trains and related items. Perfect size and of excellent quality. Liked the locking lid and fact that items inside are easily identifiable.
January 11, 2011
Rated

4

out of

5
 by
ekoo
lots of storage space
the tote is deep and big enough for all my bulky out-of-season clothing/linens/etc. nice clean look. con: the lid doesn't shut firmly all around. only where the handles are so the sides lift.
September 6, 2010
Rated

5

out of

5
 by
ashs
Good sturdy plastic storage bin
I bought this in order to store my companies emergency prep kit in. Its perfect for it. I can see everything in there and it is easy to lift and move. Overall, Im very satisfied.
June 1, 2010
Rated

5

out of

5
 by
Organized4ever
Makes every season a breeze!
These are great for storing seasonal clothing items as well as clothing that one child has outgrown to save for another. My attic is completely organized because I have lots of these bins which allow you to see through and grab just what you need when you need it!
May 18, 2010
Rated

5

out of

5
 by
Tucson
Excellent Product
These storage containers met all of our expectations. Some damage did occur to some of the containers in shipment, due to mishandling. When contacted the service representative was totally understanding, and immediately sent replacement units. We are impressed with the quality of the products and with the professionalism of the company representatives.
May 14, 2010
Rated

5

out of

5
 by
barbiec1953
Best Storage Box
I have bought other storage boxes and none can hold a candle to these boxes. They are sturdy and I really appreciate the design of the latches... the boxes close nice and tight. This is the second time I have purchased these boxes.
April 24, 2010