< Return to Product Page
Customer Reviews
22.75 gal. Clear Tote with Locking Lid
Overall Rating:
Customer Reviews
Rated

4.2

out of

5

 by

23

reviewers.
Rated

3

out of

5
 by
Charlotte500
Clear Tote with locking lid - 22.75 gal
Ok, at first sight this was an awesome container, on actual use, I discovered the lock handles are too small and do not hold as well as the Weathertight totes with a larger locking handle. Sorry, I was really impressed at first but it fizzled out with the smaller, less strong and capable handle. BTW I love love love my other Weathertight totes!!
October 12, 2016
Rated

3

out of

5
 by
grandmother
In need of
Prefer clear trunks with lids that are on wheels and can stack. More practical Bring back the ones you used to have. 17 or so gallon
June 20, 2015
Rated

2

out of

5
 by
NSJScott
Not a tight seal; Cheap Locks
These bins are not practical if you plan to use them for storage in your garage or for heavy items. The locks are cheaply made and break easily. The bin is made of fairly cheap plastic, so they do not keep their shape. Therefore, if you fill it (not overstuff it) the lid will not stay closed and the sides will buckle out. Not good for heavy items or stacking either. The plus side -- they are clear and good for very-light to light storage needs.
June 14, 2014
Rated

5

out of

5
 by
Bsemb
Love this tote
This tote is awesome. I use to store inventory for my embroidery business
April 26, 2014
Rated

4

out of

5
 by
AMFOL1
Great size and depth
Tote was at a great price, and is a good size and depth. Only wish it would close a bit tighter, but there are handles that clip closed. Probably going back for another one
April 2, 2014
Rated

1

out of

5
 by
Buddy43
Lid issues
The size of this is great. But one lid fell apart before I could even use it. The handle fell off completely. And when I tried to pick up and move the other container I bought, the lid handles kept coming unlocked, and the lid came off. It was pretty annoying. I'll have to look for a different type of container with a better lid system.
March 30, 2014
Rated

4

out of

5
 by
HappyCat
Clear, stackable storage
Boxes are nice for clear, stackable storage of large items. Although large, they are easy to grasp to carry. I'm using them for long-term storage of large bedding items. I would not recommend they be used by kids because they are breakable, as demonstrated by the shipment damage of my first order. Wonderful Customer Service, however, promptly replaced them. But it's a reminder that they are not meant for heavy-duty use.
March 28, 2014
Rated

5

out of

5
 by
dixiechic
super quality container
This container is super sturdy and is perfect for storage of longer items that won't fit in the standard containers you see at other retailers. Love this and all of the containers in this line.
January 19, 2014
Rated

2

out of

5
 by
BaronBish
It's advertised to having a "Locking Lid".That's barely true. It grabs the lid shut as well, as if you you were only using your fingernails to grasp something. There are better, less expensive items, that lock more efficiency.
July 21, 2013
Rated

4

out of

5
 by
alwaysplanning
perfect!
Nice tote! gd size for blankets/coats or lots of sweaters.
April 15, 2013
Rated

5

out of

5
 by
Ba12
Totes
I had been buying various totes for my sewing room but they would break, crack,etc. I found these at container store and they are perfect. Clear, stackable and very sturdy.
March 19, 2013
Rated

5

out of

5
 by
sleejmu
Extra storage!
Great for storage under our 14 inch bed frame. Great for out of season clothes and shoes. Lid stays on well and bins are efficiently built.
March 8, 2013
Rated

5

out of

5
 by
Lottie
Hedgehog Haven!
Troubled for space and unable to afford large expensive cages for my rescue hedgehog, plastic totes are a perfect alternative! I now have an easy to clean and perfect sized home for my little guy. His igloo, running wheel, and food bowls all fit with ample space to roam. By adding some holes in the locking lid, my hedgie wont be complaining about a stuffy house. Not only is it a great alternative, none of my other pets will be able to climb up and get inside. To say the least, I know my hedgehog will be in a secure, sterile, and safe environment. I might buy another one and attach the two containers, making a hedgie mansion! My options are limitless.
February 22, 2013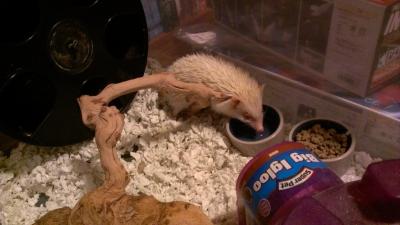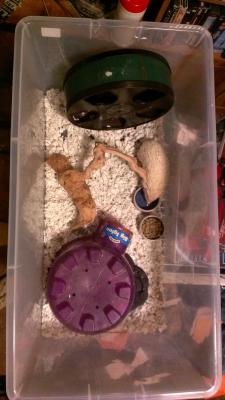 Rated

5

out of

5
 by
trozum
Perfect For My Application
I was looking for large clear tote/bin to store seasonal throw pillows. (the pillows were spilling out every where). These filled the bill. You can see what is inside, they stack well and can be accessed easily. I'll be buying more I'm sure.
January 14, 2013
Rated

5

out of

5
 by
FANCYGIRL55
NEAT
LOVE THESE BOXES MAKES EVERYTHING NEATLY PUT AWAY,AND ABLE TO SEE WHATS IN THE BOXES AS WELL,, ILL BE BACK,,, THIS STORE IS THE BEST OUT THERE,,,,
October 12, 2012
Rated

4

out of

5
 by
lupinsgal
Excellent sale purchase - needs firmer closure
I purchased this item for a great sale price! I was looking for basement storage item similar to a larger watertight Container Store bin I'm *very* happy with, that I already have two of. I was under the illusion that the locking lid meant that it locked all the way around on the long sides - but the long sides of the lid don't lock tight - only the handles do, on this product. In other words it's not watertight like the other 2 clear totes I'd bought. Next time I'll know to look for the word "watertight" when I purchase these totes. This one was still a great buy - I'll just have to put the items I store inside it into ziploc of hefty zip-storage bags. Oh well - live and learn. Love the Container Store!
April 21, 2012
Rated

5

out of

5
 by
Nikoo
Great to keep mess away!
This is fab. I use this for my daughters arts and crafts to keep the mess in one place.
March 20, 2012
Rated

5

out of

5
 by
MsOCDOrganized
Perfect!
I needed a great quality tote to pack away momentos and hide the totes in the closet. It was the perfect size, both width and depth. I would highly reccomend this product to anyone!
December 16, 2011
Rated

5

out of

5
 by
ramij063
Awesome!
These are the best bins ever!!! They are stackable and easy to see what's inside. Get them in all sizes...best investment I've made
February 1, 2011
Rated

5

out of

5
 by
beau100
Great for holiday storage
I purchased these to store holiday decorations and they are perfect.
September 29, 2010
Rated

5

out of

5
 by
barbiec1953
Best Storage Containers
I like these boxes so much that I am a repeat buyer ... I have two different sizes and like them very much !
April 24, 2010
Rated

5

out of

5
 by
cjsorganize
Endless storage!
Great to have clear containers to store so I can see what is inside!
March 30, 2010
Rated

5

out of

5
 by
ScaryDoug
Great Crate
Lids fit and lock great. Stacking is great. You can seee what is inside.
January 29, 2010