< Return to Product Page
Customer Reviews
Our White Mini Stackable Basket
Overall Rating:
Customer Reviews
Rated

4.8

out of

5

 by

20

reviewers.
Rated

4

out of

5
 by
Smurfjenn
Stacking basket
Fit into cabinet for easy storage. And it is a great size for small foods.
December 7, 2015
Rated

5

out of

5
 by
Sacaku
Perfect Under Cabinet Storage
I use these in my bathroom cabinet and they make a world of a difference. With no drawers things would quickly pile up and be randomly dumped in boxes making such an organized mess that made it pointless to look for anything. Two of these stacked perfectly inside the under sink cabinet (possibly with room for third though I found it unnecessary) and make it so I can sort and more importantly see everything I have.
February 22, 2014
Rated

5

out of

5
 by
Ardore
Great storage
We are using these for a place to store fruit in the fridge. They are sturdy and shaped perfectly. Can not speak about their stacking ability as we keep them side by side.
August 27, 2013
Rated

5

out of

5
 by
hellokitty0369
exactly what I needed
I bought this basket to hold my sons toy cars in our shower. It lets them drip dry and keeps them managed.
July 14, 2013
Rated

5

out of

5
 by
neaterinmyhead
My pantry has never looked so good!
These baskets are remarkable. They are inexpensive, stack well and hold all those loose snack bags that are always floating around the house and making a mess. The kids now can grab their school snacks because they are so neat and organized. They make my messy pantry look like a grocery store.
April 26, 2013
Rated

5

out of

5
 by
boysRus
perfect
These are perfect for the pantry for all the things that don't stack well on their own and make the pantry look messy!
April 25, 2013
Rated

3

out of

5
 by
LovesABargain
Need a lot of space to stack these
Use several of these in kitchen cabinets, they hold heavy glass lids and keep them out of way. I also use them in my pantry-they store items very conveniently but the legs on these will slip through wire shelves. I had to put plastic lids under the legs so they didn't fall through. Need a lot of space between shelves to stack them.
April 23, 2013
Rated

5

out of

5
 by
mmgSA
Reduces Clutter
As a coupon mom I get many products at a very low price so I can stock up. These mini stacking basket work great in my bathroom cabinet to help organize all my purchases. I can easily grab what I need and see how many I have left. I plan to get more for each of my bathroom cabinets and kitchen sink cabinet. At such a great price you can afford to get plenty for all your storage needs.
April 3, 2013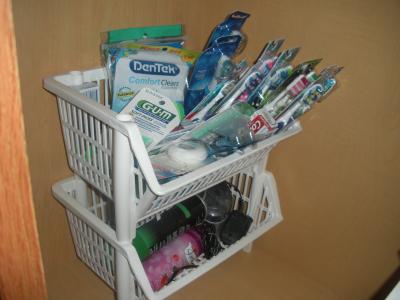 Rated

5

out of

5
 by
info1039
Inexpensive Vegitable Storage Solution
Looking for a cost-effective way to keep onions away from potatoes in the bottom of a small pantry closet? Look no further. I HIGHLY recommend these.
March 31, 2013
Rated

4

out of

5
 by
craftmak
children's book baskets
I bought these mini baskets to use in my classroom as student book baskets. They've been great - the kids are able to keep their books for independent reading organized and they are easily accessible. As their teacher I love that they can be stacked because they take up less room in my classroom.
April 27, 2012
Rated

5

out of

5
 by
YuKlan
Great organizer!
Definitely useful in organizing small stuff! I use it kids' arts stuff #i.e. glue, pencils, crayons, etc.#
April 27, 2012
Rated

5

out of

5
 by
StamsJ
Best Value Bins
These bins were a perfect addition the the top shelf of my pantry. All the fun rolls of tape, jars of nails, and various extras that laid claim on that top shelf were pleasantly placed in these durable, inexpensive bins.
April 8, 2012
Rated

5

out of

5
 by
Kari73
Stacking Basket
I use these in my pantry to hold my baking odds and ends. I can just reach up and bring the basket down to find what I need.
March 19, 2012
Rated

5

out of

5
 by
kimanne
Great for organizing my pantry. Perfect size. Just what I was looking for.
March 6, 2012
Rated

5

out of

5
 by
tgesham
Stacking Baskets
Just the perfect size I was looking for to keep potatoes and onions in. So nice you can just carry the bin to the counter when you need them. I love mine.
January 16, 2012
Rated

5

out of

5
 by
Wildwolf65
good to have in small places
We use these to collect out gloves and work items so they arn't spread all over the house
September 26, 2011
Rated

4

out of

5
 by
claybubby
good bins
I like these. I can stack items in my narrow kitchen pantry neatly.
August 30, 2011
Rated

5

out of

5
 by
mmeppie
Exactly what I wanted
We have a garden and I needed a place to store fresh produce, particularly potatoes and onions. These are perfect -- they don't take up much space in the pantry, and the holes allow air to circulate so the food stays fresh longer. They're sturdy and look so clean and neat.
July 21, 2011
Rated

5

out of

5
 by
dkg1
Just what we needed
I ordered these baskets to store bath toys. I couldn't find anything close in any of our local stores. These baskets are very sturdy and fit perfectly.
September 13, 2010
Rated

5

out of

5
 by
mvdd
Love it!
Great to store baby stuff like socks, shoes, bows, etc!!!
June 7, 2010