< Return to Product Page
Customer Reviews
Charcoal & Ivory Rugby Stripe Storage Bin with Rope Handles
Overall Rating:
Customer Reviews
Rated

4.8

out of

5

 by

122

reviewers.
Rated

5

out of

5
 by
RobinK
LUV this product !
Not only is this bin attractive and stylish, it is roomy and sturdy. Just looking at it makes me happy. I know I will have this for many years and it will serve many functions. Right now it is corralling catalogs and magazines, I think it would look great anywhere as well as carrying supplies outside for a picnic on the lawn....I LUV it !
May 5, 2013
Rated

5

out of

5
 by
OrganizedDCer
Great for kids toy storage
My 2.5 year old loads these up during cleanup time like a champ. They look great, are flexible to any toys and hold a ton. We love these!
January 18, 2017
Rated

5

out of

5
 by
Bibi80
Beautiful & Versatile Bin
Absolutely love this bin! I purchased two and am thrilled with them. They are sturdy and large enough to hold a variety of items. Highly recommend them.
December 25, 2016
Rated

2

out of

5
 by
DaraM
Hard Size to work with
LOVE this beautiful bin, the pattern is beautiful and its very sturdy. However, 17" deep is NOT a common size. Im having a very difficult time finding a bookshelf to fit these bins. If anyone knows of a deep bookshelf, please pass along!
September 2, 2016
Rated

5

out of

5
 by
Renee15
Great Bag
I bought a number of these to contain my bulk items in the pantry and loved them so much I bought more for the kids play room. They look sharp, super functional and hold a LOT of toys!
May 5, 2016
Rated

5

out of

5
 by
scdesignstudio
Love these bins!
I hope that the Container Store carries these stylish bins forever. I have used these in my room, my children' rooms and throughout my home. They are at once modern and classic and offer a crisp, clean and tidy hiding place for anyone's odds and ends. And the stripes are the best.
January 25, 2016
Rated

5

out of

5
 by
nrcook
Perfect!
This bin is just what I needed under my outdoor patio to store outside shoes. It holds up well to the crazy Texas weather and goes with my outdoor decor. (The rope handles are the perfect touch!) I love that you can put the plastic stays in the inside pockets so that it stands up straight. I highly recommend this product!
January 14, 2016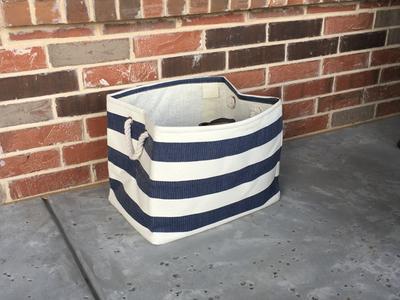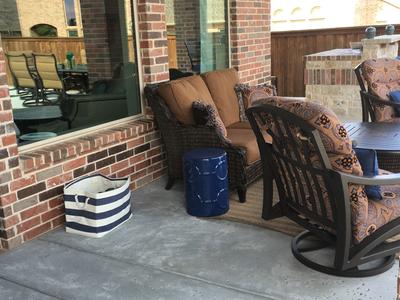 Rated

5

out of

5
 by
Shanice
Excellent Product
It's great to have a bookcase turn into concealed storage seamlessly thanks to the Container Store! These striped bins are of excellent quality, easy set up, and very well worth it! I purchased 2 sets of 6 and used them to pack away a combination of my books and some of my son's toys in our tv room/office.
December 31, 2015
Rated

5

out of

5
 by
LizWH
Stylish Stripes
This is a very cute basket that makes me happy to look at. Some baskets make me grumpy because they're plastic and clear and you can see all the chaos in them, but this basket is not that way. It's very cute and stylish and stripes are always in style. It looks like it would be more expensive than it is.
March 24, 2015
Rated

5

out of

5
 by
Susanincali
Better than expected!
The price of these baskets was so reasonable that I expected them to turn out cheap looking or flimsy. They are not at all! The rope handles are thick and heavy, the material of the basket is slightly plastic-y but it gives it some structure and it doesn't look cheap. The stripes are really cute and the baskets look great along the bottom of the bookshelf. They work perfectly to hold baby toys out of sight in the main living areas.
February 1, 2015
Rated

5

out of

5
 by
MaxsMom
Perfect size and good quality
I bought this to hold my son's toys. It is a good size and sturdy. I am happy with the purchase.
December 14, 2014
Rated

5

out of

5
 by
chicmtmommy
perfect for so many uses
Bought these for new built in shelving in our bonus room. Perfect to control the toy clutter, handles make it easy for the kids to pull them out and carry (drag) off, and are very durable for our 5 yr old boy. Classic pattern, looks great! Mixed them with the solid canvas bins in the same unit. They are very similar in size.
May 10, 2014
Rated

5

out of

5
 by
Containermaven
Cute!
I loved this so much that I bought a smaller one to match. These are super cute and eco-friendly. I like the simple design. I use them to store seasonal clothes, and the shape has held up well! Great purchase!!!
May 4, 2014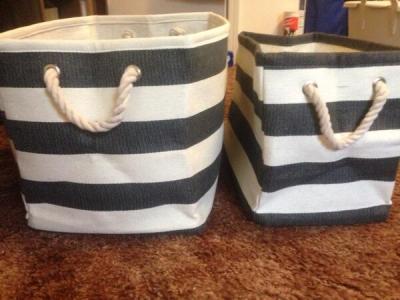 Rated

5

out of

5
 by
IlliniFP
Nice Bins
I bought these bins to help organize our laundry room. They are a good size and look great, and seem sturdy enough to last. The rope handles are great and the design is a nice style. I may pick up more depending on how the space turns out.
May 4, 2014
Rated

5

out of

5
 by
andirey
So cute - had to have them!
I bought two of the small version - no idea what I'm going to use them for yet, but I saw them and had to have them. I started out with just one since I don't have a particular use in mind yet, but at the last minute changed it to two because I just like em so much! They are sturdy and well-made, and the color goes perfectly with the color scheme in my home. They also have that nautical feel, which is back 'in' again. Plus they are very reasonably priced... you can't go wrong!
May 3, 2014
Rated

5

out of

5
 by
SecretSquirrel84
Great Storage Item
Great storage Container and it can also dual as a pool bag or a bag for your car for groceries. Extremely versatile! Very sturdy and strong fabric.
April 25, 2014
Rated

5

out of

5
 by
carmieg222
Love It!
I saw this bin in a magazine and thought it would look great in my son's room. I purchased two of them and loved them! Now that I'm having my second son, I went and purchased two more! They look great, the larger size holds a lot, and they go with pretty much any type of decor. Plus, they're a great price for the quality! I highly recommend!
April 25, 2014
Rated

5

out of

5
 by
ResplendentlyMe
Best Purchase Ever
Super stylish and functional. This has been once of the best purchases that I've made to help organize the house, while still maintaining a relaxed, modern style.
April 25, 2014
Rated

5

out of

5
 by
EH37205
Perfect bin!
This bin is wonderful, I am currently using it as extra shoe storage in my closet, but it can easily be used as a toy chest, or a beach/travel bag! Can't wait to use this over and over again! So useful!
April 25, 2014
Rated

5

out of

5
 by
kdr513
Totes Amazing!
I bought two of these to store craft materials and they were exactly what I needed. Deep bins, easy to access and perfect color. Sheer perfection. Thanks container store!
April 25, 2014
Rated

5

out of

5
 by
adriennebux
perfect for what I needed it for
I purchased this bin to store children's toys in. It is a soft, moveable material that is easy to move around and store small toys in. The pattern is really cute, and goes with the decor of my home. My only complaint is that the handles are a little small, making it hard to grip. Other than that, this is a great storage container that is totally cute!
April 25, 2014
Rated

5

out of

5
 by
JL3751
Affordable and Great Quality
I purchased this to hold some toys in our living area. It was very affordable for how large it is and very sturdy. I recommend this product and will be purchasing similar items in the future.
April 12, 2014
Rated

5

out of

5
 by
ABaron
Cute and functional
This is a great bin, it's really attractive. I have filled them with things for now, trying to shape them to stand up on their own. As long as they are filled, they stand up great. When you take them out of the box, they will just want to flop right over. I love them, they are going to work perfectly for what I need them for.
April 12, 2014
Rated

5

out of

5
 by
laurenwrites
Makes laundry fun!
I gravitate toward anything with stripes, so naturally this purchase made me happy! I keep it on top of the dryer to store my laundry and it's perfect. It's bold stripes are classic. Get one!
April 3, 2014
Rated

5

out of

5
 by
leighj
Perfect
This was exactly what i was looking for to stow all of the toys i have laying around my house (i purchased 4). It is also soft so it is safe for my daughter to pull of the shelf without hurting herself. It was exactly as described on the website.
March 31, 2014
Rated

5

out of

5
 by
MissClutterLess
Function Meets Pizzazz
I love these baskets because they are the perfect size to organize toys, not too big and heavy once full, and the stripes add some pizzazz to our playroom. They are sturdy too. So cute!
March 15, 2014
Rated

5

out of

5
 by
dogtrip
rugby stripe bin
Very good quality, holds a lot, ready when I went to the store to pick it up. Really cute, too.
March 14, 2014
Rated

5

out of

5
 by
TeamTejeda
4 kids worth of toys ORGANIZED(almost) ALWAYS!!
With 4 kids, these bins are amazing for keeping their "messes" organized! Love Love Love Them!!! Each kid has a few of their own and all their stuff is neat and tidy(most of the time,lol)!
March 7, 2014
Rated

5

out of

5
 by
EmWhalen
Fantastic bins
We purchased these to put in a play area and they are perfect for children to use. Other basekts we have tried have unraveled and these are sturdy and also look great. Very happy with our purchase and have received so many compliments on them!
February 25, 2014
Rated

5

out of

5
 by
PugLove
Cute, Versatile Bin
These bins are just adorable. They are a good size for towels in my current bathroom and will fit into my cube organizers when I move. They are surprisingly sturdy for fabric containers. The only thing that could make them better is if the stripes were always in the same place. When you have two of them next to each other the stripes don't match up.
February 16, 2014