< Return to Product Page
Customer Reviews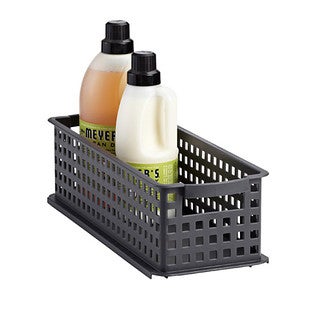 Like-it Smoke Short Narrow Basket
Overall Rating:
Customer Reviews
Rated

4.9

out of

5

 by

9

reviewers.
Rated

4

out of

5
 by
Xiaomei
Works great to organize fridge
The depth of all refrigerator trays is only 15 inches. The depth of my refrigerator is 18 inches. If I use the regular refrigerator trays, then three inches in front of the tray is wasted. I looked and looked at The Container Store to see what do they have. I finally saw this "short narrow basket" and bought three the first time, took them home and they fit my refrigerator perfectly, no space in the front is wasted. I went back the next bay and bought three more.
January 16, 2017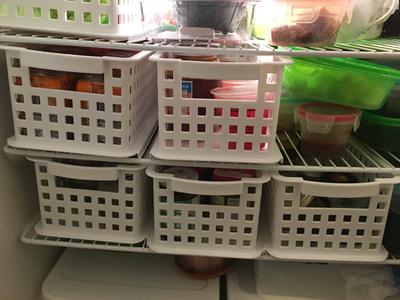 Rated

5

out of

5
 by
CapeGirl
Great Basket - Great Size
I bought this to corral different pump bottles I use to treat laundry issues - the shelves over my washer/dryer are fully-utilized already. Dr Bronner's Sal Suds, hydrogen peroxide, degreaser, white vinegar, some small brushes, measuring cups etc. It's the perfect size and shape for what I needed, makes it much easier to reach what I need and constructed of a good-quality plastic. Looks like it will be easy to clean when the time comes. Wouldn't mind seeing this in other sizes. Hint hint, Container Store...
May 23, 2015
Rated

5

out of

5
 by
Sandy10
Making things accessible
I have 2 or three of these under each sink in my house. I have 7 sinks and love the fact that I can place like items in the long narrow basket & pull them out without getting on my hands and knees to crawl in the back of the cabinet space to get an item. Plus, it helps keep the underneath cabinet clean and organized.
March 26, 2015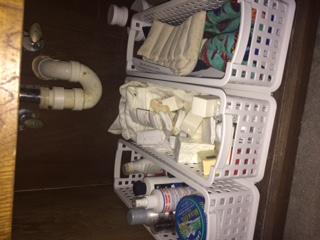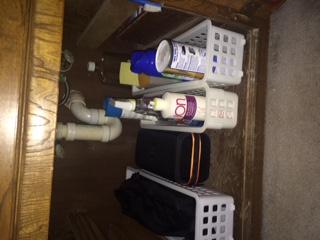 Rated

5

out of

5
 by
DebbieSG
Like it
I use several of these in my deep pantry. Now I can just pull out a basket and get what I need. Now there is no wasted space in my pantry.
February 7, 2015
Rated

5

out of

5
 by
Masckerade
Saving my bacon - and other stuff
I have a really unique pantry that is really a storage closet with a few extra shelves. It's 23" wide by 20" deep, so typical kitchen storage bins don't work for me. But these came to the rescue!!! They're roughly the same width as a "normal" pantry and/or refrigerator bin, but they are 4" longer to accommodate my really deep pantry, and I can still pull them out to see what's inside and easily get to the stuff that would otherwise be stuck in the back. I really like the two that I bought for this purpose, and will look forward to purchasing some more again soon!!!
September 25, 2014
Rated

5

out of

5
 by
Agsmom
My Favorite Organizer
I love these for under cabinet organization. Have them In my kitchen and all bathrooms. Keeps things so clutter free. I just keep going back buying more!
June 5, 2014
Rated

5

out of

5
 by
OrganizedSnoopy
Exactly what I needed
This product is great. I bought it because it fit perfectly in a pull out drawer in my bathroom it makes it easier to store things in it. For me the best part of this product is that the walls are not slanted they are perpendicular to the ground so everything fits perfectly without awkward gaps.
August 19, 2013
Rated

5

out of

5
 by
GoodOrganizer
Perfect for my cupboard
I have a tall narrow cupboard under the counter in my kitchen. I bought 3 of these baskets, one for each shelf and this way I can utilize the space all the way to the back of the cupboard!
March 25, 2013
Rated

5

out of

5
 by
JanV
Extremely useful
I have skinny little cupboards in the bathroom. These containers fit perfectly. Now I can get at the things in the back of the shelf by just sliding out the container. I wish I would have boughten them sooner
March 19, 2011