< Return to Product Page
Customer Reviews
Ivory Cottage Woven Storage Bins
Overall Rating:
Customer Reviews
Rated

4.1

out of

5

 by

9

reviewers.
Rated

5

out of

5
 by
sesatx
Ideal Bathroom Basket
I needed a basket to store odds and ends, and toiletries in my guest bathroom. These baskets are durable, easy to keep clean, the right size, and cute. I keep them open, but I could see bath toys stacked in the lidded baskets too. What I like the most about them is that they look woven but they are plastic and easy to clean out.
January 8, 2017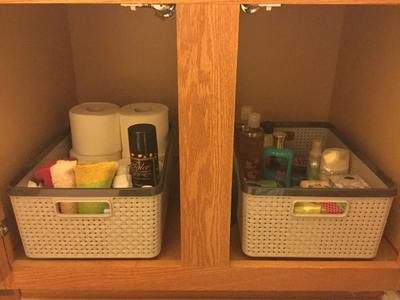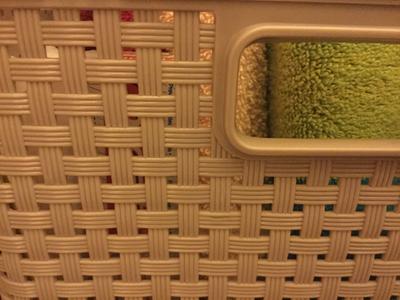 Rated

5

out of

5
 by
CatherineOrtiz
Great Look. Easy Maintenance.
I bought these for a client's kitchen makeover. This was perfect for her because the woven design is a great aesthetic; and since it is plastic it is easy to either clean with a paper towel or rinse in the sink. the client has bakers racks in the kitchen. 4 XL, 4 L, and 3 Small were bought. I actually have to buy more because she also wants to use them in a few of her kitchen cabinets.
April 9, 2016
Rated

5

out of

5
 by
GenieGal
Woven Basket
I like this woven basket because I will be able to clean it a lot easier than if it had been say wicker or the like. It is the right size for what I need to store in it and looks really nice on my shelf.
September 5, 2014
Rated

5

out of

5
 by
DaphneMarigold
I love these baskets
I have found many uses for these baskets. They are functional, attractive, sturdy, and light to carry. I keep a small one on the passenger seat of my car to hold items I'm taking with me on errands -- letters to mail, checks to deposit, shopping bags for the stores where I'll be stopping. I keep several large baskets in the trunk of the car to hold purchases solidly in place. Just yesterday I used two medium baskets as a rather elegant way to transport casserole dishes I was bringing for a Thanksgiving dinner. Nothing spilled out of the casseroles, but if anything had, the baskets could have been wiped or washed clean.
November 25, 2016
Rated

5

out of

5
 by
alliecal
I have several baskets of each size and love them for organizing my closet. the small ones hold pillowcases and the larger ones hold sheets on a linen shelf. the trays hold fashion accessories.
July 11, 2016
Rated

3

out of

5
 by
JB46202
Not As Nice As They Appear
The two-tone contrasting colors caught my eye in the store and I was excited to add these to my mudroom. After getting them home and looking at them a bit longer, I saw how cheap their appearance is and will be returning them.
April 20, 2016
Rated

3

out of

5
 by
CarrieK
Great Product, But Small
These bins are beautiful and easy to use in any area. Unfortunately, they are much smaller than imagined as well as the top trim of the basket, comes off. You need to keep an eye on this when picking the basket up because the trim can detach.
February 1, 2016
Rated

4

out of

5
 by
LadyLiza
Dependably Useful
No doubt, these bins are useful. They're plenty sturdy, but although the design depicts a woven basket, it could look less "plastic" and more like a soft woven basket. The variety of sizes is a nice option.
November 18, 2015
Rated

2

out of

5
 by
AxialGentleman
Not very useful
They look cheap, and they nest very deeply in each other. This is good for storing them empty, but not good for stacking ones that have things in them.
April 21, 2015