< Return to Product Page
Customer Reviews
Green Gingham Storage Bin with Handles
Overall Rating:
Customer Reviews
Rated

4.8

out of

5

 by

61

reviewers.
Rated

5

out of

5
 by
organizinglady10377
Love love love
I love everything about these storage bins! I told my husband after I opened the package that I love how they look, feel and even smell! We are creating a toy room for the kids and these are just perfect for toy storage. I'm thinking about buying more!
April 21, 2016
Rated

5

out of

5
 by
Tamwise
We now have 6
These bins are perfect. They are a great size and so pretty. My daughter now has six of them on shelves in her room. They hold more than you would think, and the colors are amazing. We may not stop at 6!
March 7, 2016
Rated

4

out of

5
 by
Loolie
Great product
This is my 5th basket I purchased. I love it! It's sturdy but durable and it holds the perfect amount of items. I love the gingham design as well!
January 10, 2016
Rated

5

out of

5
 by
KellyAnn
It's collapsible!
This bin really helped me organize - I liked the first one I bought so much that I bought 4 more! One I use in my car to hold the shopping bags I take into the store to bag my groceries! It fits compactly on the floor behind the drivers seat.
December 18, 2015
Rated

5

out of

5
 by
fiesta
organized closet - check
I used these bins to organize the sheets and towels in my linen closet. No more searching for the matching pillowcases. Just pull out the bin and make the bed. Ditto the towels. Cleared out the old ones and donated to the local vet.
August 28, 2015

Rated

5

out of

5
 by
Dwarner
Beautiful bins
We bought several, in different colors, to use in the children's room of the library. They are beautiful! large, bright and well made. I am very pleased.
July 30, 2015
Rated

5

out of

5
 by
LindaV
Crisp, clean, compact & comfy
I was very pleased with this purchase. I loved that when I bought a few in each color and size, they looked great and folded up for easy storage or compact carrying. The colors burst beautifully and the material is quality. The cat keeps laying in one of them - it must even be comfy!
August 31, 2014
Rated

5

out of

5
 by
JJMom23
Great for storage
I love the size of these storage bins. I put them under a bench I have and it holds so much stuff and the price is great. Worth the purchase.
June 1, 2014
Rated

5

out of

5
 by
YouBettaOrganize
Fabulous, But...
Love these bins! Only con? I wish they came in purple/lavender! :)
May 31, 2014
Rated

5

out of

5
 by
Lawyergirl
Love the gingham
The containers fit perfectly into my antique pie safe
May 1, 2014
Rated

5

out of

5
 by
GeorgiaFlyGirl
Perfect and Pretty Storage
These colorful bins are great for alleviating under sink and linen closet clutter. One bin easily stores 12 rolls of TP. Other uses are storage for shampoo, conditioner, soap, lotion, shaving cream, deodorant and even towels. If you buy in bulk, these bins will store it all and will do it with style! I love walking into my bathroom and seeing this splash of color!
April 28, 2014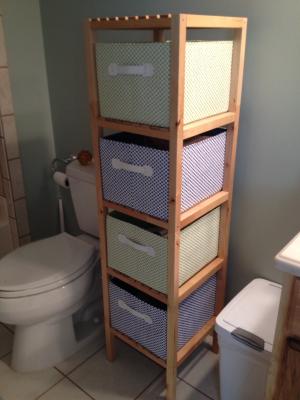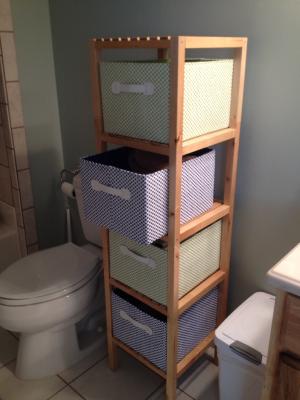 Rated

4

out of

5
 by
Alrtu
Great toy storage
I purchased one of each color. The baskets are very cute, and my daughter likes to play with them. They are getting beat up a little and are starting to wear around the corners, but I would recommend them.
April 25, 2014
Rated

5

out of

5
 by
kitkat2010
great storage
Nice size and great selection of colors. Give our room a pop of color.
April 17, 2014
Rated

5

out of

5
 by
Mainegal
Looks Fabulous
Great organizer in my bookshelf. It is so stylish and looks great in my living room.
April 15, 2014
Rated

5

out of

5
 by
crazybutorganized
great organizing bins
I love these colorful bins. I bought several, and have used some of them to organize my car. I put all my grocery bags nicely contained in each car and it just keeps all the contents organized and stored in my trunk. I am using them all over the house for different storage options. Great buy!
April 4, 2014
Rated

5

out of

5
 by
dukey
Really Great!
I bought these to add storage and decor to my new laundry room! Mission accomplished!
March 12, 2014
Rated

5

out of

5
 by
dstonenejm
Great storage bins
I purchased the medium bamboo stacking shelves so that I could get more desk surface. They looked great, but I could still see all the clutter, so I purchased these bins. They fit perfectly under the shelves, and now my office is organized and looks pretty!
March 12, 2014
Rated

5

out of

5
 by
kandy101
Great purchase
We purchased 2 pink bins and 2 green bins for our son and daughters room. We loved them so much, we went back and bought more! We have them stored on the top shelf in their closet. But they would be great on a bookshelf or just out on the floor. I would definitely recommend.
March 12, 2014
Rated

5

out of

5
 by
DaniK25
Cute but functional
I bought these storage containers for my daughters changing table. They are a great size, not too high so that I can't reach into them while they are on a shelf, but large enough to hold supplies. Also the fabric they are made out of is nice and won't scratch the changing table. They will be great for storage of toys later.
March 9, 2014
Rated

5

out of

5
 by
amgorrigan
Perfect for shelves
These bins are great to put on shelves in children's rooms. They add color to the room. My daughter used them to put all of her bling and small items that she just cant part with yet. The hold legos to books and make shelving look neat and organized.
March 6, 2014
Rated

3

out of

5
 by
mjune
nice storage
I like the size and durability but they are very stinky, bought them a few weeks ago and still have a smell.
February 5, 2014
Rated

5

out of

5
 by
GinnyGo
Storage Bin
Great colors! Very useful. Adds a nice touch to a room when displayed.
January 30, 2014
Rated

5

out of

5
 by
Bags1
Great bin for kids toys
Theses bins are very cute and soft so they won't scratch surfaces.
January 20, 2014
Rated

5

out of

5
 by
perry
Great nice looking storage
Well made and ideal for neat storage. Fit my need perfectly
January 18, 2014
Rated

5

out of

5
 by
AnnaNYC
Functional and light
I bought two of the yellow ones to store scarves on a shelf in our coat closet. They are nice and light, so they're easy to pull down. The handles are functional. Nothing fancy, but the color is cheery and there is no risk of snagging since the outside "weave" is smooth and the inside is lined.
November 21, 2013
Rated

5

out of

5
 by
katerina
bright and useful
I originally bought 4 of these, one in each color. They fit perfectly into a built-in cabinet in my new apartment's kitchen. I use them as drawers for the two shelves, hiding my "messy drawer" stuff that I now have separated into nice, organized baskets. I also bought the stacking clear bins to go in these baskets, keeping my organizers organized! They were so wonderful, I went back and bought two more to complete the look. These baskets add a bright, colorful touch to a brown shelving/cabinet built-in, and I couldn't be happier with them!
October 18, 2013
Rated

5

out of

5
 by
Snowboarder
great size
I bought these not knowing if they would really work, but they are perfect i use them on my shelf to hold hoodies and i love the colors i got one of each.
October 4, 2013
Rated

5

out of

5
 by
alig8tr
Excellent Storage Bins
I have these bins in my kitchen to store dish rags and napkins and in the living room to store my baby's toys. They are very sturdy, so the sides don't collapse. We have them in blue and green and love them.
August 27, 2013
Rated

5

out of

5
 by
Madmic
I love them!
I bought the bins to organize my kids shelves. I combined pink and yellow for my daughter, and blue and green for my son. They look awesome!.
July 21, 2013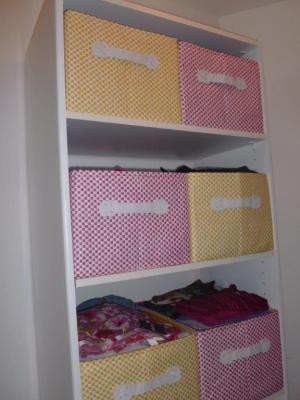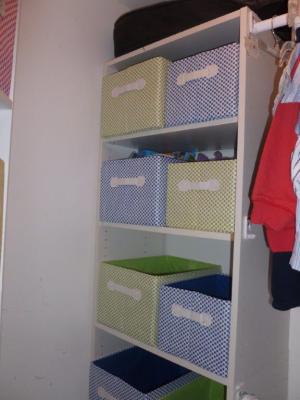 Rated

5

out of

5
 by
laltmn
adorable bins-perfect "cover up"
love these bins. They add a pop of color all while storing away small items
May 5, 2013