< Return to Product Page
Customer Reviews
Natural Crochet Storage Bins with Handles
Overall Rating:
Customer Reviews
Rated

4.7

out of

5

 by

18

reviewers.
Rated

5

out of

5
 by
XXXXXXX
Great basket
Perfect size for my needs! Great quality! I used it as a drawer on a low shelf.... Looks and works smoothly.
March 12, 2016
Rated

5

out of

5
 by
Jhym0330
Perfect Solution
These baskets are perfect for storing my craft projects. I can put a single project in one or multiple projects in one (depending on project size). Not only does this make my project storage convenient and nice to look at, but it allows for me to take out a project when I want to work on it instead of leaving it to cover my workspace.
January 27, 2016
Rated

5

out of

5
 by
gimmeamy
Great Purchase!
These fit great in my closet and have a way of making all of my unorganized junk look organized!
May 21, 2015
Rated

5

out of

5
 by
PrairieS
Motivated to Organize
We just purchased these great baskets to help organize the Elfa shelves in the laundry room. In addition to adding some charm to the laundry room, the baskets make it easier to use the high shelves above the machines. The largest one is used for laundry. Thank you to the store clerks for loaning us a tape measure to make sure our purchases would fit. However, if we messed up on the measurements, the Elfa shelves could be easily shifted to fit the baskets.
March 19, 2015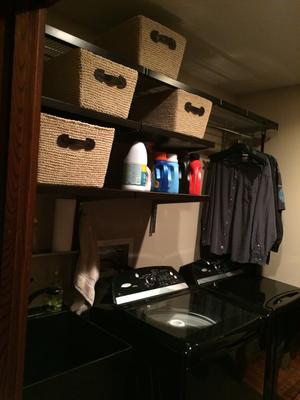 Rated

5

out of

5
 by
Lovinit
Attractive and sturdy
I like these bins; they are attractive, and sturdy, and maintain a subtlety that allows me to store them openly. I particularly like the handles, even though they are probably not strong enough to be used for more than just an initial tug to then grab the sides of the bin for full access.
July 9, 2014
Rated

4

out of

5
 by
F1recracker
Color selection
I am sorry the Mocha color is no longer available. The size of these baskets work well for me and they are attractive. I hate that the same colors are not kept longer - it is nice to be able to add more to products that I already have.
May 9, 2014
Rated

4

out of

5
 by
ekp1
Good looking but worried about durability
Just the right size and height for my kids backpacks in the mud room under bench. But given that it's paper - am a bit worried about its durability. Otherwise, a handsome product.
March 15, 2014
Rated

5

out of

5
 by
Bird1
Nice product
Very good for storage but probably not sturdy enough to stack or to carry anything heavy.
March 10, 2014
Rated

4

out of

5
 by
bergmm
beautiful--not super sturdy, sides too slanted
I purchased 7 of these for use in the bottom shelves of an expedit shelving unit. I selected these particular bins because I loved the crochet boxes in the same line and wanted a bin that would coordinate. These are beautiful bins. I ordered the lighter color, which is slightly darker than the ivory shade of the photo, but still very pretty. I do think that these are prettier than they are useful, though. The sides are too slanted to hold much except books or magazines, but the containers themselves are not suited to holding books because they aren't very sturdy. I kept them because they look nice, fit my space pretty well and they coordinate well with the crochet box, but I wish they were a little taller with straight sides and sturdier construction.
February 8, 2013
Rated

5

out of

5
 by
momwith2boys
Crochet baskets rock!
I bought half a dozen of these baskets in the two sizes and the two colors, and they are great! We store our kids' toys in them. It makes cleanup easier, and I love that my family room suddenly looks a bit more grownup!
April 27, 2012
Rated

5

out of

5
 by
RedMoose
Love it!
We bought these for work for the mail and they're great! Love them!
April 17, 2012
Rated

5

out of

5
 by
boots
I love the crochet bins. They are great for organizing both in my office and my crafts
March 3, 2012
Rated

5

out of

5
 by
ILoveToOrganize
A Great Closet Organizer!
I bought this to put bags and purses in and put it on the top shelf on my closet. It works great! It has a styrofoam core, so it is light weight and able to hold its shape unlike some organizing products I have bought. The handle makes grabbing it from the shelf easy. Great for odd shaped, light weight items!
September 13, 2011
Rated

5

out of

5
 by
containerlove
Works fine for the purpose
This is for my open shelves over the media center. The size is perfect for my purpose.
July 22, 2011
Rated

3

out of

5
 by
pinetreevillage
good size, surface rough
The bin fits what was needed, but aesthetically is a little rougher than expected, i.e. crocheted surface looks less rustic than unrefined. Will likely tuck it under a table rather than set on shelf as planned . . .
March 28, 2011
Rated

5

out of

5
 by
Annabelle
crochet bins are wonderful
I just bought your crochet bins and they are just what I needed to help me organize magazines, newspaper clippings, and recipes that I've accumulated over the years. After I got home from the Container Store, I immediately placed my pile of papers, etc in the bins and started to go through everything and throw many things away. It helped me to get the messy pile off my floor and dresser and I no longer have an eyesore in my bedroom. It also motivated me to finally go through and throw things out that I don't need and file things that I will use. Thank you, thank you, thank you!
April 13, 2010
Rated

5

out of

5
 by
Doodles
Crochet basket
I have been looking for a nice looking, quality basket for my knitting and finally found the right one at Container Store. It is perfect for my projects and looks nice in my living room. I love the clean look to it.
March 28, 2010
Rated

5

out of

5
 by
organizedmom
A great toy catchall
I wanted some nice bins to use in my living room that would help contain the toys. These are perfect! They are very sturdy, my 10 month old is able to pull himself up on the side and pull out toys. My 2 year old and her dad use them as "baskets" and toss the toys in at clean up time. They have held up wonderfully and are a great alternative to a toy box.
March 11, 2010