< Return to Product Page
Customer Reviews
Feathergrain Wooden Storage Bins with Handles
Overall Rating:
Customer Reviews
Rated

4.5

out of

5

 by

49

reviewers.
Rated

5

out of

5
 by
MplsJen
Great Storage option for small space
These bins are a beautiful, rich color and texture and they are super lightweight. I used them on my bathroom wall as shelving to replace an old, ugly, rusty chrome shelving unit and I am so happy with the result (see before and after photos, NOTE: the chrome unit was NOT from the Container Store!). Very reasonably priced.
August 17, 2015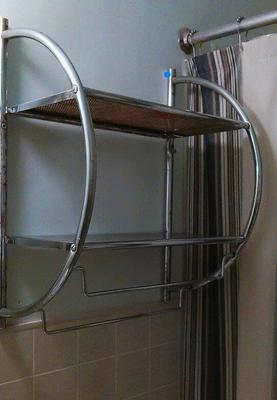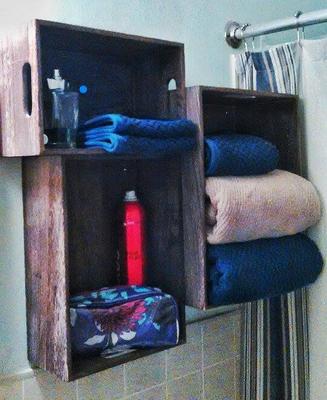 Rated

4

out of

5
 by
toucansam
Lightweight, functional storage bins. Currently being used on top of fridge to store extra pantry items.
February 16, 2016
Rated

5

out of

5
 by
Camisno
Beautiful BIns
Love these bins! Great quality, great color, and great look!
December 22, 2015
Rated

4

out of

5
 by
modernmomma
Nice Color, Good Size
Bought these to store blankets and books on the lower shelf of our coffee table. The work great in our modern home. They are well constructed and light weight.
April 6, 2015
Rated

2

out of

5
 by
LoveToOrganize17
Finish Rubs Off
I loved these so much, I bought 4 of them to organize my closet. I put clutches, wallets, purses and ball caps in them. Anything fabric that is directly against the wood comes out with dark brown marks all over it. I am able wipe most of it off until its a more subtle mark, but it's still there.
December 31, 2014
Rated

5

out of

5
 by
kschadel
Love them!
I originally bought the larger of the two, hoping I could use it as a magazine bin in the bathroom. Well, it was too big, but the smaller one (that I thought would be TOO small) fit perfectly with half an inch on either side of the magazine! Now the bathroom looks organized and rustic in a way my husband appreciates!
June 24, 2014
Rated

5

out of

5
 by
Bets
Great looking storage
Did a DIY project turning an ugly old desk into an updated look. Removed desk drawers and put these wooden bins in place of the drawers. Looks awesome!
May 31, 2014
Rated

4

out of

5
 by
LCR622
Pulled the look together
I bought 3 of these containers for storage but to also look nice. I'm very pleased with this purchase and would recommend them to a friend. They finished off the look perfectly!
April 25, 2014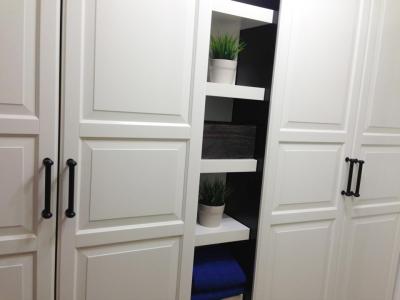 Rated

3

out of

5
 by
JenMo123
Decent buy -- probably not worth the price.
These boxes are fine. Nothing particularly bad to write home about, however for the price I would have liked a more sturdy wood and a higher quality finish. I think this is personal preference, though, as I bought them online and when I got them in person they didn't wow me. Also, if you want several, make sure to look at them in person as the grain is different on different boxes. Even though two might be similar, one may look like it's from a different set altogether. It's annoying if you're even slightly particular about things matching. Jen
March 31, 2014
Rated

3

out of

5
 by
Tennisal
Great boxes
They are easily scratched but I found some clean ones in the store. They fit Cd's nicely and look great. Perfect size. I bought bigger ones and smaller ones to use on a bookcase
March 29, 2014
Rated

5

out of

5
 by
rand
Excellent Organizational Tool
I bought this for our walk in closet which has numerous shelves. This organized the shelving further, and also looks beautiful!
February 27, 2014
Rated

5

out of

5
 by
SpaNoir
Perfect bin to showcase!
I needed to find a cute little display for an upcoming event to showcase my all natural spa products, something beyond the typical acrylic pieces. I stumbled on these wood bins and they were a hit! My clients loved the earthy feel and it complimented my product line with very little effort. I went back to the store and bought 1 more! This boho girl is very pleased!
February 12, 2014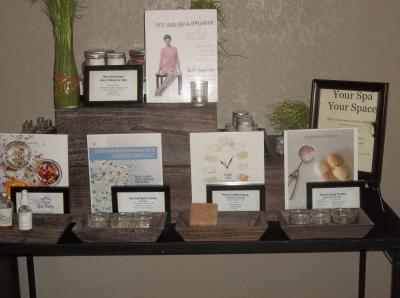 Rated

5

out of

5
 by
Jamarilla
Lightweigh, Pretty Storage
I purchased two of these bins for use as open storage on top of my fridge. They are the perfect size for chips and bread and are lightweight enough to pull down many times a day to get what I need.
February 5, 2014
Rated

5

out of

5
 by
rktect
Beautiful, practical storage
Just bought three of these to store towels and sheets up on a shelf. These boxes are beautiful and practical. The towels fit well when rolled, and I can see all the towels at once, making it easier to grab the one I want. Because the boxes have square angles rather than tapering out as many storage bins do, they take up less space and use the space more efficiently.
December 19, 2013
Rated

5

out of

5
 by
anon122112
Nice quality box
Purchased this online without seeing it; took a gamble but it's a really nice quality box, smooth surface (no risk of splinters), feels rather sturdy, for the price the whole thing is a great value.
November 21, 2013
Rated

5

out of

5
 by
Poto
Perfect for LP storage
There are very few storage options that can hold LPs which are 12 1/4 inch wide (most containers have internal dimensions of 12 inches). The inside dimension of these boxes is 12 1/4 inches, just right for LPs.
September 21, 2013
Rated

4

out of

5
 by
VCULL
Wood Bins
I have been very satisfied with my purchase of the leather grain wood bins. One of the items I received was damaged and The Container Store sent me a replacement withing days of my advising them of the condition in which the first order arrived. The boxes are sturdy, have handles for ease of moving, and help contain materials and documents in an organized manner.
June 29, 2013
Rated

5

out of

5
 by
ApollyonJJ
What a Wonderful Bin!
My girlfriend bought me two of these bins for Christmas to display my comic books and they amazing! So amazing, that I just purchased two more! They are super light a seem pretty durable.
April 11, 2013
Rated

5

out of

5
 by
SDesigns
Wood Bins
At our office we needed to organize an entire area and the Feathergrain Wood Bins were perfect. They were not only sturdy to hold various items on the shelves but nice looking. Since my purchase everyone keeps commenting on the Bins and where did I purchase them. They are practical and good-looking!!!
April 4, 2013
Rated

5

out of

5
 by
gyea
Love these boxes
These boxes are great! Nice wood and stain; high quality. I got three boxes plus a tray and am using them for baby stuff around my house. They contain all the clutter that used to be around these rooms (books, random toys, burp cloths, and a little diaper changing station), and look great in our bedroom and living room. I'm really picky and was pleasantly surprised by how much I love these boxes!
April 3, 2013
Rated

4

out of

5
 by
zeecon
Nice open storage
I am using two of these bins in a TV cart to store video games and DVDs. The dimensions fit the open shelves nicely, and they hold a good number of cases. They are easy for my young kids to pull out and choose their own game/movie, and they look nice from the front. The wood feels a little soft, but that has not been a problem (yet).
March 18, 2013
Rated

5

out of

5
 by
Jola
Love!
Lightweight yet durable. The boxes have that vintage/reclaimed vibe and look great in my home. I put them in the bottom of some nightstands that were open and they help hide the clutter. Will purchase more in the future for my pantry.
March 16, 2013
Rated

5

out of

5
 by
tgwithin
Wonderful Woody Addition
So smart and practical too! These fit right in to my closet make over and class it up with gray texture. Light weight but strong.
March 13, 2013
Rated

5

out of

5
 by
CHPierce
Love these bins!
I use these bins in my pantry to separate different categories of food and supplies. They work so well! They are durable, chic, and easily glide on and off the shelf for easy access. I love the three size options. I put chalkboard labels on them and they look awesome.
February 19, 2013
Rated

1

out of

5
 by
patlaw12
Worst CS Purchase I Have Ever Made
I almost never post reviews of products but this bin angered me enough to write this review. I bought two of the large bins as storage for sheets and diapers. When I went to use some of the sheets I noticed a film of black dust like material on the portions of the sheets that were touching the box itself. Come to find out that the finish on this product is not sealed so it rubs off on anything. And I mean anything....the diapers in the other bin were equally covered in black film. I spent forever trying to wipe the bin down to make it useable just to determine that there was no amount of wiping that would make it go away. I eventually spent hours hand painting the bins because they were the perfect size and I had already spent so much time trying to remove the offending black film. However, I will think twice about purchasing from CS again.
September 26, 2012
Rated

5

out of

5
 by
Buyer
Perfect
This bin was just as pictured. I love the texture and very high quality! This box is not falling apart any time soon.
June 19, 2012
Rated

5

out of

5
 by
bmay
Love these!
These are really good looking and a sophisticated simple design. Lightweight and roomy- with a beautiful finish.
April 29, 2012
Rated

4

out of

5
 by
BKmeetsDC
Good value, multi-use bin
I searched high and low for the perfect bin to store kitchen tools under a freestanding island. These are perfect! They're solidly made. I pull them in and out from under the island a few times a day and after 2 years, they still look good. Only wish that they were a little cheaper, since I need more!
April 28, 2012
Rated

5

out of

5
 by
mtse
Practical and Beautiful
Combined one or two of these with the whitewashed bins as a small bookshelf/ case. All still in perfect condition, and feathergrain gives it character and probably will hide any scratches if you're rough with them.
April 27, 2012
Rated

5

out of

5
 by
MtnGirl
Great quality for the price
I have several Feathergrain Bins in multiple sizes, and they're excellent for storing a number of items. The walls feel fairly thin, and as mentioned in the description the bins are very lightweight, but by no means does this mean they can't handle larger loads of items or that they won't hold up to frequent use. They also look much nicer than plastic bins, and I like having them on display. I will say that the color was different than I expected given the photo online--my monitor made them appear much more grey, but they're a darker brown that I actually prefer. If you look at the Feathergrain Wastebasket, I think it has a more accurate color representation, at least on my computer. Bottom line: great product at an affordable price that you won't mind showing off. I plan to purchase a few more!
March 19, 2012