< Return to Product Page
Customer Reviews
Umbra Conceal Book Shelves
Overall Rating:
Customer Reviews
Rated

4.7

out of

5

 by

46

reviewers.
Rated

5

out of

5
 by
Verde
Recommended
These book shelves are solid and easy to install. It does not matter at all that they are strictly functional (meaning they are not attractive) since they are invisible, even from the bottom. The bottom book cover rests on two little curved extensions underneath the shelf. Hard to see in the photos but the extensions come off the back plate near where the shelf attaches to the plate. I uploaded a photo showing the view of the books from the bottom. The extensions are barely visible. I bought 4 large shelves, thinking it would give me more stacking options. I did not realize, though, that standard hardcovers are 5.5"-6" wide, and thereby are just a hair too narrow to serve as the bottom layer. I actually had to go to the second hand store and buy a few over sized books. Since it's never a hardship for me to buy books, I did not care but some people may not have that option. I tried a trade paper book for the base and it worked but I think eventually the force of gravity would have caused the cover to droop so I swapped it out. Since your books become decor with these shelves things stand out that would otherwise be invisible. Keep in mind that the tops and bottoms of the pages will be visible with these shelves. I had a 2nd hand book stamped "Discarded" on the tops of its pages (bought from a library sale) that I returned to a regular bookshelf. I imagine staining or warping will be noticeable too.
February 2, 2014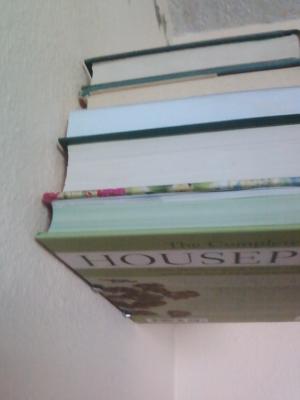 Rated

5

out of

5
 by
fiona1445
Wow Great Idea!! Must Buy
WOW I am so impressed with this purchase! It was super easy to install(took less than 5 min). This book shelf offers an alternate way to store books while showcasing them as an artful decoration. After stacking a few books I even put a few of my most listened to CD's on top. Great purchase I will be buying more. I wish they made one suitable for magazines.
November 14, 2013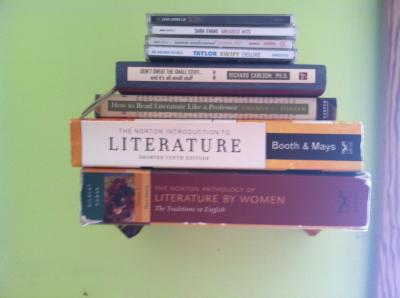 Rated

5

out of

5
 by
Mais
Conceal Book Shelves by Umbra®
Very easy to install and works really great. I use it as a shelf for my phone in the kitchen. I got another one to hold the headset that I use when people call while I am cooking. I used a couple of my old cookbooks for shelf bottoms and they look great, blending with the rest of the kitchen.
February 15, 2011
Rated

2

out of

5
 by
Atticus
Warps/ruins books
These invisible shelves worked great to begin with, but they are not deep enough to provide needed support for your books. My books warped over time. Also, the bottom support piece is so small, the back cover of my books slid out of support pieces. These work great for small books 4 inches wide or less.
January 22, 2016
Rated

5

out of

5
 by
Marisa78254
Adds a unique look to a room!
So easy to setup & use. It adds a unique look to a room. It is a nice way to highlight books without having a whole bookshelf in a room. The more floor space the better for my boy to run around!
August 14, 2014
Rated

5

out of

5
 by
IrishKarenK
Very Cool
I saw these floating bookshelves on an interior design website and was so excited to see that the Container Store had them. It looks amazing with the books just floating there, and let's not even get into the space-saving aspect of them. I live in an apartment so not having to have a big, clunky book shelf is ideal for me. Do yourself a favor and get more than one! They are easy to install and they hold a fair amount of books. I can't begin to tell you how ultra-cool they look!
June 20, 2013
Rated

5

out of

5
 by
Melanie91
Worth it!
These shelves are perfect for any small or large space you may have. They are easy to mount yourself and can hold a good number of books. They're extremely sturdy and look great!
May 3, 2013
Rated

5

out of

5
 by
CourtneyShortney
Very Practical and fun!
These shelves add a whimsical look and additional storage for areas with little floor space. They work perfectly for both paper back and textbooks. I love how the lip on the bottom of the shelf holds the cover in place.
May 3, 2013
Rated

5

out of

5
 by
Walabear
I hate bookshelves! I love books!
These shelves worked out for me because they make a really cute way of storing books. I hate looking at huge bookshelves in my living room, but with the amount of books I own/read, I can't hide them all in my office. With these shelves I can split the difference, keep my cutest hardcovers where I can show them off, and it's all hidden. I get a lot of compliments on these shelves.
April 29, 2013
Rated

5

out of

5
 by
FutureDesigner
Worth Purchasing!
I am an avid book reader and have way too many books to store. This product allowed me to showcase my collection in a unique way and also allowed me to utilize a wall space that was not very large. I love the way the shelves make the books appear to be floating, causing many family and friends to become awed at how the books are on the wall! Not only do they look amazing but they are able to hold a lot of weight. I am very satisfied with my purchase and I would suggest this product to anyone and everyone. I currently have four but am considering purchasing more!
April 3, 2013
Rated

5

out of

5
 by
OrganizationSeeker
An Original Concept
I bought these innovative book shelves for a friend. They are sturdy and an interesting touch to a room's decor.
March 25, 2013
Rated

5

out of

5
 by
linmjenk
My reading nook special
I love the usefullness of all the things I pick up at the container store, but this shelf is by far my favorite. I have a few of these in my reading nook corner at home and love how unique my area looks.
March 19, 2013
Rated

5

out of

5
 by
Tgal
Compact Storage
The shelves are great for displaying as well as book storage! Especially in tight little /narrow spaces. I just personally have found it difficult to find the perfect size book cover that will stay in the secret hidden cover holder that gives it that illusion of floating. I would recommend ! I bought 3. They currently hold 30 books, no problem.
March 18, 2013
Rated

5

out of

5
 by
SouthernCook
Nifty!
This is a clever way to store books. Friends do a double take!
March 18, 2013
Rated

5

out of

5
 by
mason
coolest bookshelf ever!
these bookshelves are genius! we purchased a couple to see how they work and if they would fit some small spaces on our wall and LOVED THEM, so we purchased a couple more. definitely would recommend these to anyone
March 18, 2013
Rated

5

out of

5
 by
lshields
These are the coolest things ever! I always wanted one and randomly decided to buy a couple when I was at the container store. They were easy to put up and they look great. We get so many compliments from people when they come into the apartment. I highly recommend this to anyone and everyone!
March 18, 2013
Rated

5

out of

5
 by
Verified Reviewer
Lovely Design, Great Product!
Bought a couple of these a few years ago and went back last week for more. I'm not a fix-it gal, but mounting these and ensuring stability was a breeze. Great look and affordable. I tried making my own, but these are much sleeker and "invisible" that anything I've see DIY. Highly recommended
March 13, 2013
Rated

3

out of

5
 by
trev
Look Ma, no hands!
Yes these do make the books look like they're floating, but they don't hold a lot of weight before looking like it's sloping and you basically can't use the bottom book because that's the base for the rest. Still, it's kinda cool.
March 2, 2013
Rated

5

out of

5
 by
Mistyfied
"It's Magic"
I LOVE these! I have them in my livingroom and whenever anyone comes over they ask me how they stay up and I always say "It's magic." But of course, I have to show them and they all love it. Friends have posted these on Pinterest and I have to comment to tell them to get them because they really are a conversation piece. Not to mention the look is so light without the chunky bookshelf there!
February 26, 2013
Rated

5

out of

5
 by
DIYChallenged
Problem Solver
These bookshelves solved my problem of not wanting bulky shelves or a bookcase to display my books. The installation took 5 minutes per shelf and I have a clean but interesting arrangement for my favorite hardcovers. Will definitely buy more in the future.
September 4, 2012
Rated

5

out of

5
 by
DIYMommy
Envy
All my friends love this shelf and think it is so cool.
August 15, 2012
Rated

4

out of

5
 by
Justin
Sturdy, solid, work as advertised
Sturdy and solid, these shelves easily hold 4-5 heavy hardcovers. They're virtually invisible and hold the bottom-most book in place for the "floating" look.
July 18, 2012
Rated

5

out of

5
 by
CandiceM
Love These Book Shelves!!
I've had a set of these book shelves for about 6 years now and they are still holding up great! I've gotten so many comments from people wondering how the books are kept on the wall. Love these shelves and will be getting more in the future!
June 6, 2012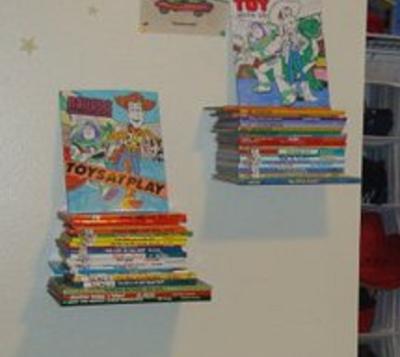 Rated

4

out of

5
 by
bigbugato
Umbra book holder
We had a specific need for a small type shelf to hold a tissue box in our small bathroom. There was a curved wall which was the only place we could do this. The item worked out perfectly! Now we can access our tissue box which was sitting on a multi teir towel holder.Great solution, and believe me I looke for something unobstrusive.
March 31, 2012
Rated

5

out of

5
 by
TerryJ
Great product
This is a great way to hang books on the wall without the bulky shelves that people usually use. You can't even see the shelf once hung and books in place. Great product.
March 20, 2012
Rated

5

out of

5
 by
Go2Gal
Great for small rooms~
In small spaces, you need to go vertical. The shelf is great in tight spaces like the narrow wall space between a window frame and sliding closet door. Have given them as gifts to other space-challenged homeowners.
March 19, 2012
Rated

5

out of

5
 by
JMERamos
LOVE
I loveloveLOVE these shelves! I bought two and they're so fabulous I will be buying many more for sure!
March 19, 2012
Rated

5

out of

5
 by
KaTrende
Great Option for Small Spaces!
I used these bookshelves in a dorm room where I had no bookcase and little room. They were super easy to install and uninstall. Held really heavy textbooks and never wobbled or fell. Incredibly sturdy. Plus, it lent a really cool air to the room.
March 19, 2012
Rated

3

out of

5
 by
amuhlou82
Has Potential, Not for Cookbooks
I got two of these in Large for storing cookbooks. Even though the books were the recommended dimensions & weight, the shelves seemed very unsteady. We ended up adding reinforcing brackets, which pretty much defeated the purpose of the 'concealed' look. I will probably be moving them for use in another area of the house.
March 19, 2012
Rated

5

out of

5
 by
JennyK
Very Unique & Functional!
I bought 2 of these a couple of years ago for my last home and displayed the spines of some of my favorite books. Now, in my new home, I'm contemplating buying more for a whole gallery wall in our office. SOOO fun!
February 16, 2012