< Return to Product Page
Customer Reviews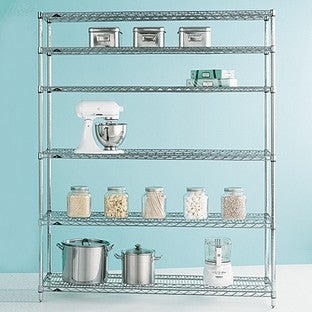 Metro Commercial Industrial Pantry Shelves
Overall Rating:
Customer Reviews
Rated

5

out of

5

 by

10

reviewers.
Rated

5

out of

5
 by
Marin77
Fab solution!
The Metro Commercial Pantry Shelves are a perfect, one-stop, high-end solution to those "big-box" inferior shelving kits. These are made to last, are rugged and handsome (like me!) The quality is superior and demensions are ideal. You may be spending a little more than for other shelving units, but these will last and look great!
April 27, 2012
Rated

5

out of

5
 by
MelindaHR
Great for my kitchen
I love this product, it fit great and I mixed and matched the pieces to turn it a wine rack and bakers rack :)
March 25, 2013
Rated

5

out of

5
 by
Paula57
A Top Notch Product!
I recently purchased a vacation home that has very limited kitchen/pantry space. And of course I have stuffed the house with every kitchen item imaginable just in case I need it someday. As a result, I desperately needed shelves, and considered having a local handyman build some for me. Then I saw this unit at the Container Store and decided to order it online. The unit was delivered within a few days. My sisters told me they would come over to help me assemble the unit but I had some free time so I decided to give it a try. The only difficult part was getting the first shelf onto the four legs, and that was only because I was doing it by myself. But once that was done the rest of the assembly was a breeze! And the beauty of it all -- I didn't have to use any tools other than my hands! Once the shelves were up I quickly filled them with all sorts of items, and there's still room for more, although my sisters are already telling me I need to order another unit. These shelves are beautiful, very sturdy, and very functional. I couldn't be happier!!! The only warning: they did not come with assembly instructions but I had fortunately downloaded the instructions earlier. Easy to assemble but the instructions made it that much easier! Highly recommend Metro Commercial shelving to anyone needing a storage solution.
July 6, 2012
Rated

5

out of

5
 by
General
Very Sturdy
I put this in my pantry and it was a great way to organize my heavy pots and things!
April 13, 2012
Rated

5

out of

5
 by
URBA
METRO
this shelving is extremely useful in whatever situation. It is easy to assemble, easy to dis assemble, clean, moveable, sturdy and lasts forever. I have used this shelving for 20 years and still in perfect condition
March 11, 2012
Rated

5

out of

5
 by
rjjurk
Quality
The shelves are nice and very sturdy. There was a "tine" on one of the shelf corners that was not attached to the shelf - it looks as though the welding broke. I did not see this until I was putting it together. It did not compromise the strength and since I had bought the shelf liners I did not feel the need to exchange that shelf. I bought the "kit" rather than individual pieces. The kit came with floor protectors but I had also ordered casters. The store was kind enough to call me to verify that I did not need both and refund me the cost and save me the time of returning these pieces. All in all it was a great experience from customer service to product. I'm using it in a mud room and it looks and works great.
October 11, 2010
Rated

5

out of

5
 by
tvlncy
Versatile and Sturdy Shelves
My husband and I love to cook and had way too much kitchen stuff to fit in our cabinets so we bought these shelves. They are incredibly sturdy and functional and it's great that you can adjust the height to whatever you want. Plus, they look modern and sleek. We put tons of stuff on these shelves like pots and pans, spices and other pantry items, and kitchen appliances (mixer, food processor, slow cooker, etc.). I highly recommend them for anyone that has lots of kitchen items!
June 25, 2010
Rated

5

out of

5
 by
dwalmer
Best movaeable shelving for a pantry or other use
we started out with this unit in our kitchen as we did not have a pantry. It served us fr many years before we remodeled our kitchen. After, we moved this unit to the playroom. It serves as place for the kids to store toys in bins as well as the tv. the move-able shelves made it easy to resize for the bins.
March 3, 2010
Rated

5

out of

5
 by
barbiec1953
Worth the investment
It is worth it to invest in the high quality of Metro Shelving.
January 9, 2010
Rated

5

out of

5
 by
Charlie
Chic and Cool Shelving
Fantastic in bedroom for folded clothes and baskets, a great industrial look for kitchen with stacks of plates, housewares and bulky appliances. Modern, handsome, durable - lots of bang for the buck!
January 7, 2010