< Return to Product Page
Customer Reviews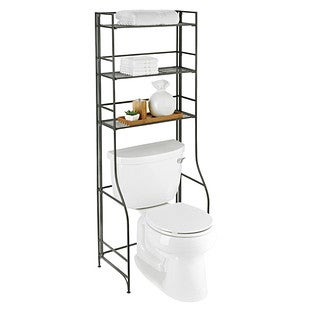 Iron Folding Bath Etagere
Overall Rating:
Customer Reviews
Rated

4.7

out of

5

 by

10

reviewers.
Rated

5

out of

5
 by
summerlover97
The Best On The Market
You won't go wrong purchasing this for your bathroom; it's, hands down, the best out there on the market, and worth every penny. I have purchased others before and either they have been so rickety, or not worth the effort to take with us when we move, but this one is fantastic. It looks great, very sturdy and overall very visually appealing. There are levelers on the bottom of each leg, if your floor were to be uneven. I just had knee surgery and still have the arms on the commode; I was worried this wouldn't fit until I am able to remove the equipment. It fit around the assistance equipment. It's a tight fit, and I didn't screw on the bottom bracing bars, but that isn't a problem at all, because the unit is still very sturdy. It's very easy to set up. One could store bricks on the shelves,, because they are that sturdy. If you have smaller items you are storing on it, either they should to be put in baskets or trays because of the spaces between the bars; consider purchasing some ELFA or Metro shelf liners from The Container Store and cutting them down to fit so they can sit flat. Our bathroom lacked proper storage for items we needed to get to; now they are in arms reach. The item isn't carried in the store, but it's worth ordering it online; you won't be disappointed.
July 31, 2014
Rated

5

out of

5
 by
Elana
Awesome addition to the iron folding line
I just moved into a small studio where extra storage is a must! My bathroom only has just the one undersink cabinet, and that is just not doable. There is very little counterspace, and with the toilet next to the sink, I was not able to put a shelving unit next to the sink- until I discovered the new iron folding bath etagere! It fits perfectly over the toilet and allows me to keep all my makeup (in my acrylic modular bath organizers, natch) and hair products neatly organized and close at hand. The best part is, it's iron, so my old magnetic makeup organizers for inside a medicine cabinet (which I no longer have) attach securely to the side! It also matches nicely with my 3 and 4 shelf iron folding bookcase and my media rack. I think I like the iron folding line just a bit!
July 16, 2014
Rated

5

out of

5
 by
DJNC
Very pleased!
I am very pleased with this etagere. I needed an etagere for each of my two bathrooms. After purchasing a less-expensive model for the first bathroom at an online mega-"store", and finding it wobbly and annoying to assemble, I decided to spend a little more for the second one. Thus, this one came into my life. ;) Seriously, though, this one has been a much better choice, and though more expensive, a better value. It was easy to put into place (I did it easily by myself, and I'm nobody's handywoman), more sturdy, and nicer in appearance than the other one. In addition, I think is much more portable if I decide to move. The other will probably be a stripped-screw, scratched mess that no cheap allen-wrench tool can fix when I end up eventually taking it down.
January 26, 2017
Rated

5

out of

5
 by
JustMovedNYC
Great buy!
Fits my space perfectly, sturdy enough for basic cosmetics & bathroom needs. Looks great & easy to put together. I highly recommend!
May 21, 2015
Rated

2

out of

5
 by
dp77777
wobbly and very uneven welding
I bought this primarily based on the many positive reviews it received and the cool look of the item. The only positive thing I can say about the one I received is it looks very nice. I first noticed a problem when I was putting the item together, as the shelving support beams weren't fitting the shelves evenly. When I examined it, one sides support beams were welded flush with the side beams edge while the other side was welded about 1/2 of an inch in from the edge. I was disappointed but thought maybe it would still work because the shelves were sitting flat. I also noticed the two support beams had very crooked screw supports. One looked like the leaning tower of Pisa. Just atrocious and poor welding throughout the item with very obvious mistakes. When I sat it over the toilet I noticed the sides of the etagere were not locked in or steady, they just kind of wobbled and could sway in and out about 2 inches each way. Also I noticed the etagere was incredibly wobbly with the slightest touch sending the whole item shivering like it was in a significant earthquake for at least a minute or two and even an accidental push would topple the entire tower. I was shocked by all the reviews talking about how sturdy this item is and found the truth to be the exact opposite.
March 25, 2015
Rated

5

out of

5
 by
FingersCrossed
Beautifully designed
You cannot go wrong buying this bath etagerie. It is well made and sturdy. Most etageres that resemble this one wobble but this one is steady. It is stream lined, space saving and fits perfectly over my toilet. I have a very small bathroom with no storage. Now at least I have shelves. Best of all, it is a breeze to put together; it took me minutes to put it up.
March 12, 2015
Rated

5

out of

5
 by
SuSu52
Exceptional Quality
I highly recommend this unit. My 14 year old son installed this in minutes! This adds a nice touch to any bathroom.
January 15, 2015
Rated

5

out of

5
 by
Briteness23
Iron Folding Bath Etagere
I am so very pleased with this product! It was really easy to put up and it looks great in the bathroom. Best of all it is sturdy.
December 10, 2014
Rated

5

out of

5
 by
DinC
Extra help with storage!
I really love this product because it adds to my storage, giving me the space I need without overcrowding the bathroom. Fits perfectly!!!
October 23, 2014
Rated

5

out of

5
 by
JoyceDana
Bath Etagere
I love this.....it's the answer to where to put stuff you need at hand in a small bathroom. It's pretty, but more important for me is that it was a synch to put together. Basically, you just fold it out and add the 2 support rods...easy as can be.
September 2, 2014