< Return to Product Page
Customer Reviews
InterMetro Solid Shelves
Overall Rating:
Customer Reviews
Rated

4.9

out of

5

 by

9

reviewers.
Rated

5

out of

5
 by
LONDONE14
Quality Product
Very well constructed and easy to install components. Highly recommend
September 30, 2016
Rated

5

out of

5
 by
MissCleanFreak
Hallelujah Organization
Our toy room was an absolute mess with toys in bins all over the floor. This shelving helped use the rooms height to organize every toy up against the wall instead of in the center of the room. Now there is finally space for kids to play and everything has its place. LOVE these shelves.
June 14, 2016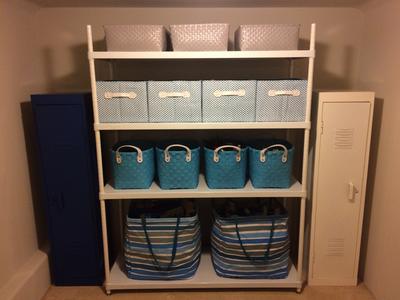 Rated

5

out of

5
 by
Teach3
Great shelving
I purchased InterMetro wire shelving last year for my garage, and this year added wire shelves with solid tops for my classroom library. I put each together in 10 minutes, and the solid top is great for baskets, etc. without anything slipping through. It is smooth and sleek and wipes clean easily.
April 22, 2014
Rated

5

out of

5
 by
Collector5904
InterMetro Solid Shelves
I had purchased InterMetro WIRE shelves for kitchen and closet storage but I find the SOLID shelves are perfect for books and other collectibles. The smooth surface does not require the purchase of the plastic liners that are available for wire shelves and the solid shelves are durable and strong.
April 17, 2013
Rated

5

out of

5
 by
Artpom
Great storage solution
Thie product was a great solution to a small space. Looks neat, industrial and holds a ton of stuff.
March 7, 2013
Rated

5

out of

5
 by
Roadrunnermom
No college dorm should be without this!
We purchased the IntroMetro Shelving to put in our daughter's dorm room over the end of her bed to give her a place to put her TV and game system and this shelving was perfect. Very sturdy and the options of where to place the shelves made it perfect for her needs. It also comes with small baskets that you can hang off the side to put small items in like video games or DVD's. Once she moves out of the dorm and into an apartment I can see multiple uses for this shelving as well.
April 27, 2012
Rated

5

out of

5
 by
darcy
sturdy!
I was given an old, huge, really heavy tv. I bought this to top some metro shelving and it is perfect for the tv. When the tv finally dies, and I get a lighter, thinner replacement, I will either incorporate this into other existing metro I have or keep it as a low sturdy shelf for another heavy item.
March 19, 2012
Rated

4

out of

5
 by
Verified Reviewer
almost perfect
The shelf itself is solid, sturdy and easy to assemble and clean. It does, however, scrape easily. I purchased this for the kitchen and was disappointed to find the scratches after its first use with mixing batter. As it's pricey at $45 for just a single shelf, I expect its finish to hold better both for utility AND display.
June 6, 2011
Rated

5

out of

5
 by
JLynnMN
Makes great work-bench surface!
I bought this item to add on to a 4-shelf unit so that I had a work surface at bench height. It is wonderful! Sturdy, smooth, perfectly level and extremely strong. I have about 150 lbs. of expensive scientific equipment on it, and it holds up beautifully! These shelving systems are a great addition at home, in the garage, and even in a research lab!
February 15, 2011