< Return to Product Page
Customer Reviews
Umbra Puzzler Cork & Dry Erase Boards
Overall Rating:
Customer Reviews
Rated

3.9

out of

5

 by

30

reviewers.
Rated

1

out of

5
 by
BertP
Won't stay on wall
Will constantly fall with tape and too flimsy and difficult to hang. Also the do not wear well - edges are bent - maybe from constant falling off of wall!
March 18, 2015
Rated

5

out of

5
 by
Lalaout
Just what I wanted
I bought the white board section and am beyond happy. It comes with adhesives on the back making it easy to stick on walls. It also has five magnets which work great, and most importantly erases clearly !
March 16, 2015
Rated

5

out of

5
 by
MissC100
Good product
This item comes in handy especially when one is tagging note on it. I placed this item in the kitchen to remind me of the items, or activities that need to be completed.
February 18, 2015
Rated

5

out of

5
 by
dannic
perfect product for perfect wall space in kitchen
Had been looking for product that would allow me to move magnets off fridge/dishwasher and display in an attractive eye catching way and this was the perfect product for the perfect wall space in the kitchen. I like the artistic flow of the shapes and the ability to mix and match depending on use and space available. My house is old and the walls are not even so a couple of the boards insisted on falling off but that was easily solved with some sticky Velcro frame attachments purchased at local DIY store.
April 27, 2014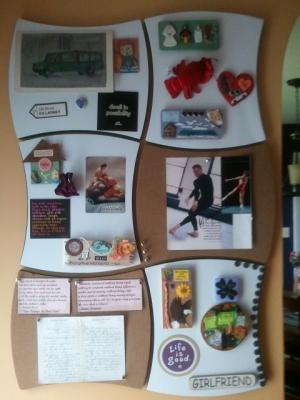 Rated

1

out of

5
 by
ezakly
Terrible decision
I loved how these look and that I could combine both cork boards with magnetic white boards (most white boards I looked at are not magnetic) . However, they keep falling off of the wall when you use the double-sided tape which is already provided. I tried to then use the mounting holes but there's no template so it's nearly impossible to then line them up to each piece, let alone line them up with each other on a wall. At this point, it's too late to return them but definitely don't buy!
December 20, 2013
Rated

5

out of

5
 by
Beep
Love it!
These were the perfect size for my daughter's dorm room and didn't mark the walls!
August 30, 2013
Rated

1

out of

5
 by
cbeeze
I got this for my dorm room because it advertised saying that it would stick well and come off easily. Neither were true, the white board fell off multiple times after first putting it on. I also just attempted to take them off of my dorm room wall and it took off the paint on the wall. I will now be fined because of this product's mis-advertising.
May 6, 2013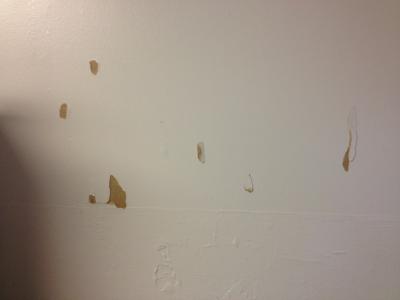 Rated

5

out of

5
 by
1212WorkingMom
Looks great in the kitchen
I was looking for something to keep track of the kid's school menu, field trips, etc. I especially wanted something that looked nice in our kitchen (verus in an office). This looks great. I would highly recommend it! I bought the 3M Command Strips to make sure it was securely attached to the wall. Works perfect.
April 28, 2013
Rated

5

out of

5
 by
Schwadette
Great for the whole Family!
We have these all over our house. Not just in our home office, but in our sons room, in the kitchen, in the bathrooms. These boards are the perfect size and fun shape to use in any room to help keep track of needed items. My son even uses it to practice writing his alphabet. Wonderful!
March 2, 2013
Rated

5

out of

5
 by
Hayleysmom
Adorable in bedroom
We bought this for my college age daughter. She got creative, and put a 4 square of these boards in her room. She uses it for fun fashion pictures and favorite photos. SO CUTE!!
February 22, 2013
Rated

4

out of

5
 by
quakerknitter
the coolest
What can I say? I clearly now have the coolest office of anyone I know. These boards (I have purchased 4 cork ones) are lovely to look at and define utilitarian art. My only worry is how long they will stay stuck to the wall as I use only the attached adhesive.
November 30, 2012
Rated

4

out of

5
 by
Momoftwins
Nice for a teen's bedroom
My teenage daughter likes these curvy boards because they are not as boring as plain square or rectangular boards. She has four cork and four white boards. I don't agree with other reviewers that they were difficult to hang. It was no more difficult to hang them than it would be to hang a series of pictures. I do agree, however, that the original adhesive did not hold up well. A couple of the board pieces fell down, and we ended up replacing all of the adhesive with "command" strips. Since then, they've all stayed on the wall. The boards look nice, they are not boring, and they help my daughter stay organized. (Less paper on the floor.) I could see using them in other rooms too.
April 28, 2012
Rated

5

out of

5
 by
cnak02
Really great buy!
I recently started a new job in which I have to keep track of several accounts and dates, so I bought the Puzzler board as a way to help set reminders and keep me organized. Best buy ever! I love that I can tack notes and cards onto the cork board, and can also write notes on the white board - the fact that I can easily wipe off and update frequently is also great as it eliminates the need for a lot of paper and post-its. I also love that it's a fun, modern looking shape, not just your basic square bulletin, so it adds to the fun vibe of my desk space. Definitely recommend this product!
April 27, 2012
Rated

3

out of

5
 by
Frenchie67
Fun look for child's room
I liked this product overall, however after having it up on my daughter's wall for 6 months now, they have started to fall down. I used the sticky tapes on the back to hang them, and now I need to nail them to the wall. Other than that, they are great for bulletin /white board.
March 20, 2012
Rated

4

out of

5
 by
sparky52
Works well
Use this in my sewing studio. Like the smaller size since I have limited wall space. Corkboard is perfect for holding pattern directions. Only complaint is that the dry erase board, like all dry erase boards, is hard to completely clean off. Unlike other reviews, I had no problem mounting it on wall & it hasn't budged in 8 months.
March 19, 2012
Rated

5

out of

5
 by
Verified Reviewer
Fun and Functional
My husband and I wanted something for the wall behind our dining room table to display our son's artwork and important school papers. We love the puzzlers boards because they are fun and functional. Our son can write his spelling words and we can write important notes on the dry erase boards and we can pin reminders, school forms, and artwork on the bulletin boards. It's wall art for wall art!
March 18, 2012
Rated

3

out of

5
 by
OrganizingMama
Its OK....
I was lookiing for a quirky type of corkboard and found this one. I expected it to be a bit larger because only one sheet of paper fits on each board. The adhesive does not allow the board to stick to the wall. I ended up scraping the adhesive off and using Command adhesive tabs to mount to the wall.
March 4, 2012
Rated

2

out of

5
 by
ExploradoraJac
Seemed like a great idea...
In theory, these would be perfect and are very cute and versatile as far as design placement. However, they are very difficult to hang properly. The sticky tape that comes with them does not hold well, especially on the cork board style. There are pre-drilled holes for hanging with nails or screws but since they do not line up and the boards are wavy, it is almost impossible to get them aligned properly to hang this way. For $9 a piece, they are definitely NOT worth the money nor the hassle...
February 27, 2012
Rated

5

out of

5
 by
DJVA
Great overall.
So far so good. I love that these can be configured in different ways and they are pretty reasonably priced.
December 9, 2011
Rated

4

out of

5
 by
hbksloss
Cork & White Board for wall
These are great and this is the 2nd time I have bought them. Just wish they were easier to put together.
August 16, 2011
Rated

5

out of

5
 by
BadGirl
Wow ! these are what I was trying to make !
Had been trying to figure out how to make the front of my craft cabinet useful.;even thought of magentic paint & "chalk paint" (if such a product existed). Then I rec'd the sale catalog & there they were ! Purchased the cork board & the magnetic/white erase board. Couldn't be happier- they fit the doors perfectly & were a cinch to hang ... now I can create my "mood boards". Better still, I realized that this was just the kind of system needed to hang mementos for my Dad in his nursing home room . Bravo !!
July 26, 2011
Rated

5

out of

5
 by
MoRo
Awesome!
I love how easy they were to hang on the wall and how functional they are. They add an abstract look to my office!
February 9, 2011
Rated

4

out of

5
 by
AJ05
Nifty style
Stylish upgrade from the ubiquitous dorm room door message board. I use the whiteboard to keep my to-do lists. Comes with small magnets. Small enough to prop up on a dresser. No problems getting it clean. Dropped it once and dented the corner since the surface is painted metal.
January 29, 2011
Rated

3

out of

5
 by
busymom3
Use nails, Adhesive does not work, ruins paint
The adhesive that comes with these boards does not work, use the nail holes on the back! It fell off after only a few weeks and left the adhesive on the wall. I now have to get it off and it is not coming off easily. Neat product, but use the nail holes on the back. Does not come with mounting hardware.
January 8, 2011
Rated

3

out of

5
 by
TweenMom
Mixed results
Very cool product, loved by the kid. The cork board works as advertised, even comes with 5 pushpins to get you started. The magnetic white board is not as great, at least as a white board. Using regular white board pens has left marks on our boards that we have not been able to remove with any amount of elbow grease.
September 23, 2010
Rated

5

out of

5
 by
SassyLady
Don't know how we got along without it!
The Cork board was easy to mount and looks great with the white dry erasable boards. We use it daily to post important documents. Now the paperwork doesn't get lost.
September 2, 2010
Rated

5

out of

5
 by
OtherMary
They aren't the most beautiful things I've ever seen and they do seem a bit flimsy but I give it 5 stars because it fits my needs exactly. I needed a bulletin board over my desk but I have very limited wallspace and there are lightswitches and a thermostat to navigate around. I arranged 4 of the cork boards in an interesting pattern to maximize use of the wall. Also here's a tip: I stapled colorful ribbons at kiddie-corners on the cork boards to spruce them up and provide picture-holding slots.
August 23, 2010
Rated

5

out of

5
 by
TheBeagleKeepsMyBooks
Pretty sweet.
I got one of each, but you definitely should get two of each to complete the puzzle of awesome that is possible. The cork one comes with tacks the wipe off one comes with little magnets. Pretty cool. Self accessorizing.
May 23, 2010
Rated

2

out of

5
 by
JF542
A few problems
I really liked these when they came, but then the problem started when the corners started to peel off from the board. It was only a few days after we installed them that this problem started and it looks terrible. Also, the product does not stick to the included adhesive for long, so you will either need to buy other adhesive or put some nails or screws into the wall (which is what we ended up having to do, and what I did not want to do). They are also a bit harder to clean than what I expected. I really liked how they look (we bought two of these and two of the cork boards), but with these problems I'm not sure that I could recommend this product.
May 8, 2010
Rated

4

out of

5
 by
Efthimia
Great!
Bought these puzzle message boards for my son for Christmas. Absolutely love them! He puts up all of his school assignments and book lists, perfect way to keep things in sight but out of the way. Plus he loves them because they're cool :)
March 3, 2010